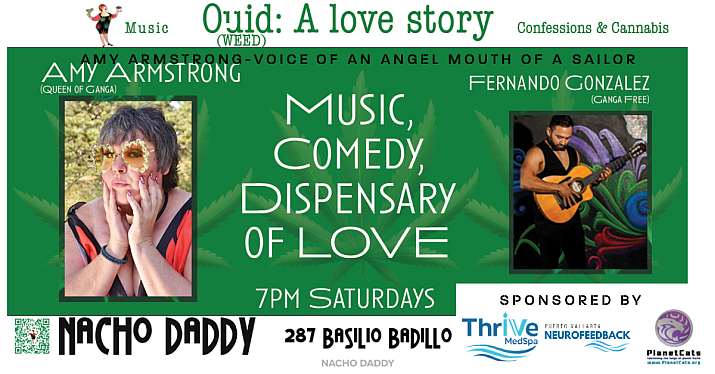 Puerto Vallarta, Mexico – Amy Armstrong has been delighting Puerto Vallarta audiences with comedy & song for over two decades, and now, she returns to Nacho Daddy with a new show that debuts on New Year's Eve. Called 'Ouid: A Love Story,' this show is a combination of music and comedy that Amy calls 'a dispensary of love'.
Ms. Armstrong is a unique mix of stand-up comedian and cabaret singer. When you experience the 'Diva of Song and Fun,' you'll be drawn in, entertained and uplifted. Amy's incredible voice mesmerizes as she belts out all those fabulous tunes, injecting humor between each song.
Her audience absolutely loves her and roars with laughter at her spontaneous 'off the cuff' comedy. All eyes are glued to the stage when Amy sings and entertains. And when the show is over, people always leave with a smile on their face.
Joining Amy will be Fernando Gonzalez. Together they entertain audiences with their side-splitting comedy, incredible musicianship and an all-around good time. When these two take the stage, the comedy is always perfectly delivered and the singing is phenomenal, making this the perfect way to welcome the New Year.
This show will almost certainly sell out, so don't delay, get your tickets TODAY! They cost just MX$756.77 and are available online via eventbrite at NachoDaddy.mx, or at the restaurant, located at Basilio Badillo #287 in the heart of the Puerto Vallarta Romantic Zone.
If you already have plans for New Year's Eve, not to worry. Ouid: A Love Story plays every Saturday at 7:00 pm on the upstairs stage at Nacho Daddy.

Open daily from 11 am to 12 am for lunch, dinner, live music and lots of fun, this popular south side hangout is located at Basilio Badillo #287, only two blocks off the beach in the heart of the Romantic Zone. Credit cards accepted. For more information, visit NachoDaddy.mx or become a fan on their Facebook Page for promotions, daily specials and more.
Click HERE to learn more about Nacho Daddy Mexico Restaurant & Sports Bar.