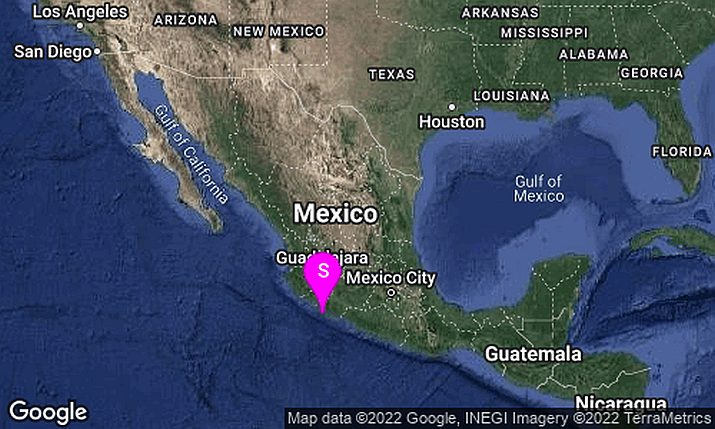 Puerto Vallarta, Jalisco, Mexico – Residents and tourists were 'shaken up' on Monday afternoon after an earthquake shook Puerto Vallarta less than one hour after the city participated in a national earthquake drill in commemoration of the September 19 quakes in Mexico City (1985) and Puebla (2017).
The 6.8 magnitude earthquake was first recorded at 1:05 pm 59 km south of Coalcomán, Michoacán, but the National Seismological later updated the severity of the earthquake to 7.4.
After the tremor, the municipal Civil Protection and Firefighters department, in coordination with State Civil Protection personnel toured the city. So far, other than some minor damage to businesses, fences, and some power outages, damages appear to be minimal. Nevertheless, classes have been suspended in Jalisco and Nayarit.
The Civil Protection units continue to carry out damage assessment tours throughout the municipality, and in the beach areas, lifeguards are keeping an eye on the tides. So far, authorities have not activated the tsunami alert.
At 2:32 pm the Secretary of the Navy's Tsunami Warning Center reported that, due to the epicenter's location, sea levels are not expected to rise by more than a few centimeters, if at all. Semar estimates the tsunami's effects on tides could be as follows:
Puerto Vallarta 0.06 Meters
Cape Corrientes 0.08 Meters
Mismaloya 0.11 Meters
However, they haven't ruled out changes in the movement of the waves, so they remain vigilant and continue to monitor the coastlines for any unusual movement or rising tides that could put the population at risk.
The Jalisco government urges citizens to stay informed through their official channels and report any emergency or anomaly to 911.