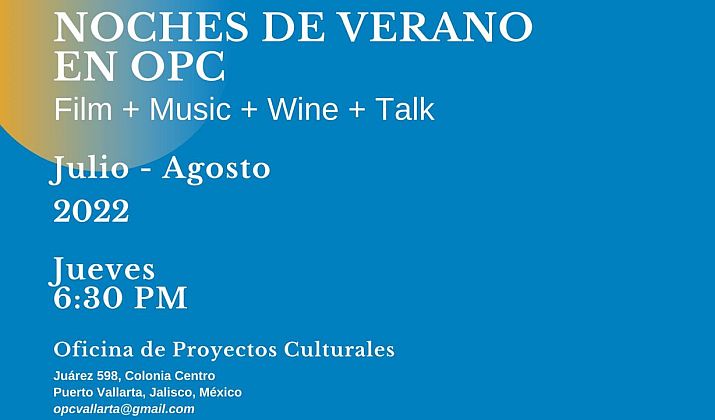 Puerto Vallarta, Jalisco, Mexico – Puerto Vallarta's Oficina de Proyectos Culturales is the place to be on Thursday evenings in July and August as artists, architects, musicians, poets and writers present Noches de Verano en OPC / 'Summer Nights at OPC'.
Poetry from young Vallarta voices. Pop-Up Wine bar from Granvas with a performance by Rosas. The long-awaited return of musician Valeria Moller performing with Gabo Navarro and Alejandro Muraira. An evening of new experiences of Spanish Vermouth and Art from Uncork Mexico.
A conversation about the cultural landscape of Vallarta with previous city directors of culture. Curator Laura Ayala presents her new book on the controversial Jill Magid project about how an architect became a diamond. Something for everyone.
Every Thursday evening at 6:30 pm at OPC. See you there!
PROGRAM
July 21
La crónica en verso
Poetry reading
Participants: Daniela Ruelas, Jorge Ayala, Mariana Amarillo, Nicté Escalante, Kaifka by Tresdosdos y Ulises Sauri
July 28
Summer in the City
Pop Up Wine Bar by Granvas
August 4
Volver y Amar Vallarta
Musical presentation by Valeria Moeller, Gabo Navarro of Traes Flashh and Alejandro Muraira
August 11
Tarde de Vermut + Arte
Spanish Vermouth and Art from Uncork Mexico
August 18
"La isla de extiende: panorama cultural de Puerto Vallarta"
Round Table with previous Cultural Directors
August 25
The Proposal
Book presentation "525 gramos. Jill Magid: la transformación de Luis Barragán"
by author Laura Ayala
with special guest Arq. Oscar Morán
For more information visit the Facebook event page.
Located at Juarez #598 at the corner of Aldama in downtown Puerto Vallarta, La Oficina de Proyectos Culturales (Office of Cultural Projects, or OPC) is an independent, non-profit organization dedicated to the promotion of Contemporary Art through exhibitions, round tables, public art initiatives, and educational service programs. It was born with the desire to contribute to the reflection on the contemporary sociocultural and artistic environment, with the vocation of sharing with the inhabitants and visitors of Puerto Vallarta. OPC works with different creators such as artists, architects, curators, academics and writers who contribute to the construction of our notion of the city and contribute to the cultural panorama linked to Puerto Vallarta with a global reach. For more information visit their website or Facebook page.