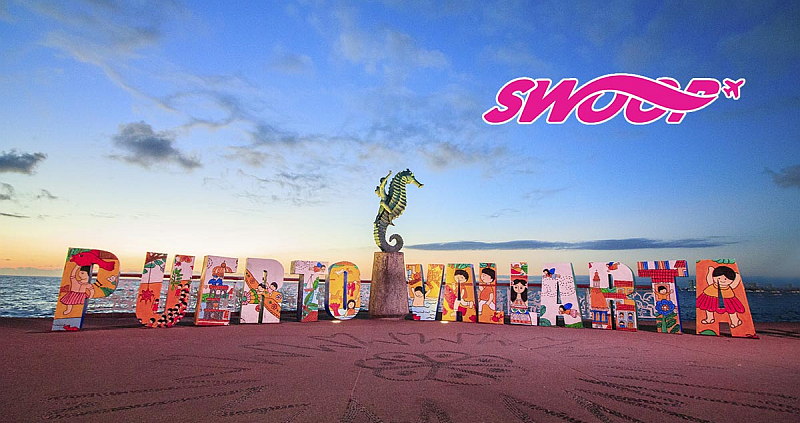 Puerto Vallarta, Mexico – Canadians are usually thinking about warm destinations for their vacations, especially during Winter, and Swoop Airlines has great news for sun-seekers! The Canadian low-cost airline has recently announced new flights to Mexico, including Puerto Vallarta, and the Caribbean.
The carrier has also announced a fleet expansion. New modern aircraft – six Boeing 737 MAX 8 – have joined their services. In January, Swoop will resume its popular route from Hamilton to Montego Bay, increase the frequency and serve new exciting routes.
Starting in January, Swoop will restart service from Hamilton to Montego Bay. It will also add new frequencies to popular published routes from Hamilton to Punta Cana, Toronto to Cancun, Winnipeg to Puerto Vallarta, Edmonton to Mazatlán, as well as Abbotsford to Los Cabos and Puerto Vallarta.
The Toronto-Cancun route will have 8 weekly frequencies; Winnipeg-Puerto Vallarta will fly three times a week on Tuesdays, Saturdays and Sundays; from Edmonton to Mazatlán there will also be three weekly frequencies, on Wednesdays, Saturdays and Sundays; and with the same frequency and days the Abbotsford to Los Cabos route will operate; while from Abbotsford to Puerto Vallarta there will be four weekly flights, on Mondays, Tuesdays, Fridays and Sundays.
Canadians can unlock exclusive discounts at all-inclusive resorts when they book their ultra-not-expensive flight as part of a Swoop Getaway*. For added convenience, Swoop flights to warm and sunny destinations are also available through WestJet Vacations.
"As Canada's leading ultra-low fare airline, we are thrilled to be expanding sun-flying this winter," said Bob Cummings, the President of Swoop. "With winter weather now upon us, demand for leisure travel down south is reaching new heights and we are proud to meet that demand with this added capacity."
Source: FlySwoop.com