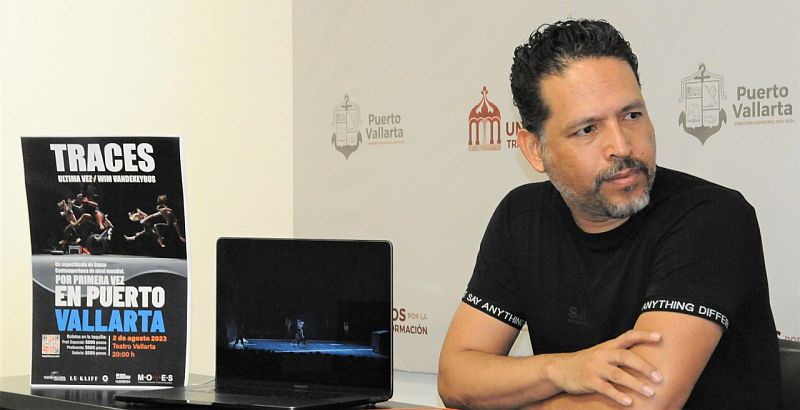 Puerto Vallarta, Mexico – Eleno Guzmán Gutiérrez, a proud "patasalada" stage artist who has performed on Mexico's most important stages and international festivals in various countries, is returning to his hometown, Puerto Vallarta, to fulfill one of his greatest dreams. He will be presenting the theatrical play "Traces," created by the Belgian choreographer, director, and photographer, Win Vandekeybus.
During a press conference, Eleno was accompanied by Christian Granados, a local artist who began his career at the Manuel Lepe Theater Company (COTEMALE) under Marcela Lepe, with the play "Vaselina." They revealed the details of this performance, which will take place on August 2nd at Teatro Vallarta, as part of its Mexico tour.
Eleno, who is also a producer and representative of artists from around the world, aims to inspire young people to venture into the world of performing arts. He explained that "Traces," created by the renowned contemporary dance legend Win Vandekeybus, takes us deep into the last wild forest of Europe in Romania, where an important animal reigns – the bear!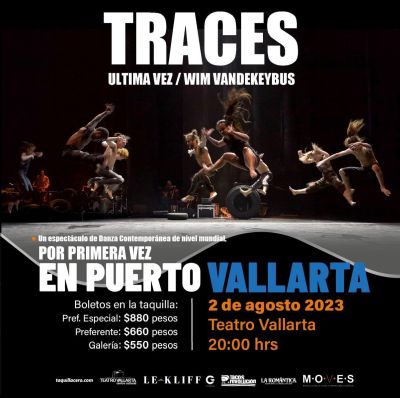 The play portrays the relationship between the bear and contemporary humanity, highlighting the devastation of this animal's habitat. It features three types of bears: the domesticated bear, the wild bear, and the killer bear, all set in a Gypsy dance ambiance performed by ten dancers from different countries, who are part of Vandekeybus' company, "Última vez".
"Traces" will take the Teatro Vallarta stage on Wednesday, August 2nd, at 8:00 pm. Tickets are reasonably priced, ranging from 500 to 800 pesos, for a high-quality performance targeted at an audience aged 13 and above. Due to some scenes involving nudity, minors ages 10-11 must be accompanied by their parents.
The son of Eleno "El Chino" Guzmán, Eleno Guzmán Gutiérrez comes from one of the most respected and traditional families in the Puerto Vallarta restaurant industry. He is a cultural promoter, producer, and advocate of the international contemporary arts scene.
He was executive director of the Center for Contemporary Dance and Production (CEPRODAC) of the National Institute of Fine Arts. He studied acting at Teatro Estudio in Guadalajara, and at Casa del Teatro in Mexico City. He trained in professional contemporary dance through national and international workshops and residencies. He was the artistic director of Alicia Sánchez y Compañía, performing on the most important stages in Mexico, as well as festivals in New York, Canada, the Czech Republic, Spain, Russia, France, Belgium and China.
Eleno was also part of the Advisory Council of the National Dance Coordination of the National Institute of Fine Arts (INBA) and is the founder of the cultural company MOVES (Movimiento Escénico), which specializes in the international circulation of contemporary dance and theater, as well as in advice and curatorship of performing arts festivals.
According to his resume, he also held the position of deputy director of Performing Arts at the Center for the Arts in San Luis Potosí, engaging in significant international collaborations, among many other activities and contributions throughout his national and international career.
This latest production is a search for 'traces' of nature that the body has forgotten or repressed. How much nature still lives in humanity? How much animal instinct remains in the human body? What happens when we find ourselves at risk or in danger, when we have to make intuitive decisions to survive?
Find the answers to all of this and more, as the story is revealed through music and dance, in "Traces". Tickets are on sale now at TeatroVallarta.com.
Teatro Vallarta is located in El Centro at Uruguay #184, just south of Ley grocery store on the main street as you enter downtown Puerto Vallarta. Click HERE for Google map.