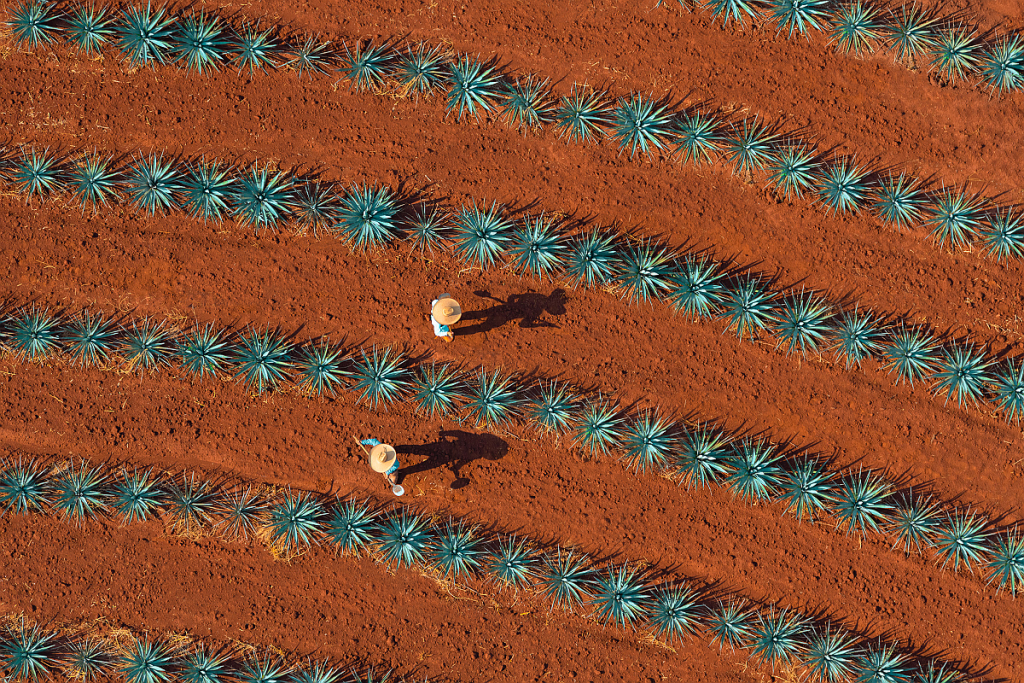 Los Altos, Jalisco, Mexico – Fine-art photographer Gray Malin traveled to the highlands in Jalisco, Mexico to capture once-in-a-lifetime aerial images over Tequila Don Julio's iconic agave fields.
Merging Gray's love of aerial photography with brand founder Don Julio González's love of his land, Gray designed custom umbrellas and placed them amongst traditionally dressed jimadores representative of the legacy of one of Mexico's most beloved tequila brands. The aerial photos by Gray Malin are available now to bring the world of Tequila Don Julio into your home.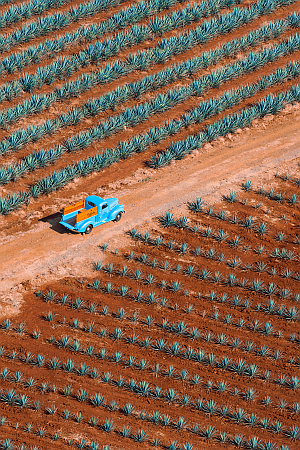 "I've loved Tequila Don Julio for a long time so it was an honor to capture their stunning agave fields where the tequila-making process all begins," shares Gray Malin. "This was my first time shooting work above this type of landscape and I was mesmerized by the geometric rows of the teal agave contrasted against the red soil. Experiencing the fields from this perspective, and the care that goes into each plant to produce every bottle, is immensely impressive, it's an art in itself."
Enjoy a Margarita for a truly plant to table experience while you take in the 11 different pieces of art at GrayMalin.com, which are available now as prints or framed in sizes small to oversized. The images will also be brought to life through an immersive pop-up event in the Hamptons in August that will offer guests the opportunity to experience the worlds of Gray Malin and Tequila Don Julio. More information to be released in the coming weeks.
"In the same way that Tequila Don Julio revolutionized the tequila category, Gray Malin has paved the way in photography with his signature aerial style and celebration of beautiful destinations all over the world," shares Stacey Cunningham, Director of Tequila Don Julio. "Gray creates for the love of it, just as Don Julio González did, and this partnership is a celebration of just that – creating Por Amor."
You can also mix up the official 'Malin Margarita' and enjoy the beauty of your own surroundings all summer long:
Ingredients
1.5 oz Tequila Don Julio Blanco
.75 oz Fresh Pineapple Juice
.75 oz Fresh Lime Juice
.5 oz Agave Syrup
4 Sage Leaves
Preparation
Combine all ingredients in a shaker with ice and shake well. Strain over fresh ice into a rocks glass. Garnish with a pineapple wedge and enjoy!
ABOUT TEQUILA DON JULIO
Founded on the pioneering agricultural principles of Don Julio González and his personal pursuit of perfection, Tequila Don Julio revolutionized the tequila industry and set the standard for ultra-premium tequila. The original luxury tequila of choice in Mexico, Tequila Don Julio uses only the highest caliber, fully matured and ripened Blue Agave that has been hand-selected from the rich, clay soils of the Los Altos region of the state of Jalisco. The Tequila Don Julio portfolio includes Tequila Don Julio Blanco, Tequila Don Julio Reposado, Tequila Don Julio Añejo, Tequila Don Julio 70, Tequila Don Julio Rosado, Tequila Don Julio 1942, and Tequila Don Julio Ultima Reserva. For more information on Tequila Don Julio, please visit DonJulio.com.