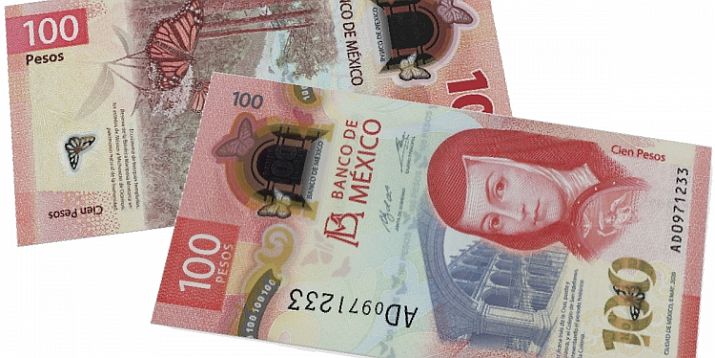 Puerto Vallarta, Mexico – When you're on your way down to Puerto Vallarta to visit your vacation home in Mexico, accessing money is certainly a necessity, but what is the best way to get preferred exchange rates? We have some easy tips for exchanging money in Puerto Vallarta.
The Basics
Mexican pesos are abbreviated as MXN or MN, and bills are printed in 20, 50, 100, 200, 500, and 1000 denominations. The exchange rate has averaged around 20 pesos to 1 USD in 2021/2022, making it easy for approximate estimates in your head (i.e., 20 pesos equals 1 dollar, 50 pesos equals 2.50 dollars, 100 pesos equals 5 dollars, 200 pesos equals 10 dollars, etc.), but there are multitudes of currency apps to add to your phone for more exact exchange calculations.
When You Arrive
There is no real need to purchase pesos at your home bank before traveling to Mexico, as the easiest way is to stop at one of the many ATMs located outside the "Arrivals" exit at the Puerto Vallarta Airport, which will offer the best exchange rate by just withdrawing money from your home checking or savings account. Look for national or international bank machines to avoid costly service charges from private ATMs: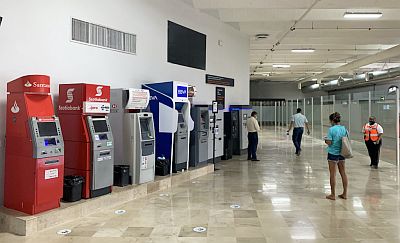 BBVA Bancomer
Santander
Scotiabank
Intercam
Banorte
Inbursa
CIBanco
Banco del Bajío
HSBC
Banamex Citibank
Most bank machines have an English option, making them easy to use. TIP: make sure that you click refuse when the ATM prompts "do you accept this exchange rate". The first offered exchange rate will come with a hefty service fee (often up to 12%), but if you simply push the "No" button, your withdrawal will still process at the lowest service fee and best exchange rate.
Other Options
You are able to use USD in many situations, such as paying taxi drivers, grocery stores and some restaurants, but you will often get a non-preferential exchange on your money, as businesses (particularly smaller ones) have to make the effort of later taking your money to a currency exchange to convert your dollars into pesos. Also, be prepared to get your change back in MXN, not USD, and don't come with large denominations, like $100 bills, as they often won't be accepted.
Credit cards are widely accepted in grocery stores, larger restaurants, retailers, and by tour providers, but there are times that you will be asked to pay a service charge to use a credit card. However, many smaller shops and restaurants still function as cash-only businesses.
If you purchase a home in Puerto Vallarta, you will most likely want to open a bank account locally, to make international banking easy. Your Tropicasa real estate agent will be able to offer several suggestions for reputable banks that provide service in English.
Click HERE for more Puerto Vallarta real estate and lifestyle tips from Tropicasa Realty.

Since 1997, Wayne Franklin and his team at Tropicasa Realty have been a trusted name in Puerto Vallarta real estate. Tropicasa Realty is the region's representative for "The Leading Agents of the World" and with over 100 years of combined experience in real estate, all agents of the company are affiliated with AMPI. Wayne Franklin or any member of his knowledgeable team can be contacted in-person at their Romantic Zone Office – Pulpito 145-A at Olas Altas. While in PV they can be reached at (322) 222-6505 or by calling 866-978-5539 (Toll-Free) from the U.S.
Click HERE to learn more about Tropicasa Realty, or visit tropicasa.com.