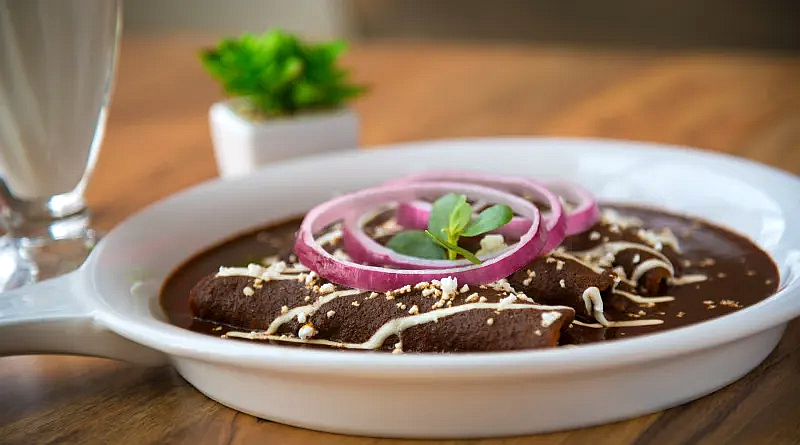 This recipe has it all! Every ingredient is medicine for the mind and salve for the spirit. Making this recipe is a devotion, a ritual, and is most fun when you make it with a group or your family (or with others via a zoom call). Do this during the weekend when you can devote an afternoon to the ritual of cooking and be prepared for a culinary (and even spiritual!) revelation.
You will be working with allspice, chiles, and much more to achieve a divine combination of hot spicy chocolate that will awaken anything it touches, especially chicken, turkey, or tofu. I adapted this recipe from one by the maven of mole, Diana Kennedy.
Mole means "sauce" in Mexico and is one of Mexico's nutritional gifts to the world. Its consistency and uses reflect the joining of European and Mexican spices and food techniques. I was introduced to mole negro on my first trip to Oaxaca and it's been a mainstay in my kitchen ever since. While moles are not found in the western part of Mexico where I live, in recent years many Oaxaqueños travel north with their spectacular moles to share at outdoor festivals.
Moles last; so make a batch to eat and freeze the rest. The warmth of the allspice and heat of the pepper will warm and nourish you on a cold day, or help you sweat it out on a hot one. Mole often has some bread or tortilla added but I left it out for our gluten-free friends. You will be so glad you pulled out the allspice for this special treat and for other ingredients like chiles, plantain, Mexican oregano (Lippia graveolens) and canela (Mexican cinnamon). For these ingredients go to your local Mexican food store or shop online.
The key to working with chiles is to understand that water only spreads the heat whether it's in your mouth or on your hands, so if you eat something too spicy, grab a piece of bread or a spoonful of rice. My comadre Alicia taught me this simple trick to avoid the stinging effects of chiles' volatile oils: after working with chiles rub your hands through your hair (be sure not to rub your eyes!) so that the volatile oils are absorbed by your hair. Then you are ready to wash your hands with soap and water.

Healthy Mole Recipe
My recipe is a combination of several I have come across throughout the years, beginning with the one from esteemed chef Diana Kennedy. Mole is very forgiving, so you can certainly experiment a bit.
Mole Recipe Servings:
Makes 8 cups (enough for 4 pounds of chicken, pork, or tofu)
Ingredients
• 10 dried guajillo chiles
• 7 dried mulato negro chiles
• 7 dried pasilla chiles
• 4 dried cascabel chiles
• 4 tablespoons avocado oil, divided
• 8 cloves garlic
• 1 small white onion, peeled and quartered
• 2 whole cloves
• 4 whole allspice berries
• 1 teaspoon anise
• 1 teaspoon ground Mexican cinnamon (canela)
• 1 teaspoon Mexican oregano
• 6 black peppercorns
• 1 yerba santa leaf
• 2 large plantain
• 2 dried apricots
• 1 ounce dark chocolate, melted
• 1/4 cup ounce raw almonds
• 1/4 cup sesame seeds, toasted until golden
• 1/2 cup of raisins
Directions
Toast all the chiles in a heavy cast-iron pan until the skins blister. Open all the windows while you are toasting and make sure you don't inhale the smoke.
Stem, seed, and devein chiles, then soak them in 3 cups of very hot water until soft. Set aside both the chiles and the water for later.
Heat 2 tablespoons of the oil, add garlic and onion, and cook for 3 to 5 minutes, until tender.
Add the cloves, allspice berries, anise, cinnamon, oregano, and peppercorns into a spice mill and grind until very fine.
In small amounts, combine in a food processor the garlic and onion, chiles, yerba santa, plantain, apricots, chocolate, almonds, sesame seeds, and raisins, along with the ground spices. As you process, add a little of the water that holds the soaked chiles until you have a very smooth paste.
Add 1 tablespoon of avocado oil to a pan and add paste, gently frying on all sides until it is dry and smooth about 15-20 minutes. When it has cooled, refrigerate (or freeze) until needed. It can also be thinned with 2 cups of chicken broth when mixing with chicken, pork, (or even tofu).
Enjoy!
---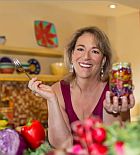 Leslie Korn has lived and worked in Banderas Bay since 1973 conducting research in Traditional Medicine of Mexico. She is a Harvard Medical School and Harvard School of Public Health-educated clinician in clinical practice in Mental Health Nutrition, Integrative Medicine and the prevention of dementia and cognitive decline. She is the author of 10 books, including 'Rhythms of Recovery: Trauma, Nature And The Body.' To learn more about her work, visit DrLeslieKorn.com. She can be reached at lekorn(at)cwis.org.