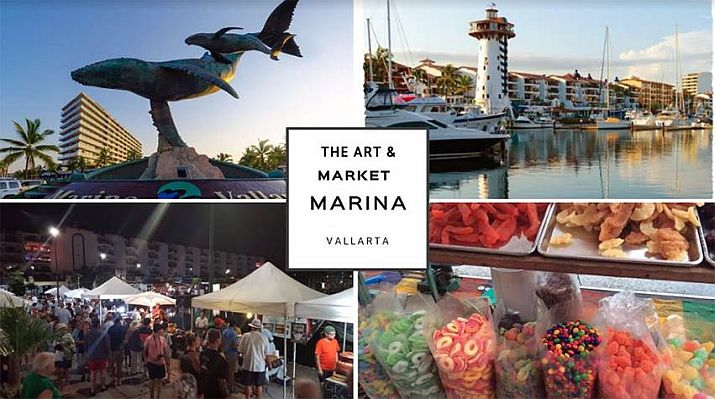 Puerto Vallarta, Jalisco, Mexico – The Marina Vallarta Art & Market, a popular weekly extravaganza held along the Marina Malecón, has become a must-visit destination for those in search of artisan treasures, delectable cuisine, and live entertainment.
Every Thursday evening, from 6:00 to 11:00 pm, the Marina Vallarta Malecón transforms into a bustling market, featuring up to 200 vendors offering a diverse range of goods. From hand-painted art to silver jewelry, handmade clothing and bags, leather huaraches, homemade bread, locally-sourced tequila, and hand-rolled cigars, there's something to captivate everyone's interest.
But it's not just a shopping experience; it's an immersive cultural experience. Visitors can savor culinary delights and immerse themselves in the local culture with live music performances. Folkloric dancers, Mariachi bands, and a variety of musicians create an atmosphere of celebration and joy.
Antonio García, coordinator of the market and a member of the Marina Vallarta Residents Association, explained that the festive atmosphere gets even livelier during holidays and special occasions. The market's offerings change with the seasons, with items related to Día de Muertos, Halloween, Thanksgiving, Christmas, Three Kings Day, Valentine's Day, spring, and Mother's Day, ensuring there's something for every monthly celebration from October through May.
Whether you're a tourist or a local, everyone is welcome to experience this captivating attraction. After exploring the myriad of stalls at the Marina Vallarta Art & Market, you can continue your evening by enjoying the numerous restaurants and bars in the lively area.
The Marina Vallarta Art & Market will be open every Thursday through May 2024, so mark your calendars and be sure to pay a visit. For more details and updates, you can check out Art and Market PV on Facebook. This is your chance to immerse yourself in the rich cultural tapestry of Vallarta while discovering one-of-a-kind treasures and enjoying a lively, festive atmosphere.