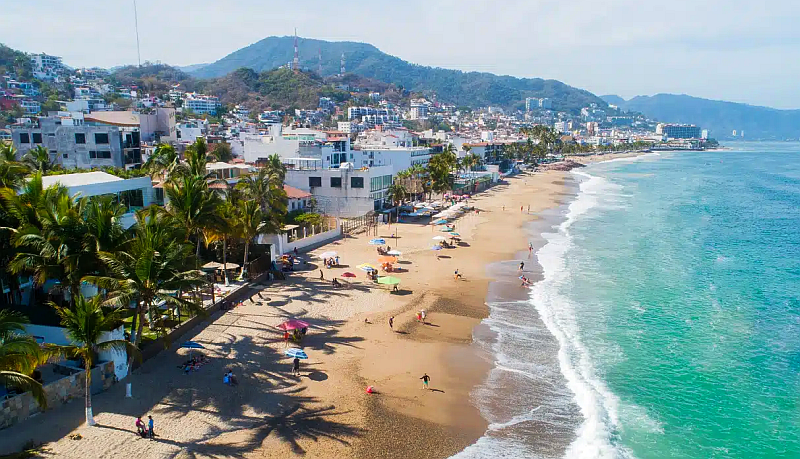 Puerto Vallarta and Riviera Nayarit are once again among the 10 international destinations in the highest demand by U.S. travelers for the 2023 summer season. This, according to a study carried out by Allianz Travel, a world leader in travel assistance and part of the Allianz Partners group.
This report entitled "Top 10 Summer Travel Destinations", was made through the analysis of more than 1.6 million flight itineraries scheduled to depart from US airports between May 26 and September 5, 2023 and with a duration of five to eight days.
The study revealed that 27% of Americans who will travel this summer season opted for international trips and, in this context, Mexico was placed as the only country with more than one city on the list of favorite destinations.
Cancun ranks first as the preferred international site, Los Cabos in second place and Puerto Vallarta/Riviera Nayarit in seventh place. The rest of the destinations within this Top 10 are Punta Cana, Oranjestad, Montego Bay, Nassau, London, Providenciales and Carlota de Amalia.
TRAVEL AND STAYS
The survey revealed that for international trips, the trip length favored by a majority of travelers (59%) is seven days, and the highest volume of travelers departs on Saturdays, May 27, June 10 and June 17.
This interest in traveling is part of a global panorama in which, according to the tourism trends exposed at the recent Allianz Partners Global Travel Summit 2023, travelers seek to play a much more proactive role in preparing their vacation.
Currently, among the main concerns of travelers are the inflationary environment, personal finances and geopolitical volatility.
As a result of this context, tourists demand higher quality services, seek to have more control over costs, and there is a greater awareness of traveling safely, with protection schemes against eventualities that support them so as not to incur unforeseen expenses.
DUPLICATE INSURANCE
Thus, in general terms at the international level, according to Allianz Partners figures, the intention to purchase travel assistance or insurance has doubled in recent years, going from 21% in 2019 to 55% in 2022.
"Travel assistance is becoming an increasingly important complement for travelers. For this reason, this summer, we continue to focus on being the best companion for vacationers so that they can enjoy with complete peace of mind, knowing that they have support in any situation such as accidents, illnesses, lost documents and more", explained Joana del Toro, deputy director of Allianz Travel.
Allianz Travel recalls that travel assistance offers protection that, in the event of an unforeseen event, assumes the expenses of the moment and provides access to reliable professional services such as medical attention, telephone advice, support in case of lost luggage or flight cancellation, recovery of expenses not used in the trip, among others.
Source: Vallarta Opina