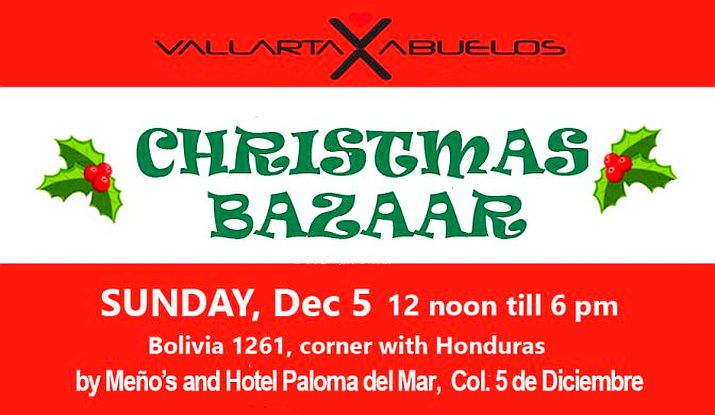 Puerto Vallarta, Mexico – Vallarta Abuelos, a US-registered nonprofit that helps needy Vallarta children, is organizing a traditional American Christmas Bazaar on Sunday, December 5. More than thirty local artists, both Mexican and expat, will be participating, selling their hand-crafted pieces and donating a percentage of the proceeds to Vallarta Abuelos for its Christmas Toy Drive.
Native artists from the states of Guerrero, Nayarit, Jalisco, Mexico, Oaxaca, and Michoacan will demonstrate their traditional crafts. The Vallarta Sister Cities Committee (Santa Barbara) will be offering food, and decorated Christmas cookies.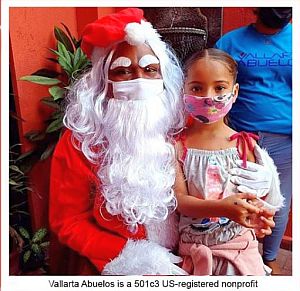 Especially for the Christmas season, the Christmas market will offer decorated Christmas cookies and hand-made ornaments. Two booths will sell a wide variety of hand-made toys and beautiful dolls at economical prices: these can be taken home for family gifts or donated to Santa, for distribution on Dec 23 to needy children at the annual Vallarta Abuelos Christmas Party.
The bazaar will be held from 12 noon to 6 pm in Col. 5 de Diciembre, at 1261 Bolivia (corner with Honduras, next to the Hotel Paloma del Mar and Meño's Restaurant. (Click HERE for map.)
Vallarta Abuelos is a resource for needy families that offers scholarships to 40 at-risk children, while also organizing educational / cultural activities for children, and distributing 1,000 backpacks and supplies before the opening of school. Students can do homework and attend online classes in their Computer Center, access emergency medical assistance, and receive recycled phones for schoolwork. During the Covid pandemic, the charity distributed food to 1,000 people for 10 weeks. 100% of all donations go directly to needy children and families.
You can find Vallarta Abuelos on Facebook or at VallartaAbuelos.org.