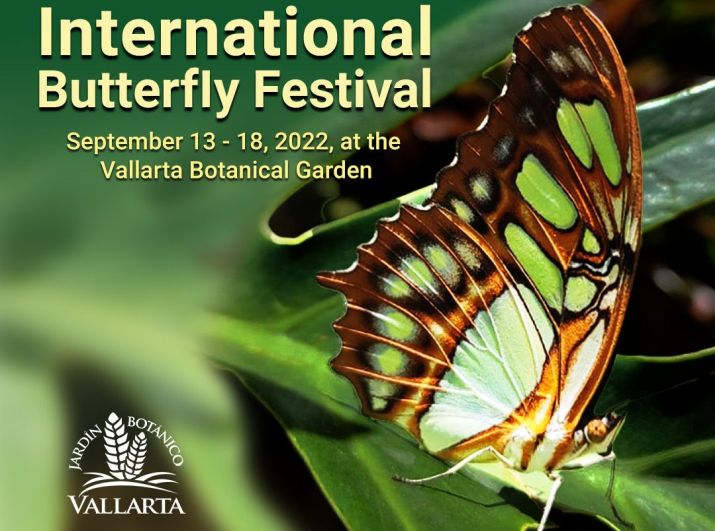 Puerto Vallarta, Mexico – September is peak butterfly season in the Puerto Vallarta region, both in terms of sheer numbers and great diversity. From September 13-18, Vallarta Botanical Garden will celebrate a Butterfly Festival, a great opportunity for nature lovers of all ages to see, and learn about, these amazing creatures.
Enjoy a wonderful natural experience in the Vallarta Botanical Garden, where their horticultural team has redesigned the landscape with thousands of colorful flowering plants known to attract the fascinating Mexican butterflies that are awaiting your discovery.
During this five-day-long festival you and your family will enjoy:
• Guided butterfly walks daily at 1:00 pm
• Presentations with themes related to butterflies
• Face painting for children
• Butterfly photography contest with 1st, 2nd. and 3rd place prizes
• Presentation of prizes for winning contest photos
• Butterfly-attracting plants for sale
• and much more family-friendly fun!
All activities are included in the standard Garden entry fee of $200 pesos per person. Entrance to the Garden is free for members and for anyone who comes dressed as a butterfly.
Note: No butterfly nets, please! Take only photos and leave only footprints where appropriate. (Stay on designated trails.)
Visit the internationally famous Vallarta Botanical Garden located just 30 minutes south of Old Town at Km. 24 on Highway 200 and easily accessible by public transportation and taxi. This 74 acre wildlife preserve and botanical garden have something fun for everyone. Over 200 species of birds have been observed on the Garden's grounds. Don't forget to bring your swimsuit for a refreshing dip in the jungle river. See plantings of vanilla, chocolate, and hundreds of other botanical delights! Authentic Mexican Cuisine is served in the Hacienda de Oro Restaurant from 10 am to 5 pm. The Garden is open daily from 9 am to 6 pm (closed Mondays from April 1 to December 1). Garden admission is just $200 pesos. For more information, call (322) 223-6182 or visit vbgardens.org.