Puerto Vallarta, Mexico – During this year's American Public Gardens Association Conference, held June 19-24 in Portland, Oregon, Vallarta Botanical Garden won the 2022 Garden Excellence Award, making it the first garden outside the U.S. to ever win this prestigious recognition in the history of the Association.
The American Public Gardens Association Awards are public horticulture's best showcase for the most influential, thought-provoking individuals and organizations. The award winners set a professional precedent for other individuals and organizations to follow.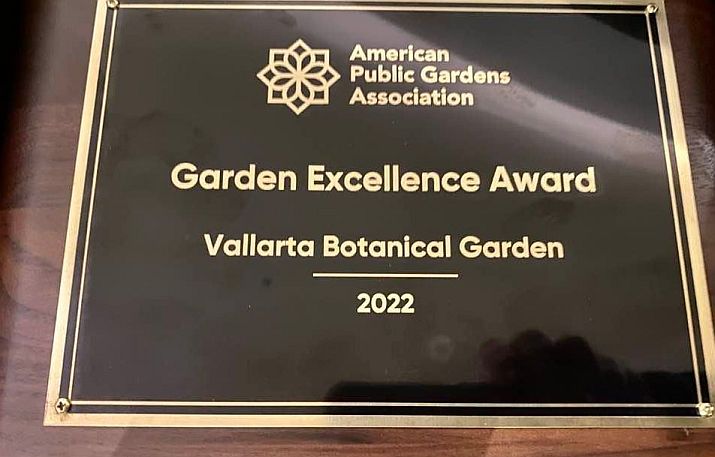 Award for Garden Excellence
Started in 2003, the Award for Garden Excellence is an annual award given to a public garden that exemplifies the highest standards of horticultural practices. Selected by its peers, the award recipient is a public garden that has shown a commitment to supporting and demonstrating best gardening practices. The criteria for this award, which are given to the public garden in their entirety, include:
• The best designed and most horticulturally outstanding display;
• Gardening practices that are appropriate to a local or regional environment and reflect environmentally informed horticulture;
• Maintenance of commitment to plant collections;
• Demonstrated commitment to the national or a regional horticultural community;
• Encouraging students of gardening at all levels through innovative horticultural practices.
Since opening the Garden's gates in 2005, Vallarta Botanical Garden has won international accolades as a not-to-be missed highlight of any trip to Puerto Vallarta, Mexico.
A not-for-profit organization started in 2004 with the mission to propagate, study, discover, conserve and display native plants from Mexico and from around the world, the Vallarta Botanical Garden sits on 74 acres of land and is home to a vast diversity of Mexican plant species, including the most visited public collection of orchids in Mexico.
As the Banderas Bay region's most popular living museum, the VBG also boasts four conservatories showcasing local and exotic flowers from all over the world, plus vanilla, chocolate and coffee plantations; a museum; a rock collection; and a large population of hummingbirds, Military Macaws, and many other species of wild birds. The Los Horcones River, offering breathtaking views, runs alongside the property, which is also home to award-winning restaurant Hacienda de Oro.
Visit the internationally famous Vallarta Botanical Garden located just 30 minutes south of Old Town at Km. 24 on Highway 200 and easily accessible by public transportation and taxi. This 74 acre wildlife preserve and botanical garden have something fun for everyone. Over 200 species of birds have been observed on the Garden's grounds. Don't forget to bring your swimsuit for a refreshing dip in the jungle river. See plantings of vanilla, chocolate, and hundreds of other botanical delights! Authentic Mexican Cuisine is served in the Hacienda de Oro Restaurant from 10 am to 5 pm. The Garden is open daily from 9 am to 6 pm (closed Mondays from April 1 to December 1). Garden admission is just $200 pesos. For more information, call (322) 223-6182 or visit vbgardens.org.