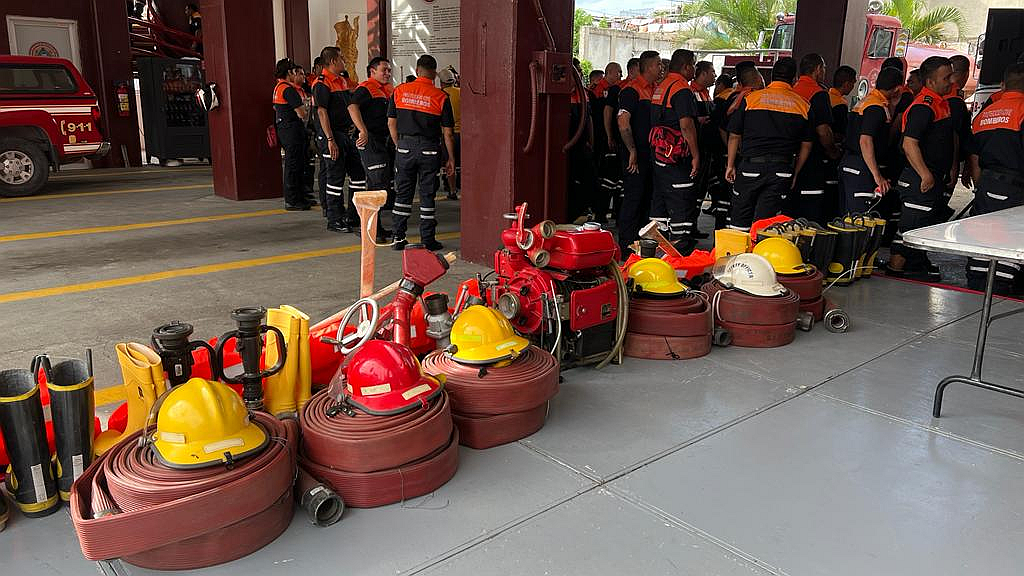 Puerto Vallarta, Mexico – Mayor Professor Luis Alberto Michel Rodríguez (Profe Michel) on Monday delivered more equipment, tools and uniforms to municipal Civil Protection and Fire personnel, in order to improve emergency services and care for Puerto Vallarta residents and visitors.
Accompanied by councilor Christian Eduardo Alonso Robles, president of the building commission for Civil Protection, Risk Management and Firefighters, as well as the head of the agency, Gerardo Alonzo Castillón Andrade, Professor Michel congratulated the members of this institution for their dedication and courage at the service of the community and for always being willing to risk their lives to safeguard the lives of others.
Likewise, he recognized the effort they make every day to train and be better prepared to act in any emergency, whether at sea by the Lifeguards, first responders in the operational and pre-hospital areas for emergency care, as well as in risk prevention. Newly recruited staff recently joined all of these areas, after an intense training and qualification process.
Profe Michel also recognized the work of the director of the department, its managers and its officers, for the teamwork and coordination they maintain with the different units and security instances to safeguard the integrity of people and their property, in situations of risk or emergency such as those that occur in this season of heavy rains and hurricanes.
He said that the delivery of this equipment, consisting of uniforms for 170 elements, aquatic rescue equipment, and equipment and tools for the fire department, will substantially improve the personnel's work, but above all will improve their services and attention to the population.
The Mayor also provided equipment for the boats in the Lifeguard and Aquatic Rescue area, consisting of 41 life jackets, 41 whistles, two galvanized steel anchors, three life buoy rings, heliographs, two rolls of anchor line, three pairs of emergency flares, three lifebuoy lines, three electric torch lights, two foam fire extinguishers, and four wooden oars, among other tools.
Puerto Vallarta Municipal Government press release translated and edited by BanderasNews.com.