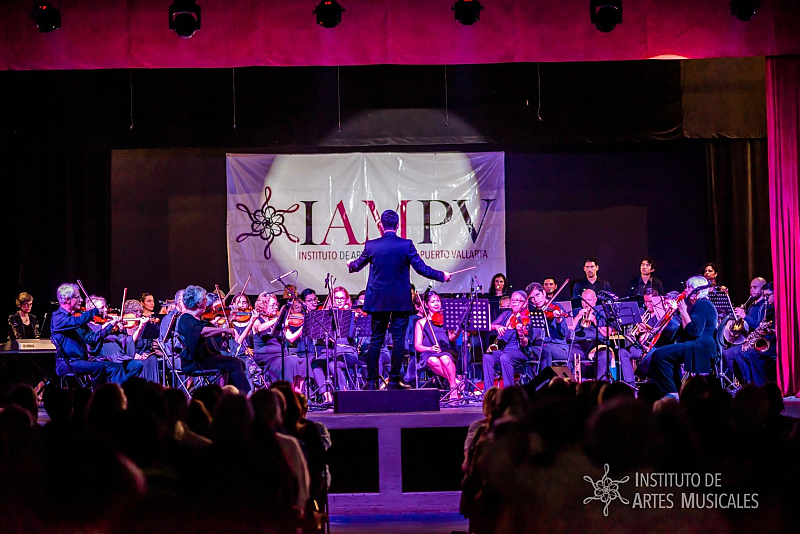 Puerto Vallarta, Mexico – Attention All Music Lovers! The Orquesta Sinfónica Vallarta (OSV) and Instituto de Artes Musicales Puerto Vallarta (IAMPV) will be adding some extra joy to the holidays through a series of special concerts that are sure to make the season a little brighter.
For many, the Orquesta Sinfónica Vallarta's holiday concerts have been an annual tradition since the ensemble's inception as the Puerto Vallarta Chamber Orchestra in 2005. This year the Vallarta Symphony Orchestra, under the direction of Chuck McKinnon, will perform festive Christmas concerts on December 18 at the American School and on the 19th at Salon Pariaso in Nuevo Nayarit.
Coro Bucerias (the Choir from Bucerias) and Poder Coral (the Puerto Vallarta Choir) will be singing with the Symphony Orchestra, under the direction of Aquiles Morales.
The amazing Jean-Guy Comeau will be performing Mozart's Piano Concerto No. 21 (Andante). A vocal quartet, featuring Kathy Overly, Sharon Baughman-White, Aquiles Morales and Jean-Guy Comeau, will sing Faure's Cantique de Jean Racine among many other Christmas favorites.
This year's Orquesta Sinfónica Vallarta Christmas Concerts will also include silent auctions to help raise funds for IAMPV, a non-profit educational music institute whose mission is to bring the joy of music to children and young adults in the greater Banderas Bay area.
IAMPV is currently providing over 80 children, many of whom are scholarship students, with education and performance opportunities through a variety of programs and instruction. Classes include stringed, wind, brass, and percussion instruments, along with Big Band and choral music.
The school also provides students with free instruments, as they are too expensive for many of the parents in the community.
Both of this year's OSV Christmas Concerts start at 7:00 pm. Tickets, which cost $250 pesos for general admission and $100 pesos for kids and students, will be available at the door.
Event proceeds will help the Institute of Musical Arts finance the educational and musical projects that comprise it, like the Vallarta Symphony Orchestra, Flute Ensemble and the Salty Paw Jazz Orchestra, which is a student Big Band group that has been performing throughout the entire Banderas Bay area.
Come out and enjoy some holiday music, while supporting music education for the children of Puerto Vallarta.
The American School is located at Albatros 129 in Marina Vallarta, and Salon Paraiso is at Paseo de los Cocoteros No.13, Las Jarretaderas, Nuevo Nayarit.