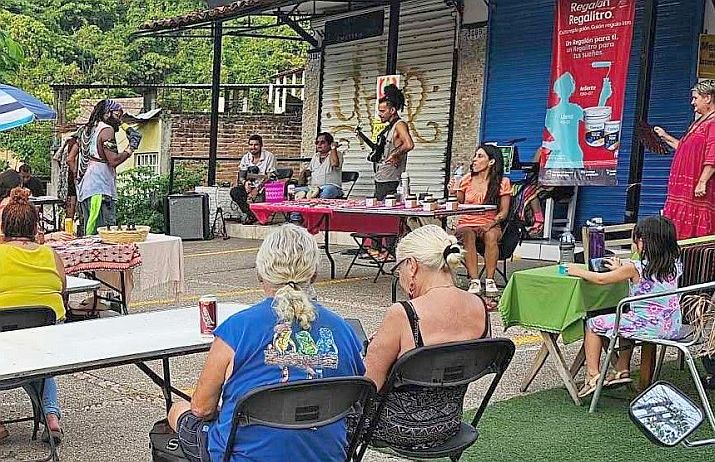 Puerto Vallarta, Mexico – With three(!) show dates for The Pleasant Uprising during this writing period, it's been a whirlwind week for me here in this sunny city by the sea.
I could way overshoot my word count if I even attempted to recount every stop along the road to this week's edition of "Vibrant Vices," so instead I'll take more of a focus on the week's performances… which started out with me pulling double duty as ringleader of The Uprising as well as host of 322 Trivia's Sunday night edition.
Sunday 11/12 – On this sunny Sunday afternoon, the long anticipated debut of the Kasava Karnival unfolded along the Libramiento. Vendors, visitors, and this column arrived onsite for the day's festivities.
The fabulous Fabi, dressed to impress as always, offered warm welcomes to all from her house of Caribbean flavors, with delicious BBQ chicken, coconut rice, and other tropical treats on order.
Registered guests and curious passerby filed into the space, browsing handmade crafts from local vendors and utilizing this new event as a platform to make new friends.
Indeed, there was music in the air… I made sure of it myself.
As much as I love basking in the glory of a successful performance, after the Uprising's set, I had to skedaddle pretty quick to get across town and put on my hosting hat for Sunday Night Trivia at the picturesque El Jardin de la Versalles… but not before doing my best to thank each attendee individually, after all that's just good form in this line of work.
Song of the Set: "Here Comes the Hotstepper" always gets a good pop… everybody loves a good 90s jam. Hit it!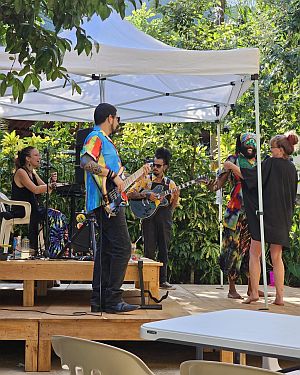 Tuesday 11/14 – (happy bday sis!)- While Sunday was a damn good time – you know I like those plenty – the real tests of our character come in those hours where not everything goes exactly to plan. I'm pleased to report that on this lovely afternoon at La Huerta, the band stayed strong together, delivering a show that gradually won over the crowd down by the river.
I guess I've shared more than a microphone with ZiZi during this project, but we probably need a little more specialized equipment for Vallarta's bigger venues. Ah well, that's something we can solve with a few more fill ups of the trusty tip jar… hell, you can throw in a couple of coins right now if you like (patreon.com/cosmicoffee9).
During the performance, I looked out into the audience for our second performance of the week and was pleased to see some repeat attendees from Sunday's show – Sky and David among them – sitting amongst the assembled.
It's like… sure, you'll go out to see your friends' thing once for friendships' sake… but when you start to see the same people showing up for a show, you know they're not just being friendly… so trust me y'all, I hear and appreciate the compliment. On behalf of the band, thank you so much.
Song of the Set: "Just the Two of Us," featuring a cameo by Judy… we can make it if we try!
Thursday 11/16 – The Uprising's last show time of the week brought me back to that beautiful garden in Versalles, where we had a 7pm start time scheduled. We made good on that start time, hitting our first notes a few minutes before the hour… listen, I've heard it said that when you delay your start to accommodate the late, you punish those who showed up on time.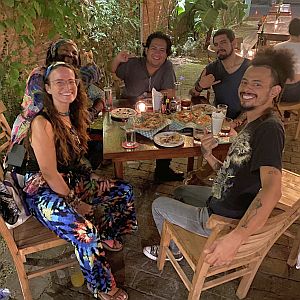 El Jardin de la Versalles is quickly becoming one of my favorite hangouts in the area… I come for the gigs, I stay for the pizza. Comfortable in these familiar surroundings, I like to think I made a good contribution to The Pleasant Uprising's best outing yet.
Uprising drummer YoYo was heard to remark that our most recent experiences had brought us closer together as a band, and I'll just go ahead and confirm that in this space.
Song of the Set: "Sweet Dreams (Are Made of This)" …having ZiZi, a classically trained, extraordinarily talented jazz singer and vocal coach, at the forefront of our band is almost unfair. Almost.
After a laid-back Friday evening back at Brett's place (a day that also included ample gig hunting in the afternoon hours) and Saturday afternoon singing with ZiZi in her vocal class at CCV, I book ended the week with Trivia Night at the Garden, so this seems like a good place to wrap up this week's narrative.
Next week's schedule seems a little less hectic, but I've been fooled on that before so I'm just gonna saddle up for another week of this wild ride… if you stay ready, you don't have to get ready. I'd place my bets on another action-packed few days for myself and The Pleasant Uprising.
Probably see ya around.

AJ Freeman has enjoyed Vallarta's warm welcome for over 5 years and hopes he has done some good during his time here. Passionate about self-expression and human potential, he combines these interests in weekly wrap-up "Vibrant Vices." AJ also shares a body with Warflower Jones, ringleader of The Pleasant Uprising… which is totally just a local party band and not a political organization of any kind as that would be against various jurisdictional laws.