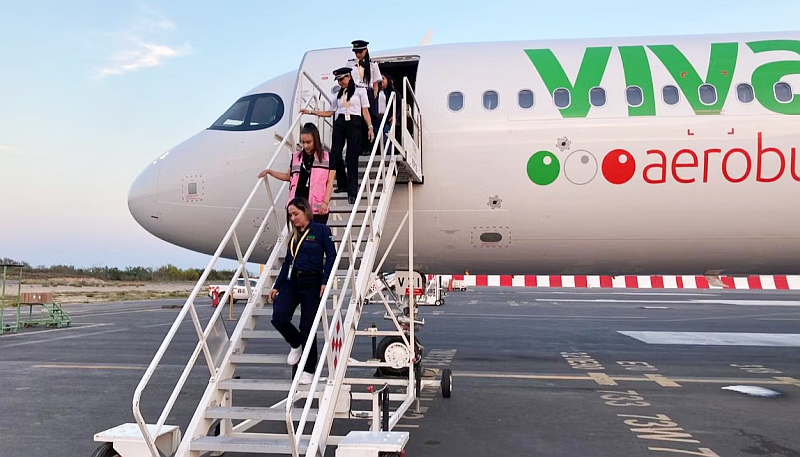 Viva Aerobus, the Mexican low-cost airline, recently marked the arrival of its 70th aircraft with a special delivery flight at Monterrey International Airport. What made the occasion even more notable was that the flight was entirely led by a team of women, including captains, flight planners, legal staff, support engineers, maintenance personnel, and others.
The new aircraft, an Airbus A321neo, which has the capacity to carry 240 passengers, was flown from Airbus' headquarters in Hamburg, Germany, with stopovers at Keflavik International Airport (KEF), Iceland, and Bangor Airport (BGR), USA.
With this latest addition, Viva Aerobus now has a total of 28 Airbus A321s and 42 Airbus A320s. Between December 2021 and March 2023, the company's fleet increased by 27%, growing from 55 jets to 70.
The airline's expanded fleet allows it to meet the growing demand for air travel and its strategy of expanding its routes. So far this year, Viva has announced several new services, including a new route from Cancun to Quito, a new route from Monterrey to Bogota, the addition of the Tijuana-Felipe Angeles route to its regular offerings, the resumption of the Monterrey-Mexicali route, and increased frequencies on the Guadalajara-Puerto Vallarta route.
Last year, Viva Aerobus helped Mexico reach a new all-time passenger record. The country had 106.8 million passengers, growing by 5.3% compared to the pre-pandemic traffic levels. The ultra-low-cost carrier led by Juan Carlos Zuazua handled 17.36 million domestic and 1.90 million international passengers, a 35.6% growth versus the previous year.
With reporting from Simple Flying.