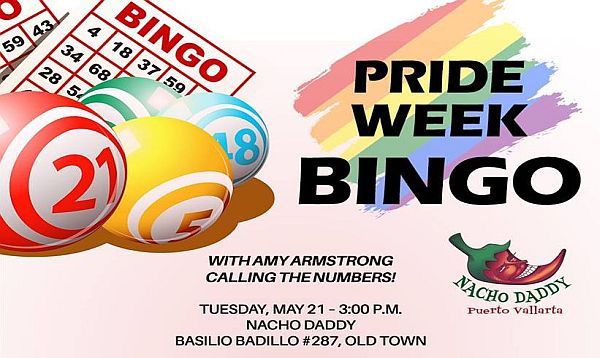 Puerto Vallarta, Mexico – As part of the 2019 Vallarta Pride celebrations, Nacho Daddy will welcome everyone's favorite 'Diva Loca,' Amy Armstrong, who, in addition to performing 3 shows, will be hosting a very special edition of Adult Bingo on Tuesday, May 21 at 3:00 pm to benefit two important non-profit community organizations – SETAC and PuRR Project.
This ain't your Grandma's Bingo. The Always Amazing Amy Armstrong promises to be at her most outrageous as she calls the numbers with her signature hilarious and risqué humor, so you KNOW you're in for a wild ride! And, as if that weren't enough, you could also win fabulous "For Adults-Only" prizes like:
• Penis Night Light
• Bottle of Bailey's & One Ticket to Enrique de Allende Show at Incanto (Friday, May 24)
• "Stud" and "Hottie" Powdered Body Detergent
• Glow in the Dark Super Undies & "Maybe You Touched Your Genitals" Hand Sanitizer
• Gift Certificate ~ Dinner for Two at Nacho Daddy
• Bottle of Absolut Vodka
• Edible Pecker Bouquet & Ticket for "Tuna Does Vegas" at Incanto (good through June)
• Full Body Condom & Instant Underpants (just add water!)
• Sleeping Dog Painting by local artist, Mae Delgado
• Bottle of Tequila
• WOODIE!
• "Beach Days" Yankee Candle
• Glow in the Dark Luv Touch Play Set & EKOS Men's Cologne
• Bottle of Bordeaux Wine & Ticket to "Naked Boys Singing" at Incanto (good through May)
• Mexico Tray
There will also be a 50/50 raffle for cold hard cash AND a raffle for even more marvelous prizes like: gift certificates to local restaurants, a home cooked Southern Fried Chicken dinner, jewelry, art, 2 tickets to the Award-Winning Musical 'Avenue Q' at Act II, hotel stays, a round of golf, and more!
Remember that 100% of all monies raised from the Bingo games and the raffles will help support the vital community services provided by SETAC and PuRR Project, and make plans now to come out to Nacho Daddy on Tuesday, May 21 and have a "Gay Old Time" while supporting these two important non-profit organizations. (*Games start at 3:00 pm, but get there early for a good seat.)
Tickets cost just $300 Pesos ($100 pesos for 8 games of Bingo, $100 pesos for the 50/50 Cash Raffle, and $100 pesos goes to SETAC) and are on sale now at Nacho Daddy (Open daily from 11 am to 12 am at Basilio Badillo #287 in the Romantic Zone), at the SETAC Office, (Open Tues-Thurs 4:00-8:00 pm; Sat 10:00 am-2:00 pm at Lazaro Cardenas 379-C in Old Town), or by sending an email to exkhan(at)usfamily.net.
A limited number of tickets will be sold for this rousing afternoon of fun, friendship, and fantastic prizes, so DON'T DELAY – GET YOURS TODAY!

Located at Aldanaca 178 4A & 4B, in the Colonia Versalles of neighborhood of Puerto Vallarta, SETAC is a non-profit community and wellness center whose mission is to reduce HIV and other sexually transmitted infections in the greater Banderas Bay region through education, detection and prevention. Free counseling, testing, treatments and referrals for HIV and other sexual transmitted illness are just some of the free services SETAC provides to the entire population, without prejudice or discrimination. For more information, follow SETAC on Facebook, visit the website, call (322) 224-1974 or email contacto(at)setac.com.mx.
Click HERE to learn more about Centro Comunitario SETAC.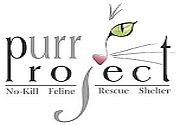 PuRR Project is a Non-Profit shelter in Puerto Vallarta, Mexico that provides homeless cats and kittens a recuperative stay with the ultimate goal to adopt them out to loving homes. All of our residents have been sterilized, vaccinated and are disease free. We accomplish this through our own efforts as well as collaboratively with other animal welfare organizations. Both monetary donations as well as donations of dry cat food are most welcome – and much appreciated. Donations 501(c)(3) tax-deductible in the U.S. For more information, visit PuRRProject.com or send an email to info(at)PurrProject.com.