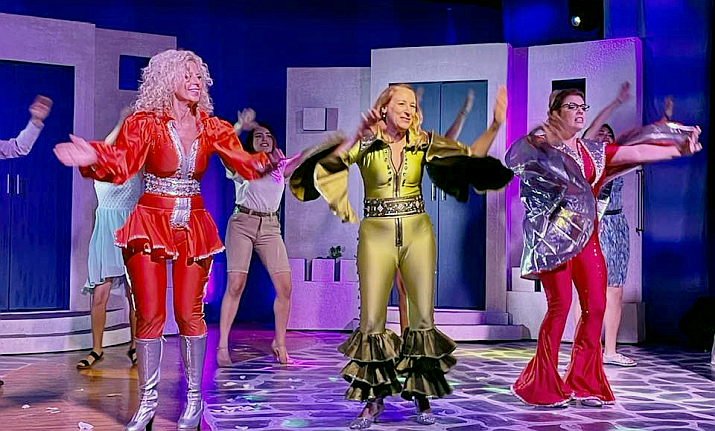 Puerto Vallarta, Mexico – Act2PV, the #1 entertainment venue in Puerto Vallarta, continues to maintain its excellent standards as the season comes to a close. With a variety of nightly 5-star shows ranging from Broadway's Mamma Mia! to tribute shows, musical revues, concerts, and drag shows, there's something for everyone.
The venue itself is comfortable and creates a delightful atmosphere for an evening out. Additionally, the Encore Lounge, a fully-stocked bar and lounge, is open every evening from 5:00 pm and offers live entertainment at no additional charge, making it the perfect spot for pre- or post-show drinks.
Act2PV is currently offering 2×1 specials for local residents on four of its highly-rated shows, presenting an excellent opportunity to experience top-notch entertainment offerings at a discounted price! Discounted tickets are available at the box office, now open 3:00-10:00 pm daily, or by calling 322-222-1512. Now's the time to take advantage of this amazing offer because it won't last forever!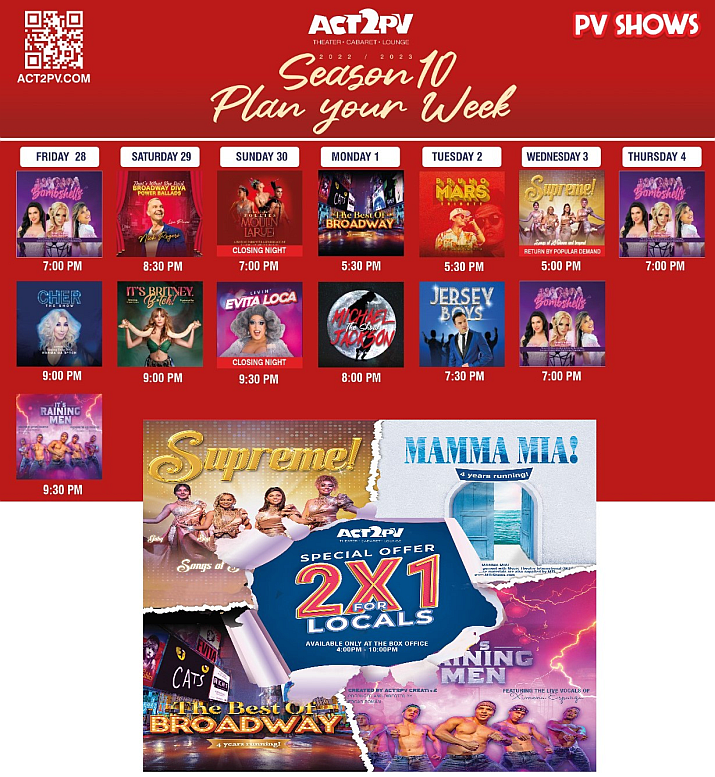 For complete show information, or to purchase tickets, go to the Act2PV website. Tickets can be purchased online with major credit cards or Paypal. Cash and credit cards are also accepted at the box office, open 3:00 to 10:00 pm daily.
OPENING THIS WEEK:

A Special Cinco de May Celebration
featuring Mexico's Brenda Gaviño, and her live Mariachi band!
Friday, May 5 – 6:30 pm
ONE NIGHT ONLY!
Get ready to crank up the fiesta to full throttle, because Cinco de Mayo is hitting harder than a piñata! Strap on your favorite sombrero and brace yourself for the spectacular Canciones de mi Padre show by the one and only Brenda Gaviño! This show is an explosion of energy, with a blazing LIVE Mariachi BAND and Brenda's powerhouse vocals that will have you on your feet, singing, and dancing in no time. From the iconic hits of Linda Ronstadt's Canciones de mi Padre album to other fiery tracks from Mexico, this show will take you on a wild ride through the vibrant world of Mexican music. And let's not forget about Brenda's amazing talent: she's an international karaoke superstar, representing Mexico last summer in Oslo, Norway. She took 3rd place at the final international competition. She's a total knockout who's also been thrilling audiences at Act2PV with her electrifying performances in five different shows this season! So rally up your crew, quench your thirst with some lip-smacking margaritas, and get ready for a night of non-stop partying and unforgettable memories! ¡OLÉ!

Voice of Vallarta Auditions!
Sunday, May 14 – 2:00 pm
Would you like to become the next "Voice" of Vallarta? Now's your chance!
Ladies and gentlemen, are you ready for the most anticipated vocal competition in Vallarta? Act2PV is thrilled to announce that the auditions for the 6th season of the Voice of Vallarta are finally here! Mark your calendars for Sunday, May 14th, and get ready to showcase your incredible vocal talent!
But wait, there's more! The actual competition will take place in July and August, giving you ample time to perfect your craft and showcase your awe-inspiring vocal abilities. And the cherry on top? The winner will receive a very generous cash prize, as well as numerous other great prizes and opportunities!
Not convinced yet? Well, previous contestants have had the chance to perform on Act2PV's magnificent stage, as well as other stages, and some have even gone on to perform in their own shows! The Voice of Vallarta competition is your ultimate ticket to stardom and a stepping stone to greater heights.
So what are you waiting for? Bring musical tracks on a USB for two of your favorite songs (English or Spanish is fine), on Sunday, May 14th, and get ready to blow our minds away with your incredible vocal skills. Don't miss out on the chance to become the next Voice of Vallarta!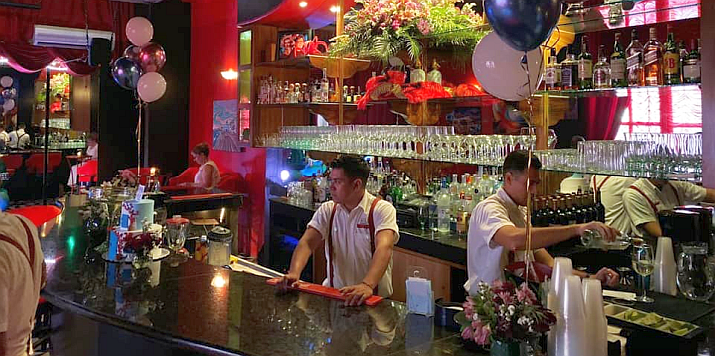 ENCORE LIVE!
Now Featuring Live Entertainment Every Night!
NO COVER
Act2PV invites you to stop by the beautiful, fully-stocked, Act2PV Encore Bar to enjoy a drink and listen to some great live music every night of the week! It's a great place to relax or meet friends, both old and new, in a safe, comfortable setting.
If you have questions, please send an email to info(at)act2pv.com. For more information about shows, or to buy tickets, check out the website at act2pv.com, or go to the box office, now open 3:00 to 10:00 pm daily. Also, be sure and check out the thousands of 5-star reviews on TripAdvisor and Google, as well as other social media. Act2PV is your #1 choice for entertainment in Puerto Vallarta!

The Act2PV Entertainment complex is located on the corner of Insurgentes and Basilio Badillo on the South side of Puerto Vallarta. For more information, call (322) 222-1512, or follow Act II on Facebook. Click HERE to learn more about Act2PV.