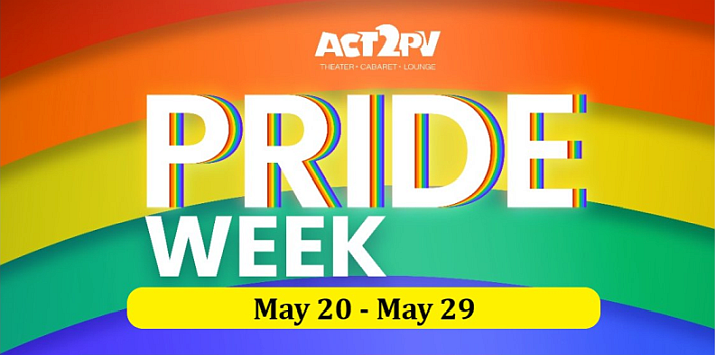 Puerto Vallarta, Mexico – Act2PV wraps up their 10th season this week with some fabulous shows especially chosen for Vallarta Pride Week playing through May 29. They will be taking a break from May 30 through June 21, as they prepare to kick off their summer season of entertainment.

END-OF-SEASON SHOW SCHEDULE
Friday, May 26
7:00 pm – Fast Love, Luis Villanueva sings the songs of George Michael (CLOSING NIGHT)
9:00 pm – Cher, The Show, starring Karma La Perra (CLOSING NIGHT)
9:30 pm – It's Raining Men, a super sexy male dance revue, featuring Mistress of Ceremonies, Ximena Esparza (CLOSING NIGHT)
Saturday, May 27
1:00 pm – Voice of Vallarta, Season 6 AUDITIONS (Public invited – FREE!)
7:00 pm – Future Nostalgia a tribute to Grammy-winner, Dua Lipa, starring Gabriela Heart (CLOSING NIGHT)
8:30 pm – That's What She Said, Nick Rogers singing Broadway with a twist! (CLOSING NIGHT)
9:00 pm – It's Britney, B*Tch! Britney Spears tribute, starring Ximena Esparza (CLOSING NIGHT)
Sunday, May 28
1:00 pm – Voice of Vallarta, Season 6 AUDITIONS (Public invited – FREE!)
6:00 pm – Joteando Por Un Sueño, Miss Bibi returns with her brothel girls (CLOSING NIGHT)
6:30 pm – The Show Must Go On the Puerto Vallarta Gay Men's Chorus (ONE NIGHT ONLY)
9:30 pm – Time Machine starring international drag diva, Tammie Brown (CLOSING NIGHT)
Monday, May 29
5:30 pm – The Best of Broadway Act2PV's blockbuster musical revue featuring singing and dancing from your favorite Broadway musicals (CLOSING NIGHT)
8:00 pm – Michael Jackson Armando Belmonte pays tribute to the King of Pop (CLOSING NIGHT)
Tickets to all shows are available NOW at the Act2PV box office, open daily from 4:00 to 10:00 pm, and online act2pv.com. Cash, Visa, Mastercard, American Express, Discover accepted at the box office, and Paypal accepted for payments online.
DON'T FORGET! Act2PV's Encore Lounge is a great place to relax and have a drink. It opens at 5:00 pm on show days and features live (no cover) music. Also take advantage of the special 2×1 tickets available at the box office or by calling 322-222-1512 for reservations.

Voice Of Vallarta Auditions
Saturday & Sunday, May 27 & 28 – 1:00 pm
Now's your chance to become the next "Voice" of Vallarta!
Are you an aspiring singer with dreams of making it big? Then you won't want to miss the Voice of Vallarta auditions coming up on May 27 & 28. If you are 15 years or older, you are welcome to audition! Just bring a USB with the music tracks for two of your favorite songs that show off your voice. Songs in any language are acceptable. The public is invited to attend the auditions, too, and admission is FREE! Come and pick out your favorite contestant and cheer him/her on! Seating is on a first-come/first-served basis.
ACT2PV WILL BE CLOSED FROM MAY 30 TO JUNE 21. Join us for the summer season of shows, starting on June 21, including The Greatest Show on Earth, Act2PV Karaoke, It's Raining Men, Voice of Vallarta (Season 6) … and more!

The Act2PV Entertainment complex is located on the corner of Insurgentes and Basilio Badillo on the South side of Puerto Vallarta. For more information, call (322) 222-1512, or follow Act II on Facebook. Click HERE to learn more about Act2PV.