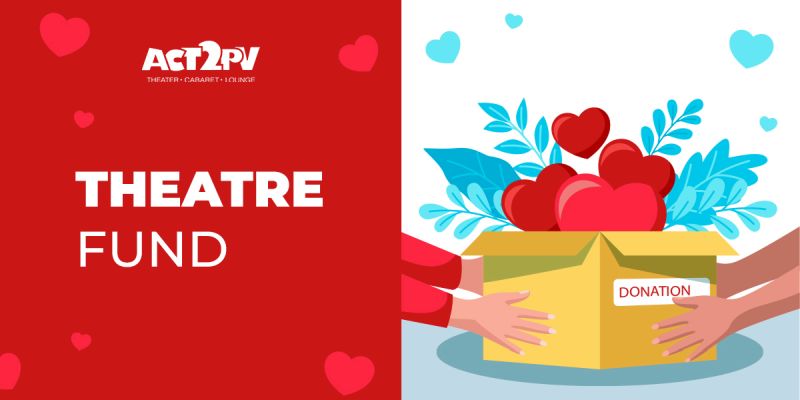 Puerto Vallarta, Mexico – The Act2PV fundraising campaign has raised 70% of the money that they need to open their 2022/2023 season of entertainment, but they are still in need of some financial assistance to cover all of the expenses involved.
If you have yet not made a donation, please consider doing so. It doesn't matter how big or small… donations have ranged from $100 MX to $40,000 MX. Every little bit helps to ensure that Act2PV can continue bringing world-class entertainment to Puerto Vallarta audiences.
ACT2PV's performance complex, conveniently located on Vallarta's South side, houses three entertainment venues: 'The Main Stage,' a 160 seat theater; 'The Red Room,' a 100-seat cabaret and 'Encore,' a 60-seat piano bar; where they present high quality theater productions, internationally-known cabaret acts, concerts, dance performances and a slew of other events. It also employs over 90 staff members and performers.
And speaking of Act2PV's entertainers, it has been an exciting summer for many of them.
Brenda Gavino, the star of Best of Broadway, Supreme, Linda Ronstadt, This is Amy, Opera Night, and many other shows, who won the Mexico Karaoke Championship and is currently in Norway representing Mexico in the Karaoke World Championship! You can see some of her performances on the Karaoke World Championship website.
Marc Lopez, the star of Jersey Boys, Best of Broadway, Mamma Mia! (and more) and Victor do Espirito, star of Bruno Mars, Best of Broadway, and A Foreigner's Journey, who were "discovered" while performing at Act2PV and were invited to travel to Abu Dhabi, Dubai for the summer to star in shows there.
Steven Retchless, star of Stevie Hart, Retchless and Limitless, is currently headlining a drag show in Las Vegas after being "discovered" at Act2PV!
Bobbi Goddard, star of Queens of Country, is currently on tour in Canada with her band.
Daniela Treviño, alumni of Best of Broadway, Showgirl, and Supreme, is currently competing in The Voice of Mexico!
Kevin-Anthony, star of So Much Soul and Classic Motown, has joined the Act2PV team as "Entertainment Director" and has helped to create an amazing 2022/2023 season.
Each of these performers credits Act2PV for giving them the opportunity to perform and grow. None of this would be possible without the support of donors like you.
Act2PV partners, Oscar Cisneros and Alfonso Lopez, have also been very busy this summer with auditions, rehearsals, booking shows, coaching, building sets, and many other tasks. They are really excited about the future and are so grateful to all of you who have shown your support.
To learn more about 2022-2023 Season sponsorship opportunities, donations, or other ways that you can help the show(s) go on at Act2PV, please click HERE or contact Sharon Gerber at 916-803-4567 or sharongerber1(at)gmail.com.

The Act2PV Entertainment complex is located on the corner of Insurgentes and Basilio Badillo on the South side of Puerto Vallarta. For more information, call (322) 222-1512, or follow Act II on Facebook. Click HERE to learn more about Act2PV.