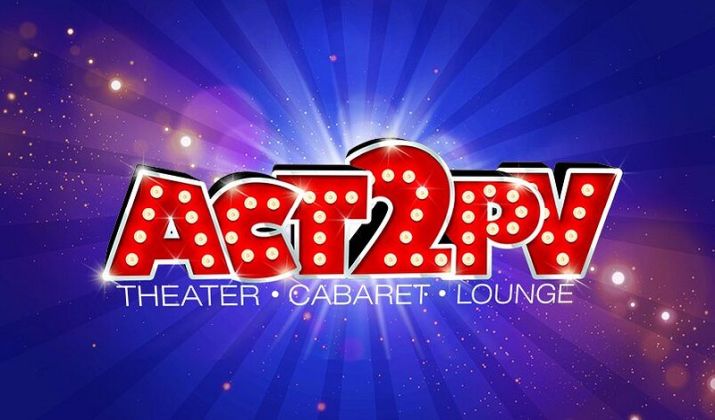 UPDATE September 3, 2022: "We are aware that many of our customers are wondering why Act2PV has been closed and has canceled shows for the past two weeks. We want to let you know that, unfortunately, we had been dealing with maintenance issues and we are now dealing with some legal issues related to the passing of Act2PV founder, Danny Mininni. There has been a lot of paperwork to complete, and we were told that these issues would be resolved within a few days. But, as is often common in Mexico, it is taking more time than anticipated. Fortunately, it WILL be resolved, but it's just a matter of time. As a result of these numerous delays, though, we have decided to cancel most of our shows for the month of September and will be rescheduling them in October. The new show schedule will be posted within a few days. If you have purchased tickets for one of our shows, we will be glad to transfer your reservation to the new date or will give you a credit toward a future show at Act2PV. If this doesn't work, we will refund your money. We want you to know, too, that despite these difficult times, we are still working at the office, having rehearsals, building sets, hiring new staff, etc. and we are already in rehearsals for our Main Stage productions, You're a Good Man, Charlie Brown and Mamma Mia! We will also be releasing our 40+ show schedule this week, and it's all very exciting! The 2022/2023 is going to be the BEST SEASON EVER! We appreciate you and we appreciate your support, and we look forward to seeing you soon!" – Alfonso López & Oscar Cisneros, Act2PV Partners
Be sure to check the website at act2pv.com for current show schedules.
Puerto Vallarta, Mexico – Listed as the #1 Entertainment Venue in the Banderas Bay by TripAdvisor, Act2PV is THE place to go for HOT shows and COOL Summer fun! Featuring musical tributes, cabaret shows, dance performances and more, there's something for everyone this month at Act2PV.

Voice of Vallarta Semifinal – Cabaret Night
Sunday, September 4 at 8:00 pm
There are just 7 contestants left in the exciting Voice of Vallarta competition! This week is the SEMIFINAL show, and each contestant will be presenting a 10-15 minute cabaret! It's going to be challenging for them and lots of fun for the audience! Come and support your favorite performer as they fight for a spot on the finals stage! Voting is done via QR codes and it definitely counts! Tickets are available at act2pv.com and at the box office, open 4:00-10:00 pm on show days. (Livestream of the show is also available at act2pv.com.)

Fast Love!
A celebration of the music of George Michaels
Friday, September 2 at 7:00 pm
One of Vallarta's most sensational performers, Luis Villanueva, stars in this celebration of the music of one of the biggest international stars of all time, George Michaels! Luis has always loved the music of George Michaels. He has the vocal range, dance moves, crowd interaction, and charisma of George Michaels and will have definitely you up on your feet, dancing and singing along to such blockbuster hits as Wake Me Up Before You Go Go, Freedom, Faith, Careless Whisper, Kissing a Fool, and many more. If you love George Michaels, you can't miss this show!

I'm Every Woman
A Celebration of the music of the most famous female music legends of all time
Saturday, September 3 at 7:30 pm
Diana Villamonte, Vallarta's #1 Diva, has proven that she can sing anything… From Motown, to Tina Turner to Whitney Houston to Diana Ross to rock music…. and so much more! Now, Diana (and her LIVE BAND) is presenting a brand-new, special surprise show, called "I'm Every Woman!" Along with her live band, Diana will be celebrating the music of the most famous female music legends of all time… Arethra Franklin, Etta James, Nina Simone, Barbra Streisand, Whitney Houston, Diana Ross, Gloria Gaynor, Tina Turner, Donna Summer and many others! This little gal with the golden voice is tremendously talented! Once you hear her sing, you'll be hooked for life! Get your tickets now at act2pv.com.

J LO, The Show (1 night only!)
A celebration of the music of Jennifer Lopez
September 9 at 8:00 pm
Act2PV is honored to present one of Vallarta's most beloved entertainers, Losanna, in a show dedicated to one of the world's most well-known entertainers, Jennifer Lopez! Jennifer is an actress, music and dance superstar, singer, film and television producer, author, and has many other credits to her name, this explosive show features sexy costumes, incredible choreography, and super-talented dancers! It's going to be an exciting night, and the adrenaline and sensuality of this show will take your breath away! If you are in Vallarta, this is a show that you don't want to miss!

Canciones de mi Padre (1 night only!)
Traditional Mexican songs and a LIVE MARIACHI BAND, starring Brenda Gaviño
Sunday, September 18 at 7:00 pm
Act2PV superstar, Brenda Gaviño, has created a brand-new show, Canciones de mi Padre. This show is unique in its style, (and unique in town) and will take you on a colorful ride through the most traditional music of Mexico! With songs from Ronstadt's famous album, "Canciones de mi Padre" (as well as many other Mexican masterpieces) and a LIVE MARIACHI BAND, there's just no way you won't fall in love with the music of Mexico!


It's Raining Men
Fridays at 9:30 pm
Act2PV has the sexiest male dancers in Puerto Vallarta, and they are starring in this super sexy show, along with the sultry vocalist, BIGI, as "Mistress of Ceremonies." SENSUAL choreography, SEXY striptease, and SEDUCTIVE music… the hardest bodies you've ever seen… bumping and grinding to your heart's content! This unique burlesque show is a feast of flesh and fantasy, with plenty of chiseled bodies to grate your wildest dreams on. Leave your inhibitions at home and get your ticket now! IT'S RAINING MEN… and the storm is coming to Act2PV!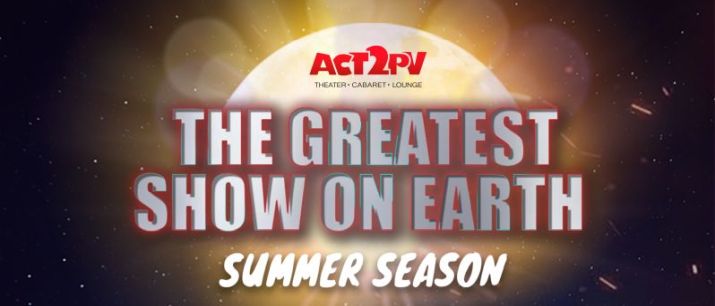 The Greatest Show On Earth
Wednesdays at 7:00 pm
"The Greatest Show on Earth," is back by popular demand! On Wednesday nights, you can see a FREE SHOW featuring performances by Act2PV's incredible entertainers! Sometimes they sing songs from their own shows, but very often, they "go rogue" with new show ideas! Everyone loves this new show concept and this FREE show is definitely worth your time. Donations are much appreciated and are divided among the performers. Make your reservation today for this fun, fun event!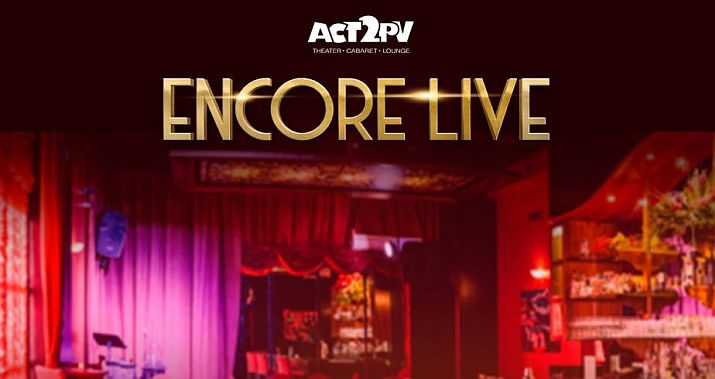 Encore Live! (NO COVER)
Wednesdays & Fridays from 5:00 to 10:00 pm
Saturdays 8:30 to 10:30 pm
Drink, Relax, Enjoy! The beautiful Encore Bar – a beautiful, new place to connect with friends, old and new! Enjoy incredible drink specials, including a Martini sampler, and listen to light music at the same time! No cover! Happy hour 5:00 – 7:00 pm, with live music starting at 8:00 pm. Now Open on Saturdays from 8:30–10:30 pm! It's an inviting space to meet for pre- or post-dinner drinks, wine tastings, karaoke and more…
Be sure to check out the many reviews for Act2PV shows on TripAdvisor, Google and Facebook, then go to act2pv.com for more show information, additional performance dates, and to purchase your tickets. Payment by PayPal (VISA & MasterCard) now available online on our website. Tickets are also available at the box office, now open 4-10 pm on show days.

Designated by TripAdvisor as the #1 Entertainment Venue in the Banderas Bay and #2 on the list of 'Things to Do in Puerto Vallarta,' the Act2PV Entertainment complex is located on the corner of Insurgentes and Basilio Badillo on the South side of Puerto Vallarta. For more information, call (322) 222-1512, or follow Act II on Facebook. Click HERE to learn more about Act2PV.