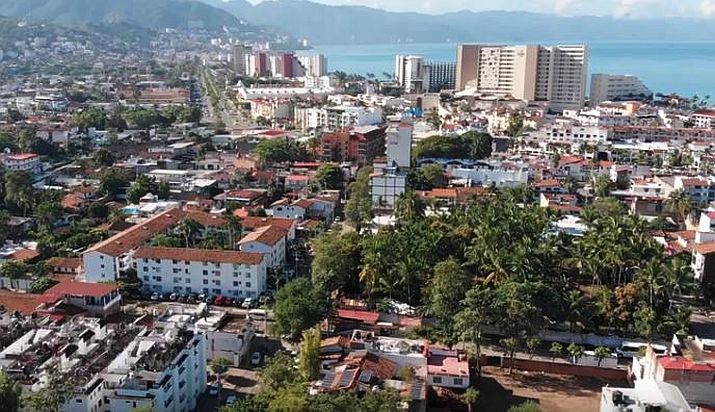 Puerto Vallarta, Mexico – Just north of the Sheraton Hotel, turn right at the HSBC bank and you will find yourself in Colonia Versalles, a quaint neighborhood in Puerto Vallarta that sits centrally between Old Town and the Marina. Just a 10 minute walk to the nearest beach, its convenient location has long been a favorite of many Canadian expats, and in the last seven years developers have started to notice its attributes and sit up and take notice of what this area has to offer.
Once you have crossed out of the Hotel Zone head on up Francia where you will immediately sense the meeting of the old and the new. Cobblestone streets lined with fig, tropical almond, amapas and palm trees are home to new bakeries, seafood restaurants, delis and coffee shops, proof that Versalles is far from an "up and coming area" but rather that it has already "arrived."
New businesses sit happily alongside long-established family businesses such as local grocery stores, laundries, garages, taco stands and restaurants giving the area a true neighborhood feel. There is no need to go into Old Town for the best seafood, smoothies, vegan delights or coffee because they can all be found right here and all with the backdrop of the mountains as you wander along the street giving a real feeling of being somewhere rather special.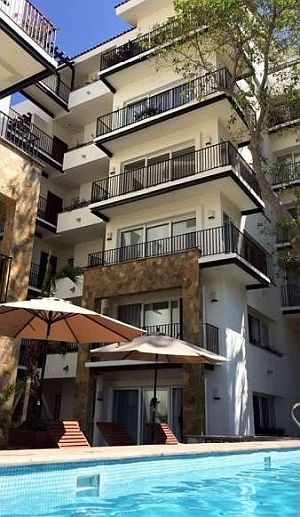 Wander the streets criss-crossing the grid system and soak up the whole relaxed, laid back feeling of the area reflected in its European inspired street names such as Viena, Espana, Roma, Yugoslavia, etcetera, and just for good measure they threw in Palm Springs, which conjures up a whole different vibe. As you wind your way through the streets with one eye on the mountains in the background, you will eventually spy the Amber Hotel, proving that you are never far away from the beach.
There is such a variety of properties here and one thing to note is the sheer size of the lots on which some of the properties stand compared to other areas of the city. Large traditional family houses built in the late 1970s and 80s stand next to modern condominiums and small older apartments with lots of character giving plenty of choice for the discerning investor or those looking for a permanent home or holiday hideaway.
There is even a trailer park where the Snowbirds settle for the winter season. What a perfect way to sample the life of Versalles and Puerto Vallarta. Both ocean views and mountain views may be a possibility in some of the newer developments as well as from some of the older properties.
Services in the area are also evidence that Versalles is the place to be. Several hospitals, medical offices, including cosmetic surgeries, and pharmacies are within walking distance of most areas in Versalles. Not to mention the indoor shopping mall Plaza Caracol with a wide variety of stores, movie theaters and electrical retailers.
Fluvial is also within walking distance, offering more facilities such as Costco and Farmacia Guadalajara, not to mention the beautiful park and restaurants. More on that another time.
Versalles may not have quite the amazing views of Banderas Bay afforded by Amapas or Conchas Chinas, nor the full-on buzz of being close to the action in the Old Town, but it certainly competes in both the romantic and modern stakes as far as the vibe of the area and the sheer variety of properties, services and leisure facilities is concerned. All of this, combined with the fact that The City has been investing in infrastructure, means that it is a matter of time before everybody wants to live here. What is not to love about the place?
There are at least six condominium buildings currently under construction all at various stages with more in the pipeline. Some are already practically sold out with others selling fast whilst there are some available at the preconstruction stage with a variety of prices.
If ever it was a good time to invest in Versalles it would be now. If you would like more information, feel free to contact me at alfredoh(at)tropicasa.com or 322-142-6296.
---

When you are ready to buy your dream home, villa, condominium or piece of land in Puerto Vallarta, contact local real estate agent Alfredo Herrera. Having worked in the Puerto Vallarta / Riviera Nayarit real estate market since 2006, Alfredo has the knowledge and experience to help you find, and purchase, the property that's right for you – in the most seamless way possible. For more information, click HERE, call him at +52 322-142-6296 or visit PuertoVallartaRealEstateExpert.com.