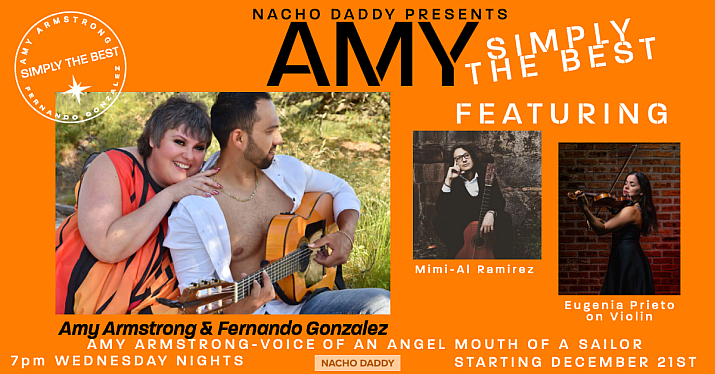 January 24, 2023 Update: Last week, I was able to catch Amy Armstrong's new show 'Ouid: A Love Story' and it was a fun night of humor and music. In this show, Amy celebrated cannabis. She credited it for helping her recover from cancer and enjoy a healthier future. Joining Amy for this show were musicians Fernando Gonzalez, Mimi-Al Ramirez and a fabulous percussionist. Most of the songs had a cannabis theme, and we enjoyed Reggae numbers, Toby Keith's "I'll Never Smoke Weed with Willy Again," Rick James' "Mary Jane," Bette Midler's "Marijuana", "When Smoke Gets in Your Eyes," Chris Stapleton's "Them Stems" and many more! There was even a Cheech and Chong-inspired talking/singing puppet that totally cracked us up! Amy thrilled us with a 70's-inspired musical Medley too. As far as I'm concerned, nobody's as funny as Amy Armstrong when she gets on a roll and she was on a great one that night! Go see, Ouid: A Love Story. It's a night of fun, great music and wonderful inspiration!
Puerto Vallarta, Mexico – Amy Armstrong has been entertaining Puerto Vallarta audiences for over two decades. This season, Amy brings her show, Amy Armstrong's Simply the Best to Nacho Daddy on Wednesdays at 7 pm beginning December 21st. Joining Amy will be Fernando Gonzalez, Mimi-Al Ramirez and Eugenia Prieto on violin.
On December 31st, Amy debuts another show Ouid: A Love Story featuring confessions and cannabis. Fernando Gonzalez once again joins Amy for this fun performance. This show includes music, comedy and dispensary and happens on Saturdays at 7 pm.
Amy is a unique mix of stand-up comedian and cabaret singer. As an entertainment writer, I get to see a lot of shows each season and Amy's are some of the very best! Her audience absolutely loves her and roars with laughter at her spontaneous 'off the cuff' comedy. All eyes are glued to the stage when Amy sings and entertains. And when the show is over, the audience always leaves with smiles on their faces.
When you experience the 'Diva of Song and Fun,' you'll be drawn in, entertained and uplifted. Armstrong's incredible voice mesmerizes as she belts out all those fabulous tunes, injecting humor between each song.
The comedy is always perfectly delivered and the singing is phenomenal. For a totally satisfying and magical 'live music' experience, see Amy Armstrong's Simply the Best, on Wednesdays at 7 pm and Ouid: A Love Story on Saturdays at 7 pm.
For tickets, call Nacho Daddy at 322-688-5566 or go to NachoDaddy.mx. The shows will be on the second-floor stage of Nacho Daddy on Basilio Badillo #287 in the heart of Zona Romantica.
For North Shore folks, Amy & Fernando will be performing Duo Dorado at the Tree House Bar in La Cruz on select Fridays at 7 pm (12/23, 1/13, 2/10 & 3/10). Reserve by calling the venue at 322-182-4026. The cover is only 100 pesos.

Open daily from 11 am to 12 am for lunch, dinner, live music and lots of fun, this popular south side hangout is located at Basilio Badillo #287, only two blocks off the beach in the heart of the Romantic Zone. Credit cards accepted. For more information, visit NachoDaddy.mx or become a fan on their Facebook Page for promotions, daily specials and more.
Click HERE to learn more about Nacho Daddy Mexico Restaurant & Sports Bar.