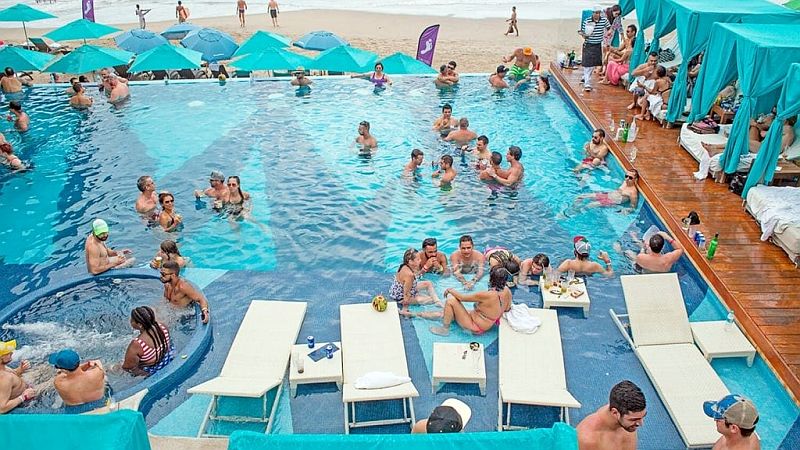 As the scorching summer sun continues to make its presence felt, locals and tourists in Puerto Vallarta are seeking the ultimate escape to beat the heat and revel in unforgettable moments at the most happening pool parties in town. Known as the "Friendliest City in the World," Puerto Vallarta is synonymous with its warm and inviting ambiance, offering a plethora of venues set amidst breathtaking natural landscapes, accompanied by a delightful fusion of music and merriment that lasts all day and night.
Here's a curated list of the must-attend pool parties that promise to make your summer vacation in Puerto Vallarta an extraordinary experience. From the chic North Hotel Zone to the pristine beaches south of the Romantic Zone, each party spot boasts its unique charm and ensures a rollicking good time that extends well past sunset. So, gear up to dip into cool waters, groove to great beats, and create lasting memories in this picturesque coastal haven.
AKALI BEACH
Discover an unmissable experience during your vacation in Puerto Vallarta: the Akali Beat DJ party at Akali Beach; the new beach club in Quimixto that is on everyone's lips! Every Saturday, from noon to sunset, the exclusive Akali Beach becomes a true paradise for music lovers: from the softest house to the most intense techno, performed by leading DJs. How to warm up to the pool party: Don't miss a Hatha yoga session on its terrace facing the sea. The best part? Its unique natural environment, the fresh seafood at Canuva Bar and an attentive personalized service that makes you feel at home from the first moment.
MAJAHUITAS BEACH CLUB
To enjoy a more relaxed and sophisticated pool party (on the beach), choose Majahuitas Beach Club; located south of Puerto Vallarta and just a few minutes by panga from Boca de Tomatlán. After dancing all day, how about cooling off with their creative mixology, while contemplating the natural beauty around you in one of their hammocks or loungers? Every Saturday, Majahuitas Beach Club presents a different line up with some of the most outstanding DJs on the international scene. Their summer lineup includes Detroit techno legend Carl Craig, Vanjee, Italian producer Musumeci, Chilean DJ trio Matanza, Camilo Karuna and many more.
MANTAMAR BEACH CLUB BAR & SUSHI
Located in the heart of Los Muertos Beach, Mantamar Beach Club Bar & Sushi hosts one of the best pool parties in Puerto Vallarta that's very popular among the LGBT community. With its distinctive decoration in turquoise blue tones, Mantamar has a recently remodeled panoramic infinity pool, comfortable sun loungers and an always festive atmosphere in a privileged location. Enjoy the best company, refreshing cocktails and the dance hits of the moment by the resident DJs Luis Vázquez, Hoolio KMacho, Luis Serrano and special guests. Don't miss the incredible theme parties every weekend that make each visit a unique and exciting experience.
MARAIKA BEACH CLUB
For music lovers and, in general, all those who want to listen to a meticulous selection of music under the summer sun, the option is Casitas Maraika and its special party "Vinyl Saturdays". You will love its location accessible only by sea, south of Puerto Vallarta; its relaxed casual chic atmosphere and a natural and serene environment, very close to Playa Caballo. As a complement to the good music by guest DJs and vinyl selectors, Maraika offers special tasting menus by renowned local chefs and international master chefs. "Vinyl Saturdays" regularly draw an ever-diverse and fun-loving crowd.
CHICABAL SUNSET CLUB
Pool parties at Chicabal Sunset Club are perfect to enjoy the weekend with your group of BFFs or on that very special occasion (birthdays, bachelorette parties, graduations). The atmosphere is youthful and energizing. Something calm? Look elsewhere. With live DJs and go-go dancers, the music here is always pulsating and enveloping; Like a night in a disco in front of the sea. Being located in the heart of the Hotel Zone and with an enviable view of the Pacific, Chicabal Sunset Club is an excellent spot to watch the sunset with a fireworks display in between.
There's are just some of the weekly pool parties in Puerto Vallarta. No matter which you choose to attend, don't forget your sunscreen, sunglasses and, above all, your party attitude.