Puerto Vallarta, Mexico – We all know that the recent decline in tourism and snowbirds returning early to their homes north of the border is having a significant impact on small businesses and self-employed people here in Puerto Vallarta.
This really is the time for those who love our city and its people to step up. In my almost 10 years here I have seen our community organize and help others in times of need. And NOW is that time.
Being on day 5 of stay at home (and in my family's case day 14), I have had a lot of time to reflect on what this means for the people that I care about in this city, and have tried to think of what we can do to help them weather this storm.
Here are some suggestions…
• Write reviews for your favorite providers – Small businesses, especially hotels, restaurants and service providers are really dependent on reviews. Now is the time to help your favorites out and write a great review for them. This will definitely help them when we see things return to normal (and it really feels great to do it too).
• Buy gift certificates – Right now many restaurants, bars, and small businesses are trying to survive and continue to pay staff with little to no money coming in. Consider buying a gift certificate now for future purchases. This will help reduce the business owners' cash flow issues to an extent, and also allow your favorite bartender, waiter or service provider to continue to be paid.
One of the things that makes Puerto Vallarta great is the entertainment venues in town. Act II, The Palm Cabaret and Bar, and Boutique Theatre (to name a few) all have performers and staff that are now not working. We need them to be up and running next season. Consider donating or buying tickets now for next season so that they can continue to pay these performers and provide us the entertainment we love when they can reopen.
• Continue paying personal service providers – Many of us here have people that provide much needed services for us that we are now cancelling due to social distancing. Please remember that they have bills to pay too. Please, if you can, consider still paying them.
• Support our local tiendas – Most of us are now self-isolating and we are ordering online for groceries and other essentials. This takes away from local stores. Many local small businesses are also offering similar services but don't have the marketing budget to advertise this. Please consider contacting them and using them for your delivery needs.
Let's keep Puerto Vallarta the city it is where, in a few months, we emerge and we return to all that makes Puerto Vallarta great.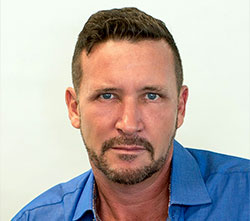 Warren Brander is an expert real estate agent working in Puerto Vallarta. He can be reached at 322-200-2253, or by email at sales(at)warrenbrander.com. You can also check out his website for a great selection of Puerto Vallarta condos and homes for sale at WarrenBrander.com.