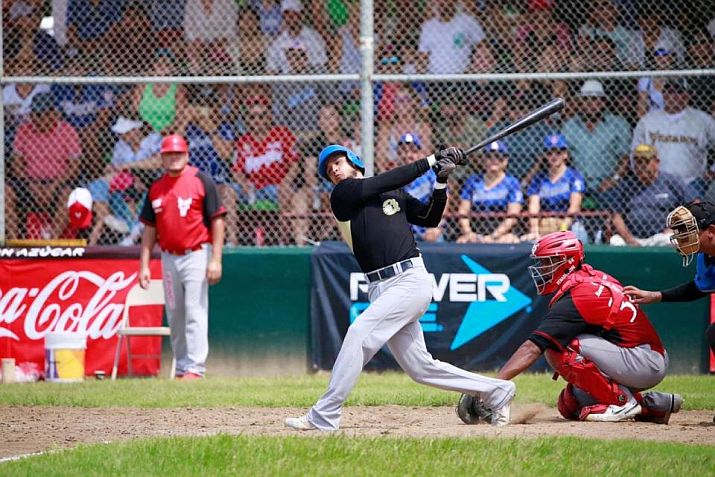 Puerto Vallarta, Jalisco, Mexico – The current champion of the Mexican Pacific Baseball League, the Charros de Jalisco, met fans' expectations by winning the preseason series of the Mexican Pacific League played at the Agustín Flores Contreras sports unit in Puerto Vallarta last weekend, defeating the Venados de Mazatlán 2-1.
Puerto Vallarta Mayor Professor Luis Alberto Michel Rodríguez gave a recognition to the nine players from Jalisco for winning the so-called 'Vallarta Series', in an emotional ceremony held at the end of the day. The plaque was received by the team's athletic director, Ray Padilla.
Profe Michel also gave recognitions to three former professional baseball players who once defended the colors of the now defunct Dolphins of Puerto Vallarta in the Northwest League, and who stayed to live in this city: Joel Pérez, José Julián Quiroz and Fernando López Palomares.
The series started on Friday with a 3-1 victory for the Charros, in a game shortened by rain; on Saturday the Venados tied it by winning with a score of 5-3.
In the third and final game, the current champions of the winter circuit came from behind, since in the match dominated by pitching, the Sinaloans took the lead in the second inning, the Charros tied in the closing of the sixth and won the race to victory in the eighth inning.

At the closing ceremony, Profe Michel was accompanied by businessmen Manuel Sotomayor and Eduardo Rangel, members of the event's organizing committee, who also presented him with a shirt from the Vallarta Tritons soccer team.
Previously, the organizing committee said that they are looking to bring the Charros de Jalisco to Puerto Vallarta for the Mexican Pacific Baseball League's 2022-2023 regular season games, although they said the stands and facilities for the players should be improved.
Source: Vallarta Opina