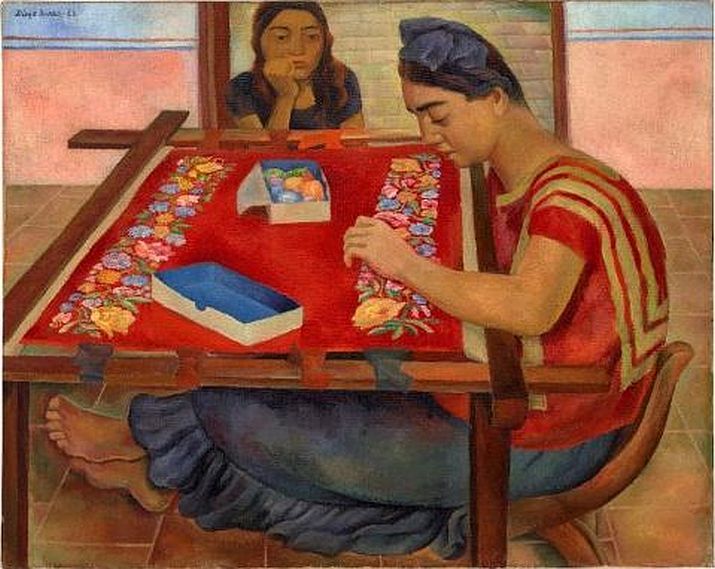 New York – Christie's Latin American Art announces sale dates for Spring 2022, with a live sale on March 11 preceded by online-only sale from February 4-18. The new sale dates will coincide with Christie's ongoing sales of Prints and Multiples and Post-War and Contemporary Art.
A leading highlight of the March 11 live sale will be Diego Rivera's rediscovered masterpiece La bordadora (or The Embroiderer) (estimate: $700,000-900,000). Painted in 1928, as part of the nation building project that fueled Rivera's return to Mexico in the 1920s, as well as the nascent mural movement, this exquisite work pays homage to folk and craft based practices and the role of Indigenous women in preserving these enduring traditions.
Until recently, the whereabouts of the painting were unknown, when it was discovered to have been in the same American family collection since the late 1920s. Known only through a black and white photograph taken shortly after its completion, La bordadora has never been exhibited and will make its public debut as part of Christie's Latin American Art live sale in March 2022.
Virgilio Garza, Head of Department, Latin American Art, Christie's, stated: "We are excited to be announcing sales for Spring 2022, joining forces with concurrent Christie's sales across categories including Post-War and Contemporary Art and Prints and Multiples. Our live Latin American Art auction will focus on Modern and Contemporary works by some of the region's most sought after artists, and will generate great synergy for collectors across categories."
Further highlights and exhibition date will be announced closer to sale date in 2022.
About Christie's
Founded in 1766, Christie's is a world-leading art and luxury business. Christie's auctions span more than 80 art and luxury categories, at price points ranging from $200 to over $100 million. In recent years, Christie's has achieved the world record price for an artwork at auction (Leonardo da Vinci's Salvador Mundi, 2017), for a single collection sale (the Collection of Peggy and David Rockefeller, 2018), and for a work by a living artist (Jeff Koons' Rabbit, 2019).