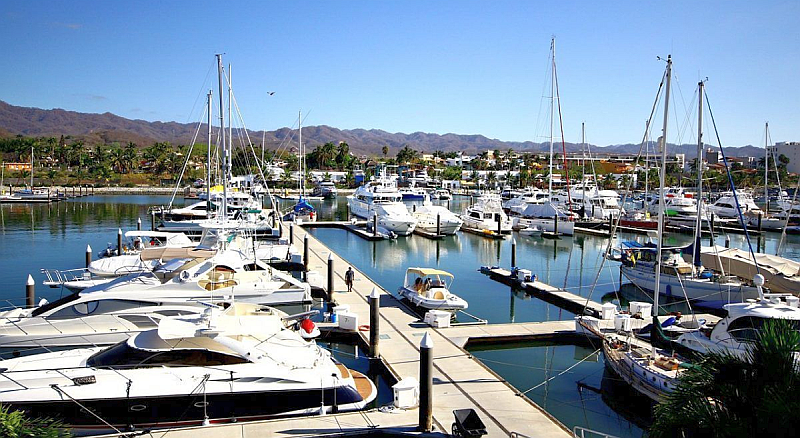 La Cruz de Huanacaxtle, Nayarit – The Fundación Ambiental México delivered Blue Flag distinctions to four sites in the State of Nayarit that are outstanding in terms of beach care and environmental matters. The event was held on Wednesday, November 23, at the Cruz de Huanacaxtle Marina.
For the first time the Blue Flag was awarded to the Santa María del Oro Lagoon, located in the municipality that bears the same name, and, for the eighth consecutive time, to the Marina de la Cruz de Huanacaxtle in Bahía de Banderas Nayarit, which was the first to receive this distinction in Mexico. These awards were received by Marbella García Delgado, secretary of the Santa María del Oro Town Hall.
The other two Blue Flags awarded this year went to the Nuevo Vallarta (now Nuevo Nayarit) beach in the municipality of Bahía de Banderas, which was received by Mayor Mirtha Villalvazo Amaya, and to the marina at the port of San Blas, Nayarit.
Representing Nayarit Governor Miguel Ángel Navarro Quintero was Carlos Villarreal Galaviz, Secretary of the Environment and Territorial Movement of Nayarit, who congratulated the governor for these great distinctions. He pointed out that just from seeing the beauty of these places he realized why the La Cruz Marina and the other three destinations were recognized, which is why the governor expressed his appreciation for the efforts made to achieve them.
He stressed that the slogan "Nayarit Our Pride Our Effort" is derived from awards like this, and the pride it refers to is the natural heritage, and the warmth and the beauty of the people. "That same pride," he said, "is the one that commits us to ensure that these resources are still around for new generations."
For his part, Joaquín Díaz Ríos, executive director of the Environmental Foundation of Mexico, highlighted the rich natural beauty of Nayarit and the warmth of its people, while recognizing the work of the three levels of government for the conservation of the natural areas that go beyond the Nayarit beaches with blue flags.
He also recognized the work of the municipal governments, acknowledging that the Blue Flag is not a party, it is a great effort and work on the part of the local authorities to comply with the thirty-three international criteria, just as they did in the four award-winning sites.
Source: Tribuna de La Bahía