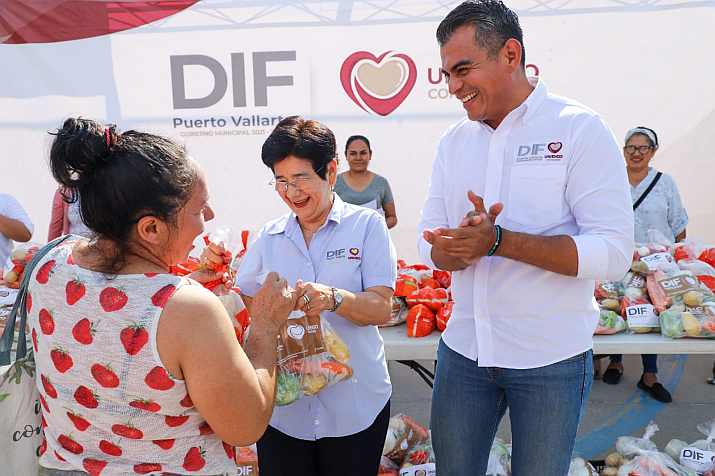 Puerto Vallarta, Jalisco, Mexico – With the collaboration of committed companies and people who joined the cause, more than 2,000 chickens, along with vegetables and bread, were distributed in rural areas and various neighborhoods of Puerto Vallarta on December 20 and 21st to ensure that underprivileged families could enjoy a Christmas dinner.
The president of the Municipal DIF System, María de Jesús López Delgado, accompanied by director Roberto Ramos Vázquez, delivered the ready-to-prepare meals to specific points and towns in predetermined rural areas. "We know that Christmas is a time for families to celebrate together, and that sometimes it can be difficult to offer something to loved ones, so we brought them food, so that they could enjoy the holidays," she said.
López Delgado thanked the committed companies that joined the cause with their donations, as well as the Social Development Department who, through the sector coordinators and neighborhood presidents, helped to identify the families who needed them most.
Roberto Ramos, director of the organization, indicated that this year the the number of families helped exceeded the 2021 figure, with a thousand more people benefited on this occasion.
He expressed that "it is thanks to the efforts of the collaborators, companies and people who continually work to support vulnerable families in Puerto Vallarta and surrounding areas. Every year during the holidays we seek to give a little more so that more people have a decent Christmas dinner."
The support was allocated to families from the Campo Verde, Mojoneras, Cañadas, Coapinole, Lomas del Coapinole, El Mangal, Lomas del Calvario neighborhoods, and the Ixtapa, Las Palmas and Tebelchía delegations, among other areas.