BREAKING NEWS: Keith Tynes, famed R&B singer and formerly of The Platters, will make a guest appearance! Get your tickets today!
Puerto Vallarta, Mexico – Dwight Blake has been traveling the world for over two decades performing Soul, R&B and Motown hits. Now he will return to Puerto Vallarta to once again bring a full concert production of all these great classics to Teatro Vallarta for ONE NIGHT ONLY on Friday, February 3, 2023 at 7 pm.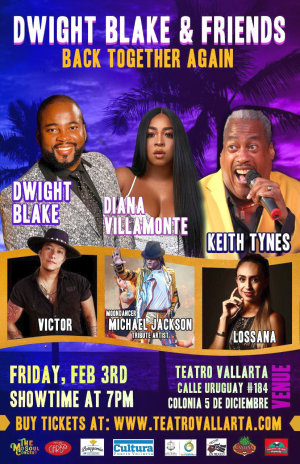 Don't miss out on an evening of entertainment with more than 2+ hours of Soul, R&B, and Pop music with 5 different artists all on the same stage all in one night.
This concert extravaganza features Dwight Blake, Diana Villamonte (Voice of Mexico), Victor, Losanna (Voice of Mexico) and the Moon Dancer as Michael Jackson, backed by two live bands.
Dwight Blake is a fantastic entertainer with the heart and soul of a music producer. His Mezzo Tenor voice, smooth style and charm guarantee a performance that audiences absolutely love. Dwight has chosen the best-of-the-best performers to join him in this spectacular evening of entertainment.
Having performed in Las Vegas, New York, South Beach, Canada and around the world, Dwight loves to share the music that is close to his heart and that touches his audience. Working as a Headliner at top venues and on cruise ships, Dwight has honed his skills as a 1st class entertainer. He has shared the stage with musical celebrities like Barry Ivan White from The Platters, The Canadian Tenors and The Temptations, just to name a few.
Dwight's last MoSoul Concert at Teatro Vallarta drew more than 800 people and was a tremendous event. You can anticipate that February's event will match that success. This is a once-in-a-season happening that you won't want to miss! Teatro Vallarta is the place to be on February 3rd when Dwight Blake and Friends deliver the show that you've been waiting for!
For more information, or to purchase tickets for this event, click HERE, or contact Dwight Blake @themosoulconcert (on Facebook or Instagram).
Admission:
Preferred (Preferente Especial) $1200 MXN
VIP (preferentes) $900
General (Galerías) $700
Teatro Vallarta is located in El Centro at Uruguay #184, just south of Ley's grocery store on the main street as you enter downtown Puerto Vallarta.