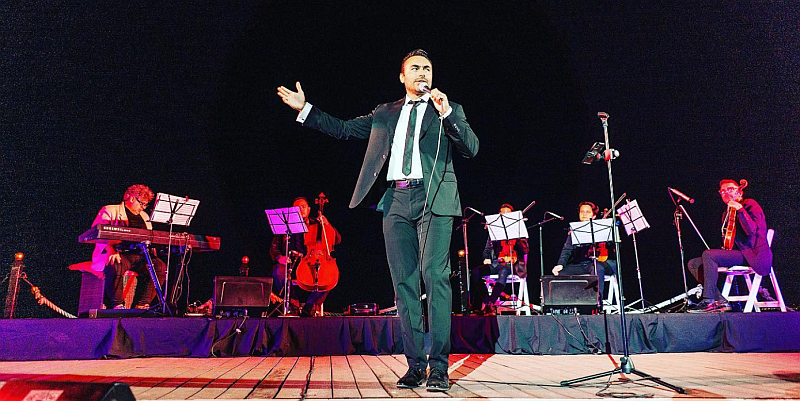 Puerto Vallarta, Mexico – Mexican vocalist Enrique de Allende delivered a breathtaking performance at The Palm Cabaret on Friday, January 20.
With a home base of San Miguel de Allende, Enrique comes to Vallarta from time to time to perform and he's here preparing for his yearly Valentine's Day show at Hacienda Palo Maria, which is one of the top entertainment events of the year. This year his special guest stars are American Idol finalist Effie Passero and Vallarta's Darling Song Diva, Kim Kuzma.
Enrique opened his Friday evening show with the gorgeous Spanish song, Amapola. His strong, rich, voice was so spellbinding that as he sang you could envision him at the Met, on Broadway, at the Hollywood Bowl or any number of top venues around the world. Enrique is a one-in-a-million talent. Music Producer David Foster has called him "the next Julio Iglesias" and if you have the opportunity to enjoy one of his shows, you'll understand why.
Included in this beautiful evening of music and background stories was a treasure trove of work that Enrique had done with the world-famous producer, David Foster, a few years ago. On a recent trip to Los Angeles, Enrique recovered his old IPad that was stored at a friend's house and was able to rediscover many of the songs that had faded from his memory. In his show at The Palm, to the delight of the audience, Enrique serenaded us with this wonderful music Some songs were in Italian, others in Spanish and some in English.
Enrique gave us beautiful background stories on each song and music genre that he presented. A personal friend of Enrique's, Mark Hartman joined the show part way through and masterfully accompanied Enrique on the piano. As a versatile artist, Enrique interprets a wide range of music from Operatic to Big Band to Traditional Mexican Romantic and Mariachi music.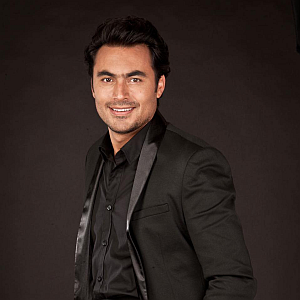 Two of my personal favorites of the night included the Abba classic, The Winner Takes It All and You Were Always on My Mind, made famous by Willie Nelson. This incredible night of music can only be described as both breathtaking and awe-inspiring. One can only wonder "when" (not "if") the amazing Enrique de Allende will become known by the rest of the world for his magnificent voice and incredible delivery of a wide range of music. From opera to classical to pop to Latin tunes, this extraordinary vocalist can sing it all and in 3 languages too!
Enrique de Allende closed out the evening with another gorgeous, romantic, Spanish song, with the English translation being, "I Hate You, but then I Love You".
The good news is that Enrique has some upcoming shows that you'll want to consider attending. He has a show at Incanto Vallarta that will soon be announced. He also has a fundraising concert for the renovation of The Church of Our Lady of Guadalupe, Vallarta's historic 'Corona Cathedral' landmark, on March 9th, and concerts in Ajijic, Guadalajara & San Miguel de Allende in the coming weeks.
On February 14th, Enrique de Allende presents Romanza, an incredible night of romantic music on Valentine's Day, from 7 to 11 pm at Hacienda Palo Maria. This exciting, once-a-year, evening of music, food and entertainment is the perfect way to celebrate your special day of love in Puerto Vallarta. Enrique shares this fantastic evening with his special guest stars American Idol finalist, Effie Passero and Vallarta's Darling Diva of Song, Kim Kuzma.
As the evening unfolds, guests will enjoy a four-course dinner, an open bar and a night of romantic music like none other! The performance will include songs in Spanish, English and Italian by three of the best vocalists ever to sing on a Vallarta stage along with 15 guest musicians, violinist Geraldo Pontierr, plus Mariachi and fireworks, to celebrate this special night of love!
Tickets for this event can be purchased at Cassandra Shaw Jewelry in Zona Romantica.