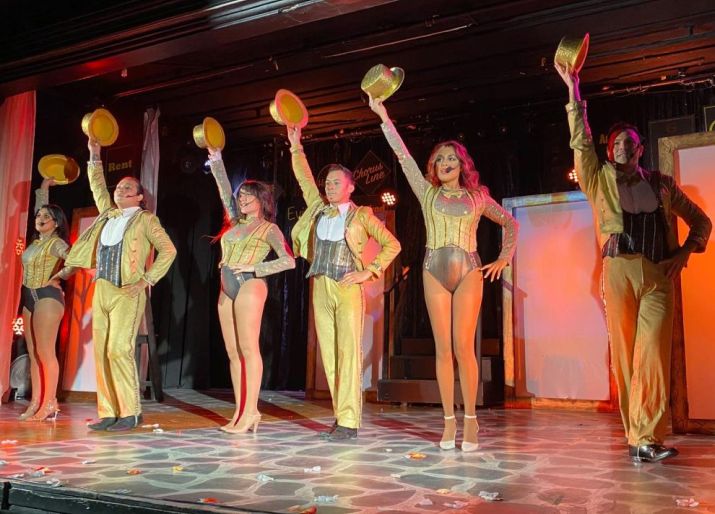 Puerto Vallarta, Mexico – If you're looking for a great night out in Puerto Vallarta, look no further than Act2PV! As the season starts to slow down, this amazing entertainment venue is still going strong, offering a wide range of top-quality shows that are sure to delight audiences of all tastes and ages.
From Broadway's Mamma Mia! to tribute shows, musical revues, concerts, and drag performances, Act2PV has something for everyone. And with its comfortable, inviting atmosphere, you're sure to feel right at home as you sit back and enjoy the show. For detailed information about our shows, go to act2pv.com.
But that's not all! The Encore Lounge, with its fully-stocked bar and live entertainment, is the perfect spot to enjoy a pre- or post-show drink and mingle with other theater-goers. And for local residents, Act2PV is currently offering 2×1 specials on four of its most highly-rated shows – a deal you won't want to miss!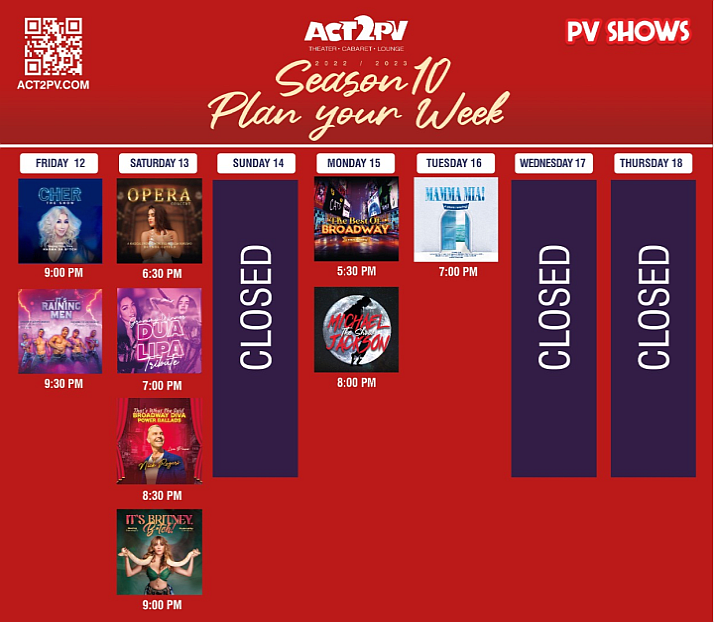 So why wait? Head on over to the Act2PV website today to purchase your tickets with ease. Or, if you prefer, you can visit the box office in person to buy your tickets with cash or credit card. With so much to see and do at Act2PV, there's no better place to spend an evening out in Vallarta!
SHOWS OPENING THIS WEEK:

OPERA CONCERT
featuring Mexico's best-of-the best soprano Brenda Gaviño
Friday, May 12 – 6:30 pm (ONE NIGHT ONLY!)
Exciting news! The amazing Mexican soprano, Brenda Gaviño, is returning by popular demand to perform her captivating classical Opera recital, accompanied by the talented pianist, Alejandro Villareal. Experience the breathtaking music of Puccini, Schubert, Piazzolla, Bizet, Lloyd Weber, Händel, Boccelli, Brightman, and more, as Brenda transports you to a world of wonder and beauty with her enchanting voice.
Brenda is a beloved performer at Act2PV, where she has captured the hearts of audiences with her tribute performances to music legends, Amy Winehart and Linda Ronstadt, as well as her outstanding performances in Best of Broadway and Supreme. Trust us, you won't want to miss this one-night show by such an incredibly talented artist. It promises to be an evening you'll never forget! So why not join us and let Brenda's mesmerizing music take you on a journey to another world. All are welcome!

Future Nostalgia
A celebration of the music of Grammy-Winner Dua Lipa
starring Gabriela Heart
Saturdays, May 13 & 27 – 7:00 pm
Get ready to experience a show like no other! Gabriela Heart, the star of Supreme and The Best of Broadway, is bringing her electrifying new tribute show, Future Nostalgia, to the stage. This high-energy performance pays homage to the one and only modern pop diva, Dua Lipa, and it's sure to leave you breathless!
With live vocals, expertly choreographed dance routines by the talented Luiger Paez, and Dua Lipa's signature sexy body suits and extravagant costumes, this show is a feast for the senses. You'll be swept away by the pulsing beats and infectious energy of Dua Lipa's biggest hits, including Don't Start Now, Levitating, One Kiss, Cold Heart, Be the One, and more!
The cast of Future Nostalgia is bursting with talent, and they're ready to pump up the volume and get you up on your feet. This is a party you won't want to miss! So come join us, dance the night away, and let FUTURE NOSTALGIA transport you to another world!

Voice Of Vallarta Auditions
Saturday & Sunday, May 27 & 28 – 1:00 pm
Now's your chance to become the next "Voice" of Vallarta!
Attention, Singers! The highly anticipated Voice of Vallarta vocal competition is finally here! Act2PV is proud to announce that auditions for the sixth season of the Voice of Vallarta are officially open! Save the date for May 27th or 28th, and prepare to showcase your exceptional singing abilities.
But wait, there's more! The actual competition will begin on Sunday, June 25th, and will run for six consecutive Sundays, allowing ample time to for you to hone your craft and display your amazing vocal abilities. And that's not all – the grand prize winner will receive a very generous cash prize, along with a host of other awards and opportunities!
Still unconvinced? Well, previous contestants have had the privilege of performing on Act2PV's magnificent stage, as well as other, with some even being given their own shows! The Voice of Vallarta is the ultimate gateway to stardom and a launching pad to greater heights.
So what are you waiting for? Prepare the music tracks for two of your favorite songs, in either English or Spanish, on a USB and join us on Saturday, May 27 or Sunday, May 28, and impress our judges with your incredible singing skills! Don't miss the chance to become the next Voice of Vallarta! Please feel free to contact us at info(at)act2pv.com if you have questions.
Tickets to all shows are available NOW at the Act2PV box office, open daily from 4:00 to 10:00 pm, and online act2pv.com. Cash, Visa, Mastercard, American Express, Discover accepted at the box office, and Paypal accepted for payments online.

The Act2PV Entertainment complex is located on the corner of Insurgentes and Basilio Badillo on the South side of Puerto Vallarta. For more information, call (322) 222-1512, or follow Act II on Facebook. Click HERE to learn more about Act2PV.