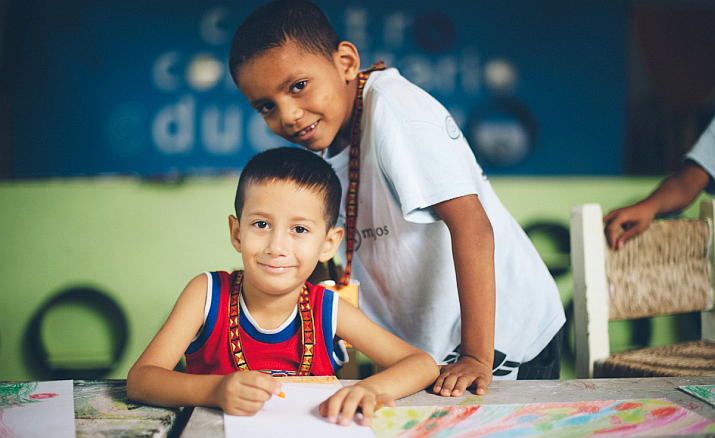 San Pancho, Nayarit, Mexico – Entreamigos began in 2006 on a kitchen table in the middle of a San Pancho street. Today, housed in a giant warehouse recognized as a model sustainable facility, it is an active community center with classes and workshops, a scholarship program, a bilingual library for children and adults, a computer center, an extensive recycling program, a gift store and the Recicla thrift shop.
Here's the latest news from Entreamigos:
Artist Corner – This Friday!
We are thrilled to invite everyone to the next Artist Corner Friday, April 21st, from 6-8 pm. We will be presenting local community members Hannah and Mateo, who both do beautiful wood work. Hannah works at La Tallerera and Mateo is an entrepreneur through his craft. Both lovely humans have supported our beloved community so much. Each will present their own work as well as a collective piece they have made together. Don't miss it!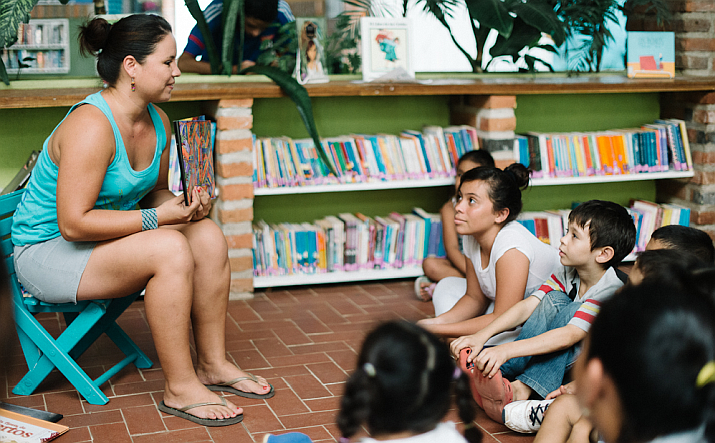 Save the Date for Literary Week!
Literary week is one of our favorite times of year, and it's almost here! Our library is truly the cornerstone of Entreamigos. We love to shine the light on literature, education, and gathering in community. It's what we are all about!
Our 9th Annual Literary Week, Imagination Takes Flight, is coming this May 29th – June 2nd and there are so many exciting activities in the works for all ages! We are in planning mode, and gearing up for another amazing week filled with storytelling, reading, illustrating, and crafting. You can look forward to a literary scavenger hunt, adult poetry night, and stories around the campfire. We will also be highlighting Harry Potter this year!
ALL events and workshops are free to everyone in our community.
The full program will be out soon, but for now just mark out the entire week – you won't regret it!
Thank you Adrian!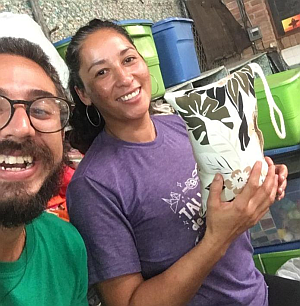 Adrian joined Entreamigos in November proposing to teach sewing, and we could not be more grateful for his presence. He has been teaching a workshop with the women's group using sewing machines to make really cool bags we sell in the gallery. They make great gifts; come check them out!
He has also been willing to lend a hand in the gallery or library when he could. Additionally, he was a huge help with the Children's Art Fundraiser along with the Environmental Faire and Artist Corner. It is people like Adrian who make Entreamigos the amazing community center it is, and we are deeply grateful for his contributions and support.
Support our Roperito
Your clothes deserve many lives, many lives deserve your clothes! We are always open to accepting donations of clothes and home goods that no longer serve you. It's good for our community, as well as the environment. We have a collection area, conveniently located on the left side as you walk in the front door. Thank you for continuing a cycle of reusing! And don't forget to come check out what we have in the Recicla Shop.

Put Your Orders in Now!
We are ready for your customized glass orders!
Get your order in before the season ends. We can personalize the glasses just for you, and work on the design together. Help support the environment by using upcycled glass, and support local women from our community at the very same time.
We are also ready for all of your screen printing needs! Have a special event coming up and need customized shirts? Want to advertise your business with a cool design? LOOK NO FURTHER. Order with us! We are excited to work on your project with you! It's so easy to make an order. Just send a message to Frieda on WhatsApp at +52 331-632-5565.
Support Entreamigos
If you would like support this important work, you can make a secure donation via credit card or PayPal, by clicking HERE.
Thank you for making a difference in the lives of the children and families of San Pancho!

Located at Av. Tercer Mundo No. 12 in San Francisco, Nayarit, Mexico, Entreamigos is an active community center whose primary focus is to increase educational opportunities for the children of San Pancho. To achieve these goals Entreamigos runs an art collective non-profit store, a library, a computer center and a collection of educational and community based workshops and initiatives. Entreamigos is entirely funded by donations and almost completely run by volunteers. To learn more about our programs and activities please visit entreamigos.org.mx.