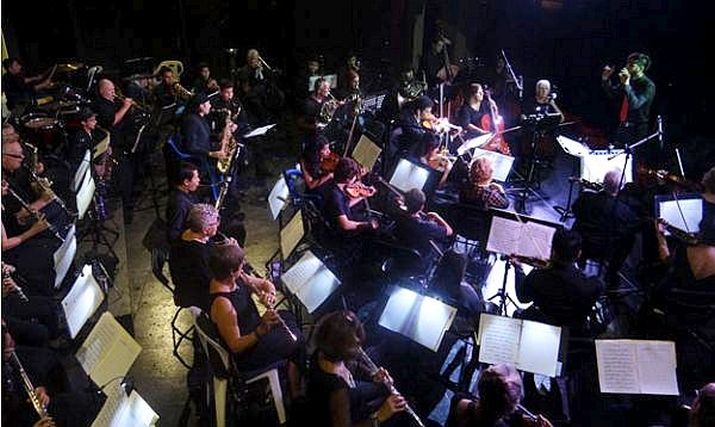 Puerto Vallarta, Mexico – The Instituto de Artes Musicales Puerto Vallarta (IAMPV), a non-profit organization that provides musical education to children and young adults, and serves as an umbrella organization for the Vallarta Symphony Orchestra and the Salty Paws Jazz Orchestra, has several upcoming performances you won't want to miss!
They are thrilled to welcome the very talented Aquiles Morales to the conductor's podium of the Orchestra. Audiences who attended the Christmas concerts will remember his outstanding work with Poder Corales. You can experience the magic at their upcoming concerts (February 19 and 20 as well as March 26 and 27).
JAZZ IT UP WITH SALTY PAW
What do jazz greats Freddie Hubbard, Antonio Carlos Jobim, Herbie Hancock, Nat Adderley, and Sonny Rollins have in common? Salty Paw Jazz Orchestra is bringing their tunes to life in upcoming performances:
Feb. 16 and March 23 at the Marina Market near Las Alcatraces from 6:30-8:30 pm
March 5 at the joint fundraiser with International Friendship Club (IFC) at Oscar's Restaurant from 4 to 6 pm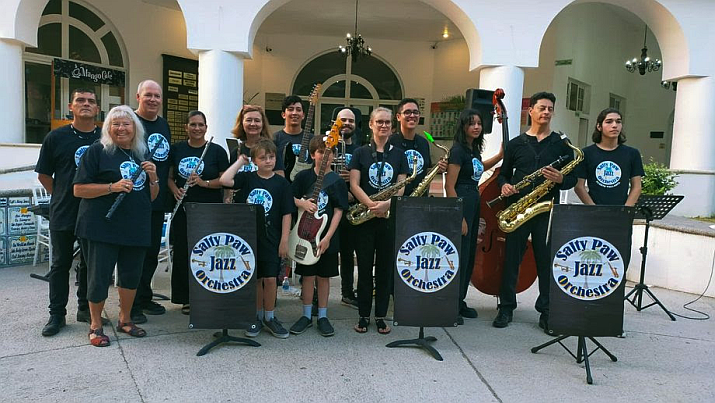 FUN FACT (or fable) ABOUT THE SALTY PAW NAME
In the 1950s, it was common that children in Puerto Vallarta didn't wear shoes until they were about 10 years old. This is why now people born in Puerto Vallarta are called pata salada. Pata salada actually means "salty foot," and this phrase is used to refer to those from the coast who get their feet salty from the ocean.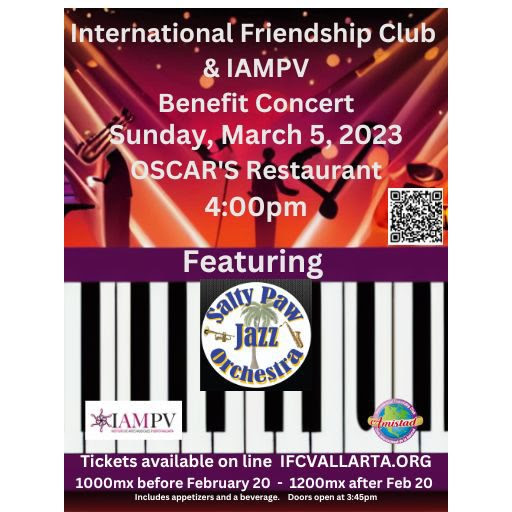 LOOKING FOR THE BEST VALENTINE'S DAY GIFT?
How about a ticket to our fundraiser!
Please join us for a wonderful benefit concert for IAMPV and IFC charities
Sunday, March 5, 2023 from 4:00 – 6:00 pm at Oscar's Restaurant
Early bird tickets $1000 MXN until midnight February 19, 2023
From February 20, 2023 $1200 MXN
Ticket price includes a selection of hors d'oeuvres and a cocktail
Cash bar, 50/50 Raffle
Your ticket, available at ifcvallarta.org, will be supporting an important program for young people who learn to create music as well as concerts for the communities of Puerto Vallarta and Nuevo Vallarta. Can't attend? Support a deserving budding musician by purchasing a ticket for them.
SAVE THE DATES
Vallarta Symphony Orchestra / OSV
Sunday, 19 February at Meliá Puerto Vallarta, Av. Paseo de la Marina Sur 7, Marina Vallarta 5 pm
Monday, 20 February at Salon Paraiso, Paradise Village, Nuevo Vallarta 5 pm
Sunday, 26 March 2023, Puerto Vallarta 5 pm
Monday 27 March at Salon Paraiso, Paradise Village, Nuevo Vallarta 5 pm
Tickets available from members of the orchestra or at the door.
Salty Paw Jazz Orchestra
Thursday, 16 February and 23 March 2023 at the Thursday Marina Market 6:00 – 7:45 pm
Sunday, 5 March 2023 at the IFC Fundraiser, Oscar's Restaurant, 4:00 pm
Master Class
Monday, 6 March 2023, 4:00 pm led by world class Cellist Dennis Parker.
By Reservation Only.
MEET OUR ORCHESTRA CONDUCTOR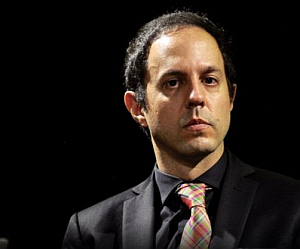 Aquiles Morales was born in Mexico City and began his piano studies at the National School of Music in 1996 and continued his studies in Paris in the École Normale de Musique Alfred Cortot where he obtained the diploma in 2004. Other studies included Mozarteum University's Sommerakademie and École Nationale de Musique de Créteil. He returned to Mexico in 2005 and continued studying with the renowned pedagogue Néstor Castañeda.
Maestro Morales has appeared as a soloist and in chamber music groups at the most important concert halls in Mexico, France, and the United States. From 2008 he began expanding his musical horizons to choral music and in February 2015 was chosen as the director of Mexico City Choir.
Five years ago he became the director of the Superior School of Music Youth Choir with whom he performs regularly. He is also the founder of Poder Coral MX, who performed with OSV at our Christmas concert. He has released several recordings and continues to teach. ¡Bienvenidos!
MEET OUR BOARD MEMBERS IN THE WOODWIND SECTION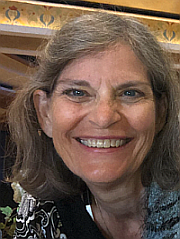 Sally Estes grew up in Sedalia, Missouri. At age 8, she taught herself how to play piano from her older sister's piano lesson books. She began playing the clarinet in elementary school. When a Junior in High School, she was invited to join the local Symphony. She earned her Bachelor of Arts Degree with Piano Emphasis from Columbia College, Columbia, MO.
After a 30-year hiatus with the clarinet, Sally joined the PV Chamber Orchestra in 2007. She enjoys classical music and says "it feeds my soul when I can play my individual part and create beautiful music with other individuals."
Sally provided piano accompaniment for the PV Men's Choir from 2015-2019. She currently is the keyboardist for the Worship Team of Grace Vineyard Vallarta Church. Sally and her husband, Jim, moved permanently to Puerto Vallarta in 2012. They own a business that manages condominium associations in Lake Ozark, MO, which they continue to oversee. Sally joined the IAMPV Board in 2022 because she is passionate about helping youth have access to, and learn to play, a musical instrument which she feels will give them life-long skills and opportunities.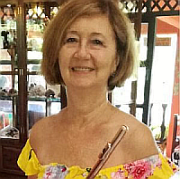 Flutist Andrea Jupina comes from a musical family. She is daughter of two accomplished pianists and the grand-niece of the impresario who brought Vladimir Horowitz to the United States. Andrea's dad was a band director, directing national award-winning bands in Clark, New Jersey and Salisbury, Maryland. She learned to read music before she could read, studying flute at age 9 and has been playing ever since.
In Puerto Vallarta, Andrea is with the OSV community orchestra and the Salty Paw Jazz Orchestra. She has been seen playing at Incanto and the Botanical Garden and sitting in at various venues around town. She acknowledges her recent musical growth to study with virtuoso Klaus Liebetanz, a protege of Louis Moyse at the Paris Conservatory.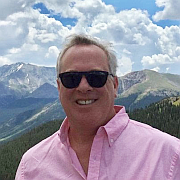 Clarinetist Terence L. Reilly is a Founder and CEO of MEXLend, an 18-year-old national mortgage brokerage and escrow service, that focuses on property financing for U.S. and Canadian citizens throughout Mexico.
Terence began playing the clarinet in elementary school in Germany and continued to play into college. As a co-founder and board member of the Instituto de Artes Musicales (IAMPV), he is fiercely dedicated to providing musical opportunities to the youth of Puerto Vallarta and to the cultural enrichment of the community through music and art. He resides in Puerto Vallarta with his husband, David Schwendeman.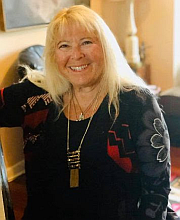 Flutist/piccolo player Pat Silver was drawn to the piano at age 4, and started formal piano training at age 7 in St. Louis, Missouri. Throughout her school years she added violin, guitar, organ, string bass, viola, banjo, and accordion, picking up flutes as a "mid-life crisis" project.
Pat earned degrees in piano and violin performance from Stephens College in Columbia, Mo., and an M.A. in broadcasting from Bowling Green State University in Ohio. In 1974, after two years as a TV/radio producer and publicist in Toronto, she was drawn to the allure of the "road", joined a touring rock band and never looked back. She owned one of Canada's top entertainment agencies for 32 years. As "Patty The Clown" with her Sphere Clown Band she has toured the world, earning a Gold Record, many songwriting awards, and her children's book became a best seller.
Ms Silver was inducted into the Clayton Education Foundation Alumni Hall of Fame in 2022 for her international contributions to the arts. Her "retirement" projects are co-management of Canada's top a cappella festival, SING! Toronto, management of Countermeasure A Cappella international touring group, and participation in the PV orchestras through performance and work with the board. Her son John-Michael Erlendson's a cappella group, Ruach Singers, performed with the PV Orchestra in 2019.
MUCHISIMA GRACIAS!
To André Lanteigne for the donation of his alto saxophone. We are happy to accept instruments – and the money to repair them if needed.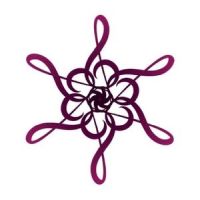 IAMPV (Instituto de Artes Musicales Puerto Vallarta) is a non-profit educational music institute whose mission is to bring the joy of music to children and young adults in the greater Banderas Bay area. This is accomplished through a comprehensive program with many levels of instruction and different musical disciplines. Musical instruments are provided to beginning students.
For more information about the concerts, IAMPV programs, or how you can participate, visit IAMPV.org, or IAMPuertoVallarta on Facebook.