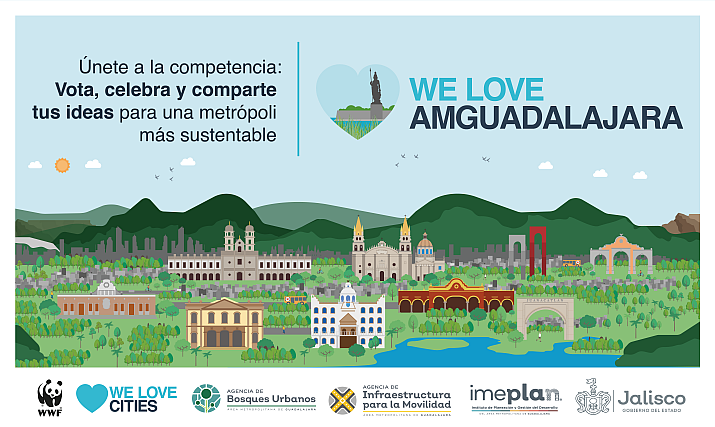 Guadalajara, Jalisco, Mexico – Over the next few weeks, the Guadalajara Metropolitan Area (AMG) will be part of the 'We Love Cities' campaign, organized by the World Wide Fund for Nature (WWF). This initiative seeks to promote love for the metropolis and develop a significant commitment with citizens to consolidate the sustainable development of the AMG.
It is a public participation campaign with global reach for people to vote, celebrate and contribute to improving the sustainable development of cities with the support of their opinions and suggestions. This initiative began on September 19 and will run through October 30, 2022.
Through interaction, the aim is to generate conversation about citizen participation, innovation proposals, promotion of climate action within the framework of the AMG Climate Action Plan (PACmetro) and planning projects for the sustainable development of municipalities and the metropolis. The planning instruments can be consulted at imeplan.mx, as well as the PACmetro.
With the local campaign We Love AMG, the citizens of the 9 municipalities will be able to vote for the metropolis in two modalities: through social networks (Twitter, Facebook and Instagram), uploading content with the hashtag #WeLoveAMGuadalajara; or through the We Love Cities website, by pressing the "vote" button or by filling out the opinion form.
Citizens will be able to share ideas, projects, proposals, initiatives, collective or individual work that is relevant to inspiring and raising awareness among other citizens with the help of social networks. They will also be able to propose, share and express their ideas through the form on the campaign website.
The AMG, through the Institute for Planning and Development Management of the Metropolitan Area of Guadalajara (Imeplan), has had the technical cooperation of WWF since 2018, with which projects have been developed to socialize climate action in favor of sustainable development on a metropolitan scale.
Do you have an organization, initiative or group and want to participate actively? Send a message to: comunicacion@imeplan.mx.
Official campaign channels:
Twitter
Facebook
Source: Gobierno del Estado de Jalisco