Puerto Vallarta, Mexico – If you are spending the Christmas holiday season in Puerto Vallarta, and are looking for something fun to do, then head on over to Nacho Daddy and The Boutique Theater.
Known as THE place to go for affordable nightlife in Puerto Vallarta's Zona Romantica, Nacho Daddy is where locals, expats and tourists gather to eat, drink, dance, listen to great music, watch sports, or catch a great show upstairs at The Boutique Dinner Theatre. Here's what's happening this week – and beyond!
Live Music With No Cover Charge
With live music played upstairs most every night at 8:30 pm – and No Cover Charge! – Nacho Daddy is a favorite place to dance in the evenings. A variety of rock, blues and other styles are featured, often with special guest stars. Here's the current line-up:
Tuesdays: Cat Daddy's
Wednesdays: Joker Trio
Thursdays: Xalli
Fridays: The Texas Embassy Blues Band
The vibe at Nacho Daddy Mexico is a sort of "tropical House of Blues." Visiting musicians from across North America and Europe often drop in to play gigs and special concerts.
Special Concerts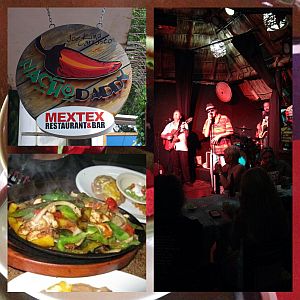 On December 30 at 8:30 pm, dynamic vocalist Hannah Brady will shake things up with rock, funk, and soul. "A Dove on the Beach" honors such legends as The Jackson 5, Stevie Wonder, Etta James, and Sting, with the spice of Top 40. Crafted for both English and Spanish-speaking audiences, the show features Baltazar Arreola on guitar, Beto Bullizio on drums, and Andrés Piedra at the piano. Hannah Brady has sung all over the world, from New York City to Hong Kong. She was the original lead vocalist in "Pixels" aboard Royal Caribbean's Ovation of the Seas. Tickets cost $500 pesos and are available at Nacho Daddy or online through eventbrite.com.
Next up is Honky-tonk singer and guitarist, Tom Ben Lindley, who will play special concerts on January 3rd and 6th at 9:00 pm. Lindley is noted for his stellar performances, creating music in the classic styles of Merle Haggard and Willie Nelson. Check out some of his tunes on YouTube.com. Tickets for these special concerts cost $350 pesos and are available at Nacho Daddy or online via eventbrite on the restaurant's website.
Nacho Daddy will also be featuring shows by PV entertainer Amy Armstrong, at 9 pm on select dates in January and February; click HERE to see show dates. Armstrong will be joined by Piel Canela, Freddy Allen, and other special guests.
More Fun Stuff to Do at Nacho Daddy
Happy Hour Trivia: Mondays from 5-7:30 pm
Vallarta Charity Bingo: Every other Wednesday at 4:00 pm
PuRR Project Bingo: Alternate Wednesdays at 4:00 pm
Swing by and check out the specials board, updated daily, for events happening that day at Nacho Daddy, at 287 Basilio Badillo. A different lunch special is served every day from 11 am to 3 pm, and Happy Hour happens from 4-6 pm.
A favorite of locals and tourists alike, Nacho Daddy is well-known as a friendly and welcoming watering hole with friendly, expert bartenders who are quick to serve you beers, tequilas, cocktails and wine – a little or a lot. As one TripAdvisor reviewer wrote, "Nacho Daddy is where 50-year-olds act like they're teenagers and party like their hair is on fire."
For more information and live entertainment updates, visit their website or become a Nacho Daddy fan on their Facebook Page.
Holiday Fun at The Boutique Theatre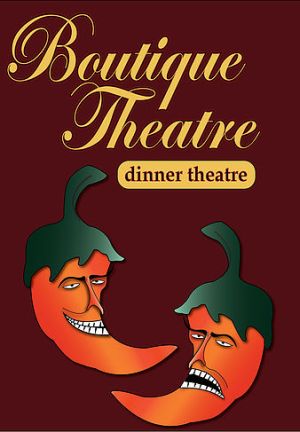 The festivities start on Wednesday, December 26 from 7-9 pm with the Time 2 Play Band's Open Mic Night, hosted by the affable singer-guitarist Garry Carson. Admission is just 50 pesos, free for anyone who takes the stage.
"John Anderson Sings Hits from the 70s" takes The Boutique stage from December 27-29th at 6:00 pm.
Perro Bravo Productions returns to Puerto Vallarta on December 29 and 30th at 8:30 pm with the Spanish adapted version of Tomas Ustusastegui's comedy "Princesas Desesperadas – The Christmas Special." Directed by Ramiro Daniel, and with actors Juan Pablo Hernandez, Juan Carlos Ramirez, Cesar Trujillo, and Cesar Bravo, Princesas Desesperadas is a fast-paced comedy that tells the story of four Disney princesses who get together 15 years after their "happily ever after." The sharp Vaudeville-esque comedy quickly puts the audience in a voyeuristic situation, as the characters, one by one, become unraveled as they peel off the tragedy of their lives piece by piece. They draw the spectators into a very private conversation among women, a conversation not meant to be heard by anyone else.
"The Clean House," a dark, thought-provoking comedy by Sarah Ruhl, is opening Jan. 3. It stars local actors Catherine Caldera, Lynne Dellinger, Catalina Meders, John Trapper, and Patrice White. The director is Josie MacGillivray.
About The Boutique Community Theatre
Located on the second floor of Nacho Daddy, The Boutique Dinner Theatre offers exciting evenings of dinner-and-a-show options. Delicious three-course dinners are served at 5 pm, with the shows at 6 pm. Dinner choices are Fillet Mignon, or Chicken Cordon Bleu, with mashed potatoes and a vegetable medley. Vegetarians can order the Chile Relleno with rice and beans. All dinners come with a fresh house salad, and dessert. Those who prefer dining later can have their meals served after the shows. For the current lineup of shows visit btpv.org. For more information call 322-728-6878.
Nacho Daddy Mexico Restaurant & Sports Bar

Consistently receiving rave reviews on TripAdvisor, Nacho Daddy Mexico is the premier sports bar and restaurant in Puerto Vallarta. Open daily from 11 am to 12 am for lunch, dinner, live music (with no cover charge!) and lots of fun, this popular south side hangout is located at Basilio Badillo #287, only two blocks off the beach in the heart of the Romantic Zone. Credit cards accepted. For more information, visit NachoDaddyPV.com or become a fan on their Facebook Page for promotions, daily specials and more.Click HERE to learn more about Nacho Daddy Mexico Restaurant & Sports Bar.