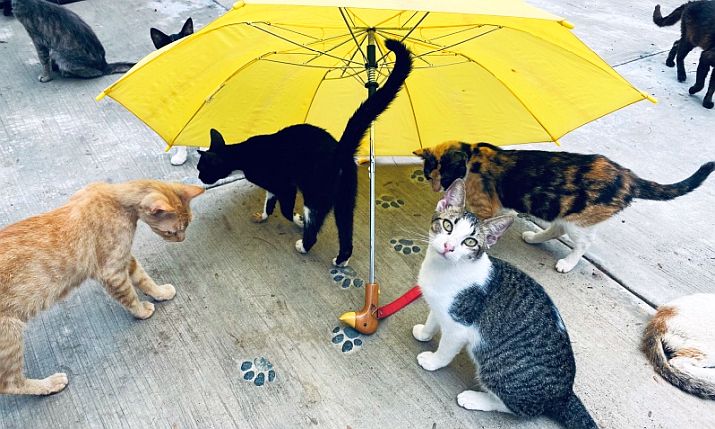 Puerto Vallarta, Mexico – The latest news from PuRR Project, a non-profit, no-kill feline shelter located just north of Puerto Vallarta, Mexico, that provides homeless cats and kittens a recuperative stay with the ultimate goal of adopting them out to loving homes sterilized, vaccinated and disease free.
SHELTER UPDATE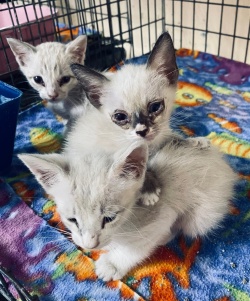 The summer rains have started! Fortunately, other than a few minor leaks in the casita roofs, all is well… so far. The shelter has dirt roads on two sides so it is always dusty and a little rain was welcome. In the last 30 days, we've had 20 kittens and one mother cat abandoned at the shelter. After only one adoption in May and 8 in June, we still have lots of kittens who are going to need a Forever Home!
We did have one puppy adopted and still have two who need a home. Tanuki is now with a foster and will be going to PetCo when all her vaccinations and spaying are completed. She is adorable with a black mask and little curls at the tip of her ears and tail! If you are interested in adopting her, contact Linda at adopt(at)purrproject.com.
FEATURED FELINE – KAISER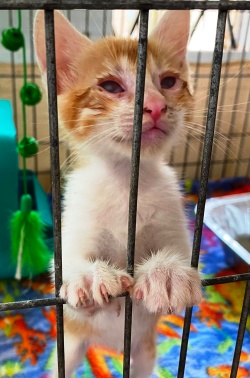 Kaiser was the only survivor of three newborn kittens who were abandoned at the shelter along with the mother in April. It wasn't until he was separated from mama and put in the clinic that Dra. Eva realized he was probably blind, though he does seem to see movement and light. He is very vocal and active and plays with the other kittens in the nursery and has no trouble finding his food and the litter box… and his toys! After being neutered he will be available for adoption to a very special person who can give him a safe home environment.
A DOG'S NEW LIFE A.C. FOREVER FOSTER PROGRAM
Cathy Case has been a devoted PuRR kitten foster for several years. Her German Shepherd Laska loved having the kittens around and was very good for socializing them around dogs. Cathy was heartbroken when Laska recently passed away. She wanted another companion but felt it was unfair to take on the responsibility of a new puppy at her age. And then she heard about the new "Forever Foster" program at A Dog's New Life. She was introduced to one of their Senior dogs and "Abby" is now loving her new home.
The foster program is available for people over 65. ADNL retains ownership of the dog and also assumes financial responsibility if necessary.
You can read all about this innovative program on their website.
ADOPTION UPDATE: NELSON & NINA
In April we reported that little Nelson & Nina were on their way to British Columbia, Canada, where they would be in a foster home provided by Kelowna Kitten Rescue. We were thrilled to hear from Michelle Wandler that BOTH kittens were adopted together and are now in a loving Forever Home!
VOLUNTEERS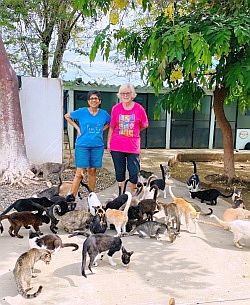 We are in need of volunteers to go on our regular Thursday visits out to the shelter. Having a car is a necessity as the shelter is remote and there is no public transportation nearby. We meet in the Marina at 10:15 am and usually get back around 2:30 pm. It's fun getting to know all the shelter cats and kittens but it's also a lot of work! We clean litter boxes, bathe new kittens and then assist Dra. Eva with vaccinations and meds… and of course cuddle a lot of cats! For more information contact Linda at adopt(at)purrproject.com.
GRACIAS! THANKS! MERCI! DANKE! ARIGATO!
PuRR is supported solely by private donations and we are grateful for these people who donated last month: Derek & Jennifer Frankforth, Karan Borges, Steve Stowell, Averie Sunshine, Shannon Hennessy, Denise Nelson, Marilyn Marshman and Tom Bleuer. Our regular donors have our utmost gratitude: Sharon & Ken Rose, Joanne Bryla, Trisha Aljoe, Larry Sherwood, Pat & Sandy Glenn, Charles & Carol McCullough Charitable Gift Fund, Heidi Benedict, Robert Weed, Jalene Taylor, Timothy Oleno, Elizabeth Fuerhern and Janice North.
And a big MUCHAS GRACIAS to the shelter founder, Gary Phillips, who continues to be a major financial supporter after all these years!
If you'd like to donate to the PuRR Shelter you can check our website for ideas on how to give your support, including Virtual Adoptions, PayPal donation or personal check! With our 501 (c)(3) Non-Profit Status, tax exempt receipts for US Dollar donations deposited in the US are available.
If you live in Puerto Vallarta and would prefer to make a cash peso donation, contact our Shelter Administrator at donate(at)purrproject.com.
For more Kitty News & Photos, please visit PurrProject.com.
---

PuRR Project is a Non-Profit shelter in Puerto Vallarta, Mexico that provides homeless cats and kittens a recuperative stay with the ultimate goal to adopt them out to loving homes. All of our residents have been sterilized, vaccinated and are disease free. We accomplish this through our own efforts as well as collaboratively with other animal welfare organizations. Both monetary donations as well as donations of dry cat food are most welcome – and much appreciated. Donations 501(c)(3) tax-deductible in the U.S. For more information, visit PurrProject.com or send an email to info(at)purrproject.com.