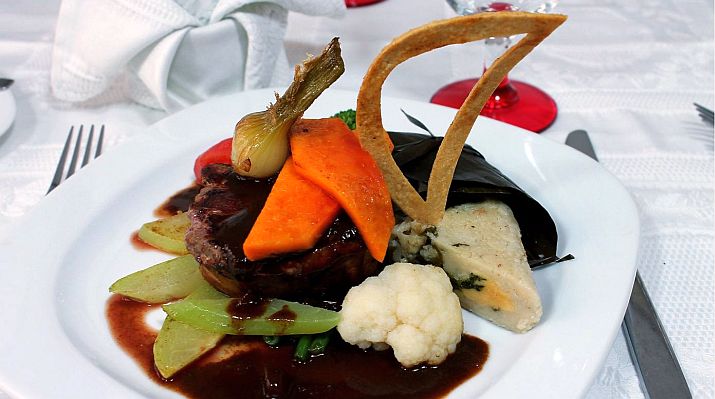 Puerto Vallarta, Jalisco, Mexico – Get ready for a taste of Mexico's vibrant culture as Kaiser Maximilian steps up to celebrate Las Fiestas Patrias in style. Located in the heart of Puerto Vallarta, this well-known restaurant is putting a modern twist on traditional Mexican dishes for the entire month of September.
When it comes to Mexican celebrations, food is a big deal, and Kaiser Maximilian is pulling out all the stops. In addition to their regular menu, they're serving up something special called the ¡Viva México! menu, inspired by the country's rich heritage.
One dish you can't miss is the Chile en Nogada, a famous Mexican favorite that's become a symbol of the holiday. Hailing from Puebla, this dish is no ordinary stuffed chili. It's made with red, white, and green ingredients to match the colors of the Mexican flag. Imagine roasted chiles poblanos filled with a mix of sweet and savory beef, pork and fruit, all topped with a creamy walnut sauce and sprinkled with pomegranate seeds. There's even a version for vegetarians.
But that's not all! The ¡Viva México! menu offers a variety of mouthwatering options:
Starters:
Tacos with Duck Confit, featuring mole and red onion
Chili Poblano Cream Soup with corn and cheese
Main Courses:
Red Snapper Filet with mashed potatoes, fresh veggies, and cilantro oil
Steak Filet with bacon, a cheese-filled tamale, and chili and papaya sauce
Dessert:
Corn Pie served with yogurt ice cream and honey
Kaiser Maximilian's warm European bistro atmosphere sets the perfect stage for enjoying Mexico's rich flavors. It's a place where friends and families can come together and celebrate Mexico's Independence Month in a delicious way.
You can savor the ¡Viva México! Menu at the Espresso Bar from noon until 11:00 pm, and in the Main Dining Room from 5:00 to 11:00 pm until October 7th. If you're up for exploring other tastes, their regular menu is also available. Remember, it's a good idea to make reservations so you don't miss out on this culinary celebration.

Open Monday-Saturday from 8 am to 11 pm for breakfast, lunch and dinner, Kaiser Maximilian Restaurant & Cafe is located at Olas Altas #38B in the Zona Romántica of Puerto Vallarta. For reservations call (322) 223-0760 or visit KaiserMaximilian.com