Puerto Vallarta, Mexico – Roselle (Hibiscus sabdariffa) is a medicinal hibiscus flower. It is commonly called 'Jamaica' (pronounced ha-myka in Spanish) throughout Mexico, and it is believed to have been introduced to the Western Hemisphere in the 1700s by African slaves and brought to Jamaica – hence the name.
Jamaica makes a delicious bright red drink that is a very accessible and inexpensive source of vitamin C, calcium, and powerful antioxidants. Its polyphenol compounds are similar to those found in blueberry, cranberry, cherry, and blackberry.
It is most often found in Mexican and Central American markets in the United States. The calyces of the Jamaica plant are used traditionally as a refreshing beverage called Agua de Jamaica. It has so many benefits that is also used traditionally in Mexico as a medicine to reduce fever during colds and to provide nourishment during illness.
It also lowers cholesterol and blood glucose, reduces risk of heart disease, has hypotensive (lowers blood pressure) and antibacterial activity, and is protective of kidneys and the liver.
In addition, Jamaica has high levels of anthocyanins, powerful antioxidants that scavenge inflammatory cells in the body. To gain medicinal benefits, drink 1 to 2 glasses of Jamaica daily.
AGUA DE JAMAICA RECIPE
Makes 4 Cups
Boil 1 quart of water and add a heaping handful of Jamaica calyces. Gently simmer for 10 minutes until richly red. Strain and add a little honey or stevia to taste.
Note: do not add sugar, as it counteracts the effects of the natural antioxidants. Jamaica makes a wonderful drink, hot or cold. Add a tablespoon of collagen powder when it is cold to make it a meal.
JAMAICA JELL-O RECIPE
Ingredients
• 1 c. of dried Jamaica petals
• 1 ½ c. of boiling water
• 1 tbsp. pasture-raised gelatin
• ¼ c. of hot water
• 1 c. of fresh diced fruit
• 10 drops of stevia
Directions
1. Boil 1 cup of water and pour over the Jamaica petals. Set aside until warm.
2. Strain the petals, pour the warm liquid into a large mixing cup, and add gelatin powder
3. Add the ¼ cup of really hot water and stir until it is thinner
4. Stir briskly until mixed it will start to thicken a lot.
5. Place the fruit into an 8 X 8 glass baking dish. Pour the Jell-O mixture over the fruit and make sure it has coated the fruit
6. Put in the fridge, covered, for at least 3 hours, or leave overnight, and serve with coconut milk, real whipped cream, or top with sliced almonds
Click HERE to learn more about this amazing flower in my video.
If you're interested in improving your health through food, see my online course Integrative Medicine & Nutrition for Mood & Cognitive Enhancement, where you will learn how to use foods, supplements and herbal medicines to enhance mental health, memory, and cognitive performance. Read my book, The Good Mood Kitchen, where you will find recipes and tips to help you achieve emotional balance.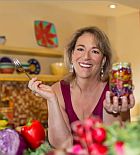 Leslie Korn has lived and worked in Banderas Bay since 1973 conducting research in Traditional Medicine of Mexico. She is a Harvard Medical School and Harvard School of Public Health-educated clinician in clinical practice in Mental Health Nutrition, Integrative Medicine and the prevention of dementia and cognitive decline. She is the author of 8 books, including 'Natural Woman: Herbal Remedies for Radiant Health at Every Age and Stage of Life.' To learn more about her work, visit DrLeslieKorn.com. She can be reached at lekorn(at)cwis.org.


Click HERE to read more articles by Leslie Korn.