Puerto Vallarta, Mexico – Fermented foods are an essential part of good mental health. They support intestinal well-being and enhance healthy bacteria, which support neurotransmitters needed for brain health. All types of fermented foods enhance cognition.
When freshly made, vinegar is an important fermented food that is easy to add to salad dressings, to your slow cooker meat and bone recipes and to dark leafy greens. Vinegar increases energy and helps to reduce anxiety and depression. To be medicinal, vinegar should be made naturally and have a good enough "mother."
Making vinegar is a fun family activity. The term vinegar refers to the two-step process of fermentation from a carbohydrate to an alcohol to an acetic acid. The sugar is converted into alcohol, which is then fermented into vinegar.
Make vinegar with almost any fruit: apples, pears, or raspberries. One of my favorites is pineapple, based on the traditional indigenous Mexican recipe called Tepache. Plan ahead – when buying a pineapple for the fruit, save the rind to make the vinegar once you cut open the pineapple.
How to Make Tepache Vinegar
Ingredients
1 quart glass jar, sterilized
3 c. filtered water
1/4 c. coconut sugar or dark brown sugar
The rind of 1 organic pineapple
Piece of cheesecloth, to fit over mouth of jar
1 rubber band
Directions
Scrub the rind of the pineapple and set the rind aside on paper towels to dry.
Dissolve the sugar in a little water and then add pineapple scraps and rind to the sterilized jar until the jar has a few inches of room at the top.
Place the cheesecloth over the mouth of the jar with the rubber band. Place the jar in a dark cupboard, let it ferment for 4 weeks, opening the container to lightly stir the contents daily.
At 4 weeks, strain the contents through the cheesecloth into sterilized bottles and seal. Store in the refrigerator. Use it in your salad dressings along with Olive oil and garlic and fresh herbs.
Don't like the taste of vinegar? Then add a cup of vinegar to a bath and soak for 20 minutes when feeling fatigued or anxious.
SIGN UP for my free newsletter and receive a free guide to changing your mood with food.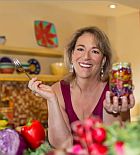 Leslie Korn has lived and worked in Banderas Bay since 1973 conducting research in Traditional Medicine of Mexico. She is a Harvard Medical School and Harvard School of Public Health-educated clinician in clinical practice in Mental Health Nutrition, Integrative Medicine and the prevention of dementia and cognitive decline. She is the author of 8 books, including 'Natural Woman: Herbal Remedies for Radiant Health at Every Age and Stage of Life.' To learn more about her work, visit DrLeslieKorn.com. She can be reached at lekorn(at)cwis.org.


Click HERE to read more articles by Leslie Korn.