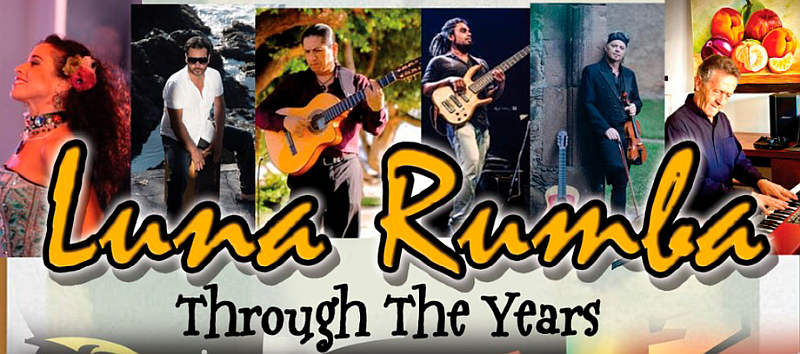 La Cruz de Huanacaxtle, Nayarit, Mexico – Could it actually be a dozen or so years since the Luna Rumba Band started performing in La Cruz and Banderas Bay?
The years have passed so quickly. Much has happened during that time… La Cruz has changed a lot and many of its iconic characters have passed on. But now seemed like the right time for Luna Rumba to celebrate its musical past, bringing together its band members for a stroll down memory lane.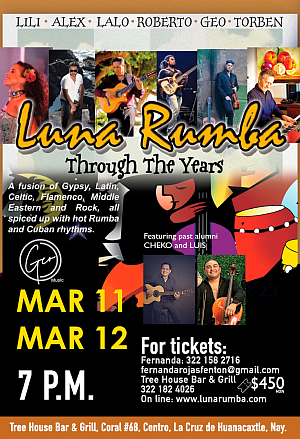 You can reminisce with Luna Rumba for two nights only, on Saturday & Sunday, March 11 & 12 at 7 pm at The Tree House Bar and Grill in La Cruz on the North Shore. Tickets are on sale at the Tree House or by contacting Fernanda at fernandarojasfenton(at)gmail.com or calling 322-158-2716. The Tree House Bar and Grill is located at Coral #68, Centro, La Cruz de Huanacaxtle, Nayarit.
Don't miss this special event, when Luna Rumba will once again thrill audiences with their blend of World Music, incorporating Latin Rock, Gypsy Flamenco, Arabic Melodies, Cuban Rhythms, Celtic Riffs, Mediterranean Soundscapes and Rock.
Whenever this group has taken the stage over the years, their audience explodes in cheering and applause. It is clear that Luna Rumba captures the hearts and soul of all who experience their music!
Luna Rumba is a celebration of exquisite sound. There are many recognizable songs along with a mix of eclectic music. With accompanying vocals, fiery violin, rumba-Flamenco guitar, soothing flute, cool bass and exotic percussion instruments, their world-music style enthralls and excites.
Clearly, each member of the group is a superbly accomplished musician in their, own right and the beautiful, interpretive, Spanish dancer who performs during many of their songs adds another level of creativity and depth to the show.
"Luna Rumba-Through the Years" features: Geo Ulrich on violin, guitar & vocals; Cheko Ruiz on vocals & guitar; Alex Gonzales on percussion; Lily Alcantara on percussion & dance; Luis Rascon on percussion & bass; Eduardo Leon on vocals & guitar; Roberto Falcon on bass and Torben Holm-Pederson on keyboards.
It is evident why Luna Rumba always sells out its shows. After a hiatus, fans are excited that they are coming back for 2 fabulous nights of music. Audiences will once again fall in love with the beauty, creativity and unique sound of Luna Rumba.
You'll hear familiar songs, along with new energy and inspiration from Geo's travels in Africa and the Mediterranean. Original music will merge with old favorites for a World Class musical experience. Welcome back Luna Rumba. We are looking forward to enjoying your astonishing music once again!