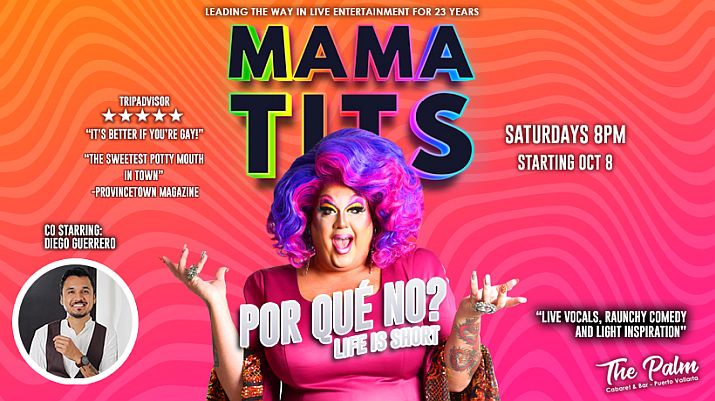 Puerto Vallarta, Mexico – Mama Tits has returned to The Palm Cabaret with '¿Por Qué No? – Life is Short' on Wednesdays at 9:30 pm and on Saturdays at 8:00 pm. Her show combines buttery smooth vocals with heartfelt stories and lessons that touch everyone willing to open their hearts and minds.
Puerto Vallarta entertainment writer, Gary R. Beck, who attended a recent performance, tells us more about this not-to-be-missed show:
Wildly popular Mama Tits returns with her distinctive brand of humor to The Palm Cabaret with ¿Por Qué No? Life is Short. And really, why not? You never know what to expect, making her shows unique and ever-changing. Beware, you may be selected for a quip or a bit of gentle razzing. Crowds love her, resulting in a reputation for filling a venue.
Tonight, Mama entered the room to the rousing applause of a full house, so early in the season. "Sink or swim but Mama dances for the money." She broke wildly but firmly into "When You're Good to Mama" …Mama's good to you. There was an expected response of approval.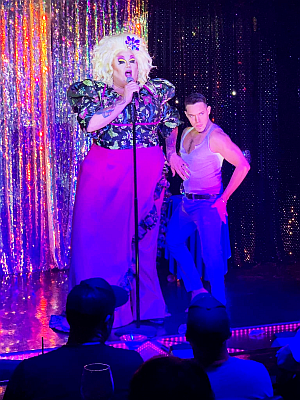 She discussed the theme of the show, summing it up as 'Life is Short'. "The last several years of pandemonium were difficult for everyone, but life's lessons were taught if you do some self examination. Your main thought should be This is Me, Take it or Leave it, but I am Number One and Proud of it. If you do not like and accept me, keep walking. I have had my failures, but learned from them since they were meant to happen and make me stronger on my path to be a better person." This trail of thought continued throughout the evening.
Mama spent countless hours writing this show, aided by her dear Daniel J. Klaut of 21 years, now permanent, and selecting each song which illustrated where she was and more importantly where she is headed. Through her words and live music, she passed on to the audience what she has learned from this world mess and urged all present to look inside themselves and consider their life direction, being proud of who you can be, a very positive, kind, helpful being. Discard any negativity and encourage all around you to be accepting of all others and offer any possible support as everyone trudges through this huge hardship.
She was pleased that no one let a little rain dampen coming to the show. "This is a safe space for straight people," she said after asking everyone their sexual identity, with a salty description of each one. The front row had a line of empty seats and she quipped they must be having dinner. "Better be good. There is one English word not in the Spanish language and that is Refund!" and she tossed in a 'Spanish lesson for the white people,' with words like Leche, alberca, puta, etc.
Life is a Dance from Chaka got the crowd into a party mood. The stretch continued with Crazy (I think you're crazy) and Free Ride from Edgar Winter Group.
Saying "There are no apologies for my existence," Mama continued with the brilliant Amy Winehouse's You know I'm No Good, then jumped into Disney's masterpiece Poor Unfortunate Souls, keeping attendees excited and basically overwhelmed by Mama Tits' abundant and energetic talent.
When she announced that the show was coming to an end with one last song, the audience groaned 'AW, No!' To which she responded "Well, you can always demand an encore!" before ending the night with What a Wonderful World. Sung by so many, Mama grasped it to her ample bosom and made it her own.
Lingering at the stage exit, she peered out from behind curtain, and asked, "Another?" before singing World Hold On from Bob Sinclair: "Spread love. Everybody join together now. One voice, one heart, love and unity." Then she was finished… but only for a few days.
Before leaving, Mama Tits extended great thanks to all employees at The Palm Cabaret, the owners Adriana and Gus, manager Mark Rome and countless others, ensuring our evening was a pleasant experience and that we will return and bring our friends. Mama has many more shows in Puerto Vallarta this season.
For more of Gary's Puerto Vallarta show reviews, join his More of Beck's Best: Theater, Cabaret and More! group on Facebook.
Presented on Saturday nights at 8:00 pm at The Palm Cabaret ¿Por Qué No? – Life is Short co-stars Diego Guerrero, who lends his vocal support and is her gentle sounding board. Costumes by Jose Luis Casillas. Sound and Lighting by Sebastien LePage.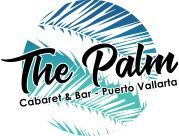 The Palm Cabaret and Bar is located at 508 Olas Altas in the heart of the Puerto Vallarta Romantic Zone. Tickets can be purchased at the venue's box office, which opens daily at 11:00 am, or online at ThePalmCabaret.com.
For more information, click HERE, call (322) 222-0200, visit their website, or follow The Palm Cabaret and Bar PVR on Facebook.