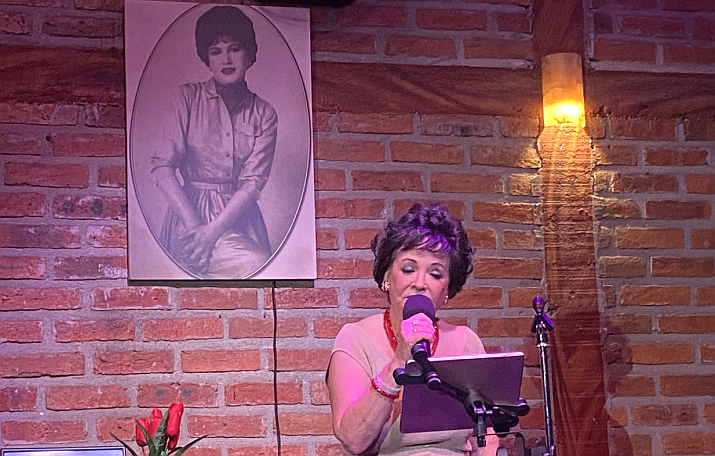 Puerto Vallarta, Mexico – Popular tribute artist Mikki Prost returns to Nacho Daddy in December with her 'Patsy Cline's Jukebox' show, in which audience members get to choose their favorite Patsy songs for her to sing. In this show, Mikki pays homage to the country music legend, sharing stories about the singer's life, as well as recreating her beautiful music.
Puerto Vallarta entertainment writer Gary R. Beck, who attended a recent performance, tells us about this popular show, which is playing at Nacho Daddy on Mondays, December 12th and 19th at 6:00 pm: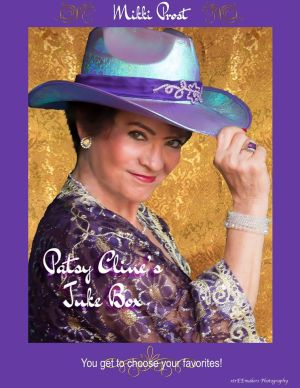 Mikki posted her feelings about this show on Facebook: "Fans keep coming back each year to hear the amazing iconic songs of Miss Patsy Cline, which thrills my heart to no end. The best part of this show is YOU who get to pick the songs you love or maybe one you may not have heard before. After all, I have over 70 songs on my list for you to choose from. With your audience participation it really ignites the evening for so much more added fun to this show's 3rd season. And it sure does keep me on my toes… that's for sure."
That explains what her show presents. Total audience participation. Choose from her list of offerings and she will select songs, not using the requests as a crutch for songs she knows well. Some she proclaims she has never sung on stage before! No need to limit your options to "Crazy" or "I Fall to Pieces", but she will sing the big hits if called out.
Tonight Mikki opened with a cowgirl howdy. "Come on in"…and sit right down and make yourself at home." She loves to open her shows as Patsy herself often did. She discussed the composition of the Wills Brothers, who are the famed writers of "Faded Love", which Patsy recorded in 1963. We enjoyed a very slow, sad version which popped up and flew to the finish. Mikki excelled in taking this song from her heart.
"When I Get Through With You (You'll Love Me Too)" was sung sassily and turned into a crowd pleaser especially to those attendees who had never heard the tune. Requested "Blue Moon Over Kentucky" from illustrious Bill Monroe, Mikki likes this endeavor as seen in her deep love of the swirling lyrics. In "Honky Tonk Merry-Go-Round" she is a cowgirl on the town out for a fun time. Mikki takes this one swinging.
Mikki's shows have never been a string of songs, applause, then leave. She includes story snippets, sharing some rarely known facts, which she has accumulated from her reading of tomes on Patsy. You feel special in that you learn through this "inside information" some pertinent trivia. Everyone leaves the venue with more knowledge of this iconic singer that Mikki wishes to share with newbies – especially youngsters who had never heard her name before, let alone this fine musical history.
"You Belong To Me" is a classic tune as many other songs Mikki has been asked to sing. The song has been covered often, possibly none the better than Patsy's which Mikki had a blast singing. Justin Tubb's "Imagine That" is at the top of Mikki's favorites and she surrounded it with her admiration for the composition.
A standout for Mikki is her natural down-home attitude toward what she is doing. As a youngster, she did not know who Patsy Cline was, let alone any of her famous cuts which brought fame. Slowly, she became immersed in this star, her talent and stunning well-written thoughtful songs.
Along came Sandy Lee who taught Mikki a talent unknown to her years ago, leading them together to the stage, she portraying Patsy Cline's best friend in an extremely popular live show, Always Patsy Cline. Mikki ended up taking the lead, thus widening her group of followers.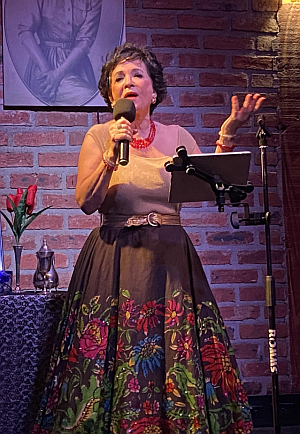 "She's Got You" is most definitely at the top of songs by Miss Patsy. Mikki could not help falling in love with this vocal masterpiece which she envelops as her own. The marvelous songs continue to flow. "Why Can't He Be You" has Mikki portraying a man who does nothing that her other beau does for her.
A seemingly necessity for Mikki tonight was realizing where the audience was sitting so she warbled a tale of a gringo who comes south into Mexico and loves the Spanish ladies then leaves for the north: "South of the Border" (Down Mexico way).
Mikki herself chose the last song of the set with "He Called Me Baby" which pulled on the heart strings and allowed everyone to breathe in this entry waiting for more to come. "I feel so electrified. Thank you!"
"Bill Bailey, Won't You Please Come Home" is the oldest song from 1902 to be included by Mikki. She gave a slow takeoff version of the smash hit, then crescendoing to an up tempo finish known to all. She stated she loved to perform this slow version from Patsy's recordings.
Then along came the so-called answer song by Kitty Wells called "Honky Tonk Angels". She fought back the manly version of bad girls when in fact it takes two: "Too many times married men think they're still single. That has caused many a good girl to go wrong." Mikki reached the very top with "Your Cheatin' Heart" by legendary Hank Williams. She wrung the sad loss in this fine composition vowing he will feel the same way for her as time goes by.
"I dedicate his favorite song, I Fall to Pieces to my man, Louis," she said, knowing he was right there listening to her: "Time only adds to the flame." Bets are on his staying with her out of deep love. Next up was a song not known by a majority. "You Made Me Love You", I didn't want to do it. Forced into a man's devotion and dreams, Mikki let her walls down and sang, allowing him to take care of her.
"Stop, Look and Listen" was clever with her finger pointing to halt, to her looking eye, then to her hearing ear. But few tunes by any artist can top "Sweet Dreams" and she loves it. Mikki explained that the woman should move on in life but cannot do so. Simply put, lovely.
The crowd cannot be ignored any longer, so Mikki offers Patsy's signature tune, "Crazy", a country music standard. Written by Willie Nelson, she recorded it quickly and reaped the star benefits. "Shoes", when old and tired, are thrown away. Same goes for the former man in her life. The humor broke any streak of sadness.
Mikki conceded to the continual pleas for this song again, so she delivered a repeat of her classic in any genre. She proclaimed that Patsy has been associated with it ever since her death, the song arising from Patsy's last recording session before her death at the age of thirty. "Crazy" sent a second flow of joy throughout the room with her strong vocals. "Wayward Wind" was the final song of the lovely evening of singing and dancing.
---
Don't miss your chance to see Mikki Prost in "Patsy Cline's Jukebox," playing on Mondays, December 12th and 19th at 6:00 pm. Tickets cost just $400 pesos and are available at Nacho Daddy, Basilio Badillo 287 in the Puerto Vallarta Romantic Zone, or by emailing Tammy at tammyjprust(at)mac.com.
For more of Gary's Puerto Vallarta show reviews, join his More of Beck's Best: Theater, Cabaret and More! group on Facebook.

Open daily from 11 am to 12 am for lunch, dinner, live music and lots of fun, this popular south side hangout is located at Basilio Badillo #287, only two blocks off the beach in the heart of the Romantic Zone. Credit cards accepted. For more information, visit NachoDaddy.mx or become a fan on their Facebook Page for promotions, daily specials and more.
Click HERE to learn more about Nacho Daddy Mexico Restaurant & Sports Bar.