Puerto Vallarta, Mexico – No Way José! invites you to join their 'Cocina de Amor' on Thursday, August 13 at 2 pm Puerto Vallarta time, for another cooking demo Live on Facebook. Learn to prepare some of the award-winning dishes on the restaurant's menu – now including vegan options!
Our family of friends are loving our new vegan options – and the gorgeous and talented Chef Gabrielle Tenney, owner and operator of Mixtli® Gourmet Mexican Spices – who facilitates these cooking demos. Click HERE to learn more about Mixtli® and how to incorporate these gourmet spices into the classic No Way José! recipes.
For those of you who are in Puerto Vallarta, in-house dining is available on the NWJ! open-air Terrace, where tables of up to 4 people can savor this week's two 3-course pre-fixe menus:
'Cocina de Amor' Menu
• Spinach & Watercress Salad
• Shrimp in Mole Sauce
• Pecan Tort
For our Vegan friends
• Cream of Zucchini Blossoms & Poblano Chile
• Trio Veggie Tacos
• Chocolate Brownie
These special NWJ! menus are being served for only $499 pesos per person. (Does not include drinks or tip.) Our regular menu is NOT available, but full bar service is… that means Sexy Coffee, Baby! (Cash only please. Our credit card terminals are not yet functioning.)
And, to make your evening out even more special, two of Vallarta's favorite musicians, Fernando Gonzalez and Eduardo Leon, will be playing live on the No Way José! Terrace starting at 7:00 pm.
Make your reservation at reservations(at)nowayjosemx.com and join us in a safe environment. Socially distanced tables. Sanitary guidelines. And yes, masks upon entering and exiting the restaurant are mandatory. No exceptions.
Whether you tune in to the cooking demonstration on Facebook Live, or come out to 'Tu Casa en Vallarta' to enjoy one if these 3-course award-winning NWJ! meals, please consider making a donation to help one of the most charming service teams in La Zona Romantica survive the pandemic.
José Alfredo and I are doing everything we can to help our staff while the restaurant is, for the most part, closed (the NWJ! Terrace is open on Thursday nights only) – and every little bit helps. No amount is too small. If you are participating online, donations can be made via PayPal to: help@nowayjosemx.com.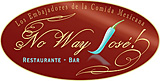 No Way José! is on the south side of downtown at 5 de Febrero 260, just over the Vallarta street bridge on your left heading south from the Malecón. Reservations are required and can be made by emailing Reservations(at)NoWayJoseMx.com. For more information, visit NoWayJoseMx.com, or join us on Facebook for real-time updates and special offers.


Click HERE to learn more about No Way José!