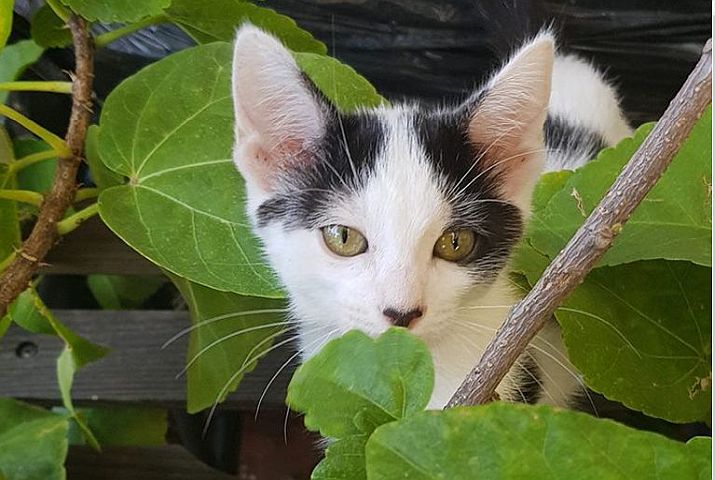 Puerto Vallarta, Mexico – The latest news from PuRR Project, a non-profit, no-kill feline shelter just north of Puerto Vallarta that provides homeless cats and kittens a recuperative stay with the ultimate goal of adopting them out to loving homes sterilized, vaccinated and disease free.
SHELTER UPDATE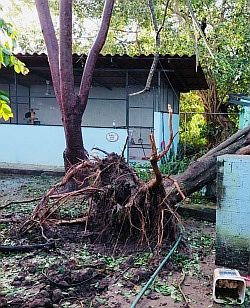 Hurricane Lidia took an abrupt right turn on October 10 and hit the Jalisco coast as a Category 4 causing mass destruction and thousands of downed trees, especially to the communities just south of Puerto Vallarta. We had terrified staff and felines as the high winds tore through the shelter during the evening.
Several large trees fell causing the loss of one rain shelter/feeding station and damage to one nursery casita and the ranch house roof. We were very fortunate to get a team out by the weekend to take on the dangerous work of climbing ladders and ropes with chainsaws to cut down the trees so we could move around the shelter safely.
It will be another couple of weeks to get the supplies to repair the damage and haul away the debris at a cost of about $9,000 dollars. In the meantime, the remaining casitas are FULL of kittens and older or special needs cats. The good news is that Jose and his family were unharmed and no sign of injured cats!
By the time Dra. Eva and volunteers arrived the next afternoon, all the kitties seemed okay and happy to see visitors with treats and get some special attention. Needless to say, this puts a huge dent in our funds and any donations are appreciated. Locally, we will be accepting donations at our booth at Daiquiri Dick's on Saturdays and on our website.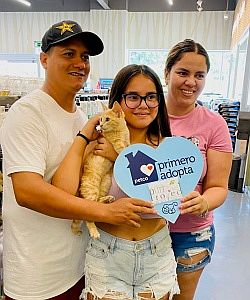 As of this writing, we took in 16 new kittens (and two adults) in October… that brings the total in the PuRR nursery or in foster to 88 kittens that desperately need homes! If you are looking for a new furry friend, please stop by the PetCo Adoption Center any Saturday or Sunday and consider giving one of these adorable kittens a chance in YOUR Forever Home! They are socialized, tested, vaccinated and spayed or neutered and the adoption fee is only $500 pesos.
The cost for getting a kitten to the adoption stage is considerable. The test kits, flea & deworming medicines, vaccines, sterilization cost, litter and special kitten food all add up with so many to care for. If you cannot adopt, consider a Virtual Adoption of one of our older cats as a way to give financial support to meet shelter expenses. You'll see all the information and photos of the cats on our website.
UPCOMING EVENTS
GARAGE SALE: Everyone wants to know when! The date is set for Saturday, December 2nd. Gates will open at 9:00. We're now collecting donated items at Gaviotas 143, Marina Vallarta or email us at donate(at)purrproject.com if you need items picked up. Remember, ones man's trash is another man's treasure so start getting rid of that "stuff" you no longer need! We can use just about anything: gently used clothing, shoes, small appliances, jewelry, toys, towels, kitchenware, artwork, sports equipment & office supplies.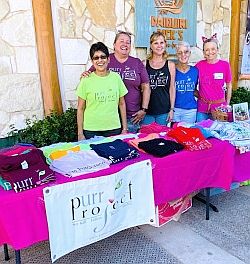 MARKET: The Olas Altas Saturday Market started on October 28 and we'll be back there again on Saturdays (except December 2) at our spot outside the front door of Daiquiri Dick's from 10:00 to 1:00 with logo items like PuRR T-shirts and caps, drink holders, the 2024 PuRR Calendar and other goodies, plus maybe a kitten or two! It's a great chance to pick up gifts for your cat-loving friends… or yourself!
KITTY BINGO will begin on Wednesday, November 8 at Nacho Daddy on Basilio Badillo in Old Town and will be every other Wednesday during the season. Cards are four for $200 pesos for eight games and go on sale at 3:30 and games begin at 4:00. Plus there is a 50/50 Raffle! So grab a friend and come on down for a chance to win some great prizes when you shout "MEOW" while you enjoy a margarita or two!
GRACIAS! THANKS! MERCI! DANKE! ARIGATO!
When the going gets rough… we know there are a lot of groups out there who need help so we really appreciated generous donations from Cherri Gillmore, Marilyn Marshman, Sharon & Robert Sable Sandy Beddis and Saskia Geul last month! Dani Parker sent us lots of her handmade Kitty Kitchen towels to sell at the market! And special thanks to Laurie Rice who celebrated her birthday with a FaceBook Fundraiser for PuRR Project USA, Inc.
As always, we are grateful for those monthly donors who are so essential to our success: The McCullough Family Gift Fund, Gary Phillips, Sharon & Ken Rose, Joanne Bryla, Trisha Aljoe, Pat & Sandy Glenn, Catherine Goglia & Jim Shoemaker, Jerry Petrizzo, Heidi Benedict, Timothy Oleno, Larry Sherwood, Mary & Bob Fitzgerald, Robert Weed, Elizabeth Fuerherm, Heidi Benedict and Janice North.
For more Kitty News & Photos, please visit PurrProject.com.

PuRR Project is a Non-Profit shelter in Puerto Vallarta, Mexico that provides homeless cats and kittens a recuperative stay with the ultimate goal to adopt them out to loving homes. All of our residents have been sterilized, vaccinated and are disease free. We accomplish this through our own efforts as well as collaboratively with other animal welfare organizations. Both monetary donations as well as donations of dry cat food are most welcome – and much appreciated. Donations 501(c)(3) tax-deductible in the U.S. For more information, visit PurrProject.com or send an email to info(at)purrproject.com.