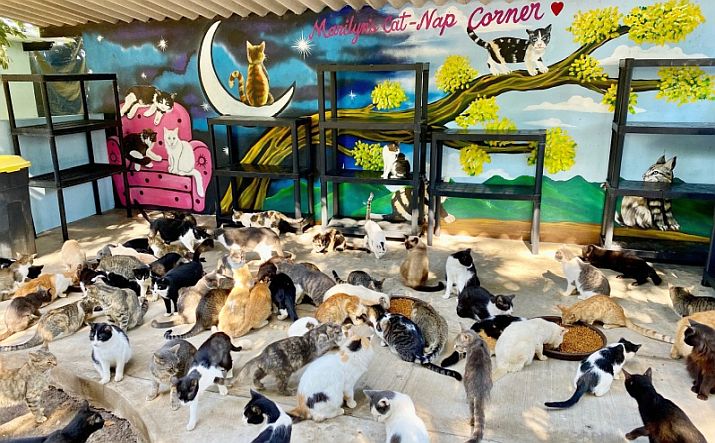 Puerto Vallarta, Mexico – The latest news from PuRR Project, a non-profit, no-kill feline shelter located just north of Puerto Vallarta, Mexico, that provides homeless cats and kittens a recuperative stay with the ultimate goal of adopting them out to loving homes sterilized, vaccinated and disease free.
SHELTER UPDATE
We thought we just might make it through one year without falling trees… but NO! After over 40 inches of rain (and one flood) in September, branches from a large tree fell onto one of the Rain Shelter/Feeding Stations. Fortunately, the damage was minimal and no cats or humans were hurt.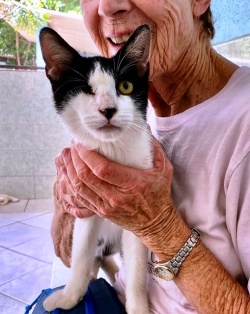 On September 19, as Mexico carried out planned earthquake drills, a 7.4 earthquake struck in Colima and was strongly felt here in Puerto Vallarta! Two more smaller quakes in the following week plus over 2,800 aftershocks caused a lot of frayed nerves around the Bay. José reported strong shaking at the shelter, but other than 10 terrified humans and 300+ confused cats, no serious damage has been found.
FEATURED FELINE: RODRIGO
This poor cat showed up at the shelter in July with a badly injured eye. After Dra. Eva operated to repair the damage, she found the bullet that had pierced his eye and lodged in his throat! Despite his wounds, Rodrigo is a very sweet cat who had obviously lived in a home at some time. He is safe now in one of our casitas, but would make a very loving companion. For more information on adopting Rodrigo or one of our older cats, contact Linda at adopt(at)purrproject.com.
THE PURR 2023 CALENDAR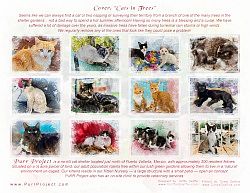 It's hot off the press and ready to order… the 2023 calendar is a work of art featuring the cats and kittens of PuRR! If you are currently in the USA or Canada and would like to place an order, please contact Bama at info(at)purrproject.com. It's a great gift for a cat-loving friend… or for yourself! The donation this year is $25 USD each and will cover postage. You can pay by check to DE or by PayPal. Information for both is on our website.
OUR VET: DRA. EVA TORRES CAMPOS
Dra. Eva reports her Wildlife Rescue and Rehabilitation team released the three rescued baby squirrels into an area that she also thinks will be perfect for releasing the three Collared Falcons very soon. In the meantime, the two baby Pygmy Owls are growing… though at full size, they will only weigh a couple of ounces! There is never a dull moment in her back yard menagerie!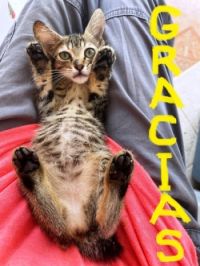 GRACIAS! THANKS! MERCI!! DANKE! ARIGATO!
A special thanks to Dr. Jacob L. Wright for his birthday donation in honor of Judy Covarrubias, one of our Spanish translators! PuRR also received donations from Richard Robertson, Jerry Petrizzo, Mindy Harley, Lynn Madsen and Judy Wolfinger.
Our monthly donors are always appreciated: Gary Phillips, Sharon and Ken Rose, Joanne Bryla, Trisha Aljoe, McCullough Charitable Fund, Larry Sherwood, JaLene Taylor, Sandy and Pat Glenn, Timothy Oleno, Heidi Benedict, Robert Weed, Elizabeth Fuerherm & Janice North.
Our shelter is supported solely by your donations! Check out our DONATE page to see ways you can show your support.
For more Kitty News & Photos, please visit PurrProject.com.

PuRR Project is a Non-Profit shelter in Puerto Vallarta, Mexico that provides homeless cats and kittens a recuperative stay with the ultimate goal to adopt them out to loving homes. All of our residents have been sterilized, vaccinated and are disease free. We accomplish this through our own efforts as well as collaboratively with other animal welfare organizations. Both monetary donations as well as donations of dry cat food are most welcome – and much appreciated. Donations 501(c)(3) tax-deductible in the U.S. For more information, visit PurrProject.com or send an email to info(at)purrproject.com.