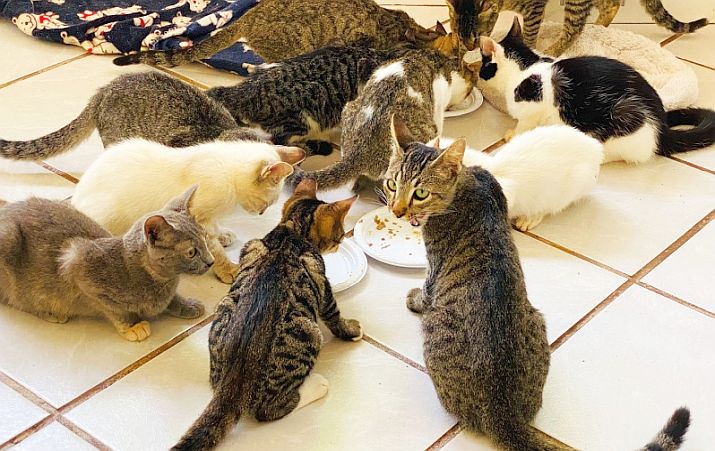 Puerto Vallarta, Mexico – The latest news from PuRR Project, a non-profit, no-kill feline shelter just north of Puerto Vallarta that provides homeless cats and kittens a recuperative stay with the ultimate goal of adopting them out to loving homes sterilized, vaccinated and disease free.
SHELTER UPDATE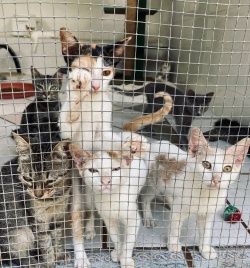 The weather continues to be extremely hot and humid with either no rain or too much. The shelter flooded twice last month but other than a lot of mud to clean up, thankfully no harm done. We had a record 14 kittens abandoned one day with a total of 21 kittens and 2 adults for the month.
We are grateful for the 10 adoptions at PetCo but at last count had 88 kittens that still need homes… plus some deserving adults. Every available space is FULL! Dra. Eva does an amazing job keeping up with all their names and medical records.
Remember we take adoptable kitties to the PetCo Adoption Center every weekend if you are considering adding a furry friend to YOUR family!
UPCOMING EVENTS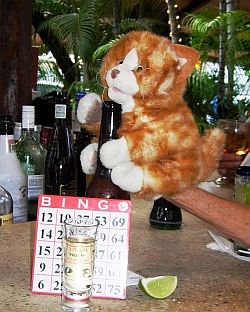 SATURDAY MARKET: At last we have some upcoming events to look forward to! First, we will be back outside Daiquiri Dick's on Saturday, October 28, with the opening of the Olas Altas Market for this season. We'll have our logo T-shirts & caps, the 2024 PuRR Calendar and even a kitten or three for you to meet! Come by between 10:00 and 1:00 and pick up your calendar and say "Hello".
KITTY BINGO: It's back! We'll be at Nacho Daddy every other Wednesday starting November 8. What a great way to spend some time with a margarita and support the shelter at the same time! Plus win some great prizes when you get a BINGO and shout MEOW"! We'll also feature a 50/50 Raffle. Cards go on sale at 3:00 and games begin at 4:00. It's only a donation of $200 pesos to play 4 cards for all 8 games.
GARAGE SALE: Everyone is asking us when we are going to have another of our famous garage sales and we've decided it's time! The date will be in early December so we have time to collect lots of donations. If you have "stuff" that has just been waiting for a new home, then we want it! You can arrange to drop it off at Gaviotas 143 in the Marina by contacting Bama at info(at)purrproject.com. If you need someone to pick it up, contact Joyce at azjoycexray(at)gmail.com to make arrangements. We can use just about anything: clothing, small appliances, jewelry, toys, towels, shoes, kitchenware, artwork.
PURR PROJECT 2024 CALENDAR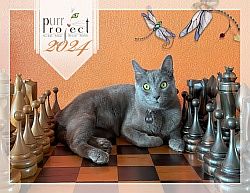 As mentioned last month, our 2024 PuRR Calendar is here! They make such a great gift for your cat-loving friends and family… as well as yourself! You will be able to get yours at our Saturday booth at Daiquiri Dick's starting October 28. If you are in the USA or Canada, we're taking orders and mailing them in early November. Contact Bama at info(at)purrproject.com with your order and mailing address. They are $25 each including postage. You can pay by sending a check to our Delaware address or by the PayPal button on our website.
GRACIAS! THANKS! MERCI! DANKE! ARIGATO!
Cheers to all the folks who showed their support by renewing their Virtual Adoptions! We are grateful for donations last month from Anne Middleton, Evelyn Ball, Denise & Steve Schoenberger and Stacy Curtis – and a donation of pesos and food from PetCo! Our regular monthly donors make a huge difference: Gary Phillips, McCullough Charitable Trust, Joanne Bryla, Trisha Aljoe, Catherine Goglia & Jim Shoemaker, Pat & Sandy Glenn, Timothy Oleno, Larry Sherwood, Mary & Bob Fitzgerald, Heidi Benedict, Robert Weed, Janice North, Elizabeth Fuerherm and Bobbi Foote.
Remember that PuRR Project USA Inc has a 501(c)(3) non-profit status and tax receipts are available for donations deposited in the USA. For more information on ways you can donate, go to our website.
For more Kitty News & Photos, please visit PurrProject.com.

PuRR Project is a Non-Profit shelter in Puerto Vallarta, Mexico that provides homeless cats and kittens a recuperative stay with the ultimate goal to adopt them out to loving homes. All of our residents have been sterilized, vaccinated and are disease free. We accomplish this through our own efforts as well as collaboratively with other animal welfare organizations. Both monetary donations as well as donations of dry cat food are most welcome – and much appreciated. Donations 501(c)(3) tax-deductible in the U.S. For more information, visit PurrProject.com or send an email to info(at)purrproject.com.