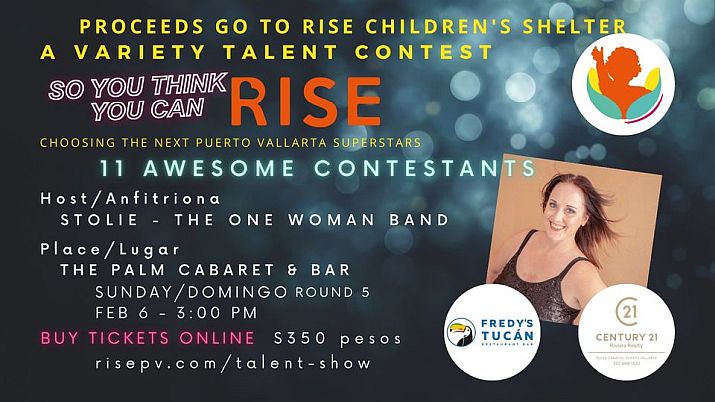 Puerto Vallarta, Mexico – Round Five of 'So, You Think You Can RISE,' Puerto Vallarta's first Variety Talent Contest, will take place at The Palm Cabaret on Sunday, February 6 at 3:00 pm. Make plans to attend NOW so you won't miss your chance to vote on the next rising PV Superstar! Let's have some fun and raise some funds for the RISE Children's Shelter.
Round 4 produced another awesome finalist for the Grand Finale.
Welcome Eyes on Earth – a Puerto Vallarta band who were the result of the COVID pandemic. Although this band has only been together for a couple of years, they play so tight that the judges were WOWed by them! This band writes original music with nuances of rock, grunge, progressive rock and some funk and blues. They will compete for the $10,000 Peso Prize against our previous winners, Tay, The Ultimate Dance Company, and Jo Reyes.
That leads us up to this week's show, Round 5. This is your last chance to weigh in on the contestants for the Grand Finale, set to be held at Teatro Vallarta on February 20th.
We will have 11 contestants and 2 winners that will advance to the Grand Finale – and YOUR VOTE MATTERS!
Get Your Tickets ASAP – we expect a sold out show! Tickets are available at risepv.com, at Cassandra Shaw Jewelry on Basilio Badillo, or The Palm Cabaret, at 508 Olas Altas in the heart of the Puerto Vallarta Romantic Zone. Get your tickets to the Grand Finale too! Tickets are selling fast. Do It For the Kids and Live PV Entertainment!
So, You Think You Can RISE – Round Five
Sunday, February 6 at 3:00 pm
The Palm Cabaret, 508 Olas Altas, Zona Romantica
Round 5 Contestants:
• Fusion 91 – Dance performance group
• Dolce Stretto (Jag y Selene) – Spanish singing and violinist duet
• El Oriental (Mario Aníbal Medina Rodríguez) – Argentinian Singer
• Steve Yates – Solo Broadway Singer
• Marco Herzumaya – Singer of pop music in English and Spanish
• Wilberth – Guitarist and contemporary singer
• Enoch – Spanish solo singer with piano accompaniment
• Jennifer Aguirre – Hip Hop dancer
• Doug Austin – Solo Singer and guitarist
• Shige Harue Sokey Ayala – solo pop singer
• Kym Jessing – Singer, songwriter and pianist
Make plans now to be at The Palm Cabaret on Sunday, February 6th at 3:00 pm, and be among the first to see some of the hidden talent we have here in Puerto Vallarta. All proceeds go to RISE Children's Shelter.
Can't come to the show, but want to help? Donate tickets for the RISE staff. We want to do something nice for the staff who care and love for our children daily.

R.I.S.E. (Refugio Infantil Santa Esperanza) is a privately funded, 50-bed children's shelter in Puerto Vallarta, providing a loving environment for children who are "at risk" at home or have no home. These resilient children range in age from newborn to mid-teens. For 20 years RISE has operated with a combination of a great staff and a team of volunteers that keep RISE running. RISE is 100% funded through private donations and fundraising is a huge part of our ability to provide these children with nutritional meals, education, medical and dental services, activities, clothing & more. Learn more at risepv.com.