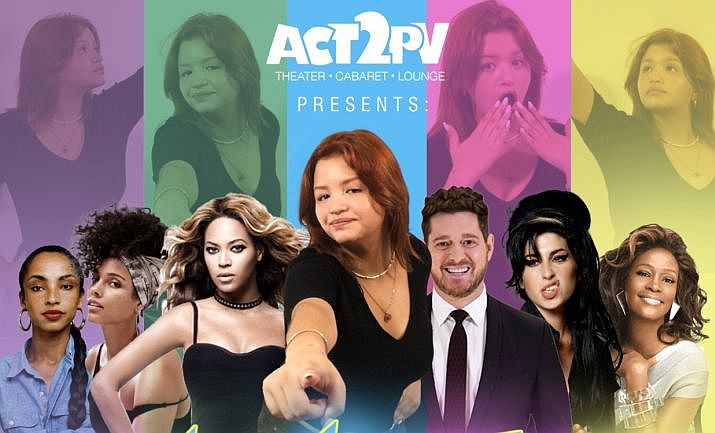 Puerto Vallarta, Mexico – Are you looking for something fun to do? How about seeing some top-quality live shows in air-conditioned comfort? The best summer entertainment in Vallarta is at Act2PV where, this week, you can enjoy ongoing favorites and four special shows you won't want to miss!
Join us this week at Act2PV and immerse yourself in the incredible warmth and joy of the summer season. We can't wait to share unforgettable moments with you, so check out the schedule below, mark your calendars, get your tickets at act2pv.com, and get ready for an incredible experience!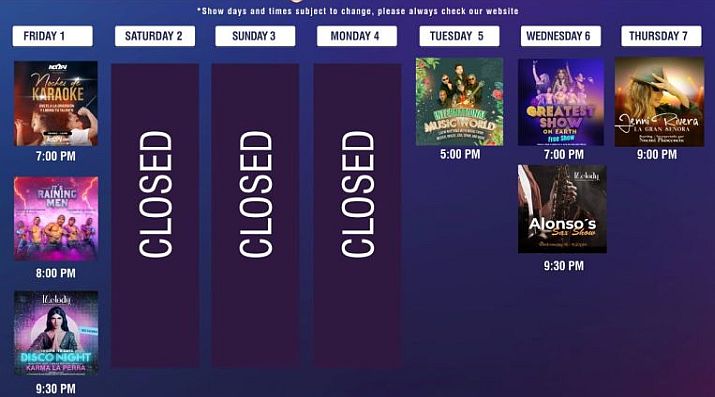 SHOWS PLAYING THIS WEEK

International Music World
Tuesday, September 5, 2023 at 5:00 pm
Joaquin Camarero, affectionately known as "Juako Guitar," is an international virtuoso guitarist and performer who has been working on various cruise ships, including Royal Caribbean, Oceanía and Regent. He has arranged music for many headliners, and played the guitar for the Broadway show Grease on the Navigator of the Seas cruise ship.
His exciting show, "International Music World," features many different Latin rhythms with music from Mexico, Brazil, USA, Spain, and more. Joaquin will be dancing, singing and playing his guitar along with a live band, and will share heartwarming anecdotes, and glimpses into his extraordinary journey as a world-traveling musician.

Jenni Rivera Tribute
Thursday, September 7, 2023 at 8:00 pm (Closing Night)
"Jenni Rivera: A Tribute to the Great Lady" is a heartwarming show that pays tribute to the beloved singer, songwriter, and producer Jenni Rivera. Known affectionately as "La Gran Señora" and "La Diva de la Banda," Jenni's musical legacy encompasses over 20 million records sold and more than 20 Billboard Latin Music Awards. This captivating show invites you to experience the magic of Jenni's greatest hits in a fully live music experience, spanning the genres of Banda, Mariachi, and Pop.
Featuring the very popular Noemi Plasencia (UsTwo's Ladies of Rock), along with a talented cast of musicians and singers who beautifully capture the essence of Jenni Rivera's unique style, this tribute is a celebration of the life and music of one of the most influential artists in the regional Mexican music genre. Whether you've been a lifelong fan or are just discovering her music, this show promises to transport you on an unforgettable journey, filled with heartfelt performances and a sincere tribute to the enduring legacy of this true music legend. Come join us and be a part of this wonderful celebration of Jenni Rivera's remarkable talent and indomitable spirit.

Feeling Good
Friday, September 8, 2023 at 5:30 (Opening Night)
"Feeling Good" is a tribute to many legendary soul artists, showcasing the amazing vocals of Renata, the outstanding winner of last years's Voice of Vallarta, Season 5. Backed by a live band, Renata's performance is breathtaking, as she commands the stage with her beautiful voice and remarkable stage presence.
This show is really entertaining with an eclectic selection of songs that span the ages, including classics like "Who's Loving You" by Jackson Five, Beyoncé's "Love On Top," and the soulful anthem "Feeling Good" by Nina Simone. She also sings Paloma Faith's "Only Love Can Hurt Like This," Michael Bublé's "Cry Me a River," and Christina Aguilera's powerful ballad "Beautiful." Other highlights include heartfelt tributes to the legendary Amy Winehouse, Aretha Franklin, Etta James and Whitney Houston.
This talented young lady will energize and inspire you with her powerful voice that will touch your heart and leave you feeling uplifted. This show will have you moving, grooving and singing along to these timeless classics.

Circoncierto – Tromba Vetusta
Saturday, September 9 at 8:00 pm
The Tromba Vetusta duet presents a captivating Circus performance, filled with eccentricity, a varied repertoire, and a mesmerizing blend of music and storytelling. They skillfully manipulate musical notes, intertwine narratives with sounds, and encourage the audience to engage with unexpected orchestras of characters. This multidisciplinary spectacle seamlessly merges the realms of comedy, music, and circus body theater. The Mime Clown personas they portray embody the aesthetic and essence reminiscent of the silent film comedy legends, such as Charles Chaplin, Buster Keaton, and Harold Lloyd.
This talented duo has completely mesmerized the audience this summer as they performed in The Greatest Show on Earth. Their antics and talent are unmatched!
2023-2024 SEASON PASSES NOW AVAILABLE
Many people have been asking about the availability of season passes for the 2023/2024 season. There are three different kinds of passes available, and they can all be used at 40+ shows throughout the season. For more information or to purchase your season pass, click HERE, or send an email to info(at)act2pv.com.
Act2PV will be announcing our brand-new show schedule for the 2023/2024 season very soon. We have 50+ shows scheduled and look forward to seeing you soon! Stay tuned!

The Act2PV Entertainment complex is located on the corner of Insurgentes and Basilio Badillo on the South side of Puerto Vallarta. For more information, follow Act II on Facebook. Click HERE to learn more about Act2PV.